Estherian Clinic
Top-Rated Dental and Cosmetic Surgery Clinic in Turkey
19 Mayis Mahallesi, 19 Mayis Caddesi, Golden Plaza, No:3 Kat:4, 34360 Sisli/Istanbul, Istanbul, Turkey

Specialty:

Cosmetic/Plastic Surgery, Dentistry, Hair Transplantation, Obesity/Bariatric Surgery

Focus Area:

Estherian Clinic | Istanbul | Turkey | Hollywood Smile | Dental Implants | Mommy Makeover | Liposuction | BBL Surgery
Estherian Clinic Profile Overview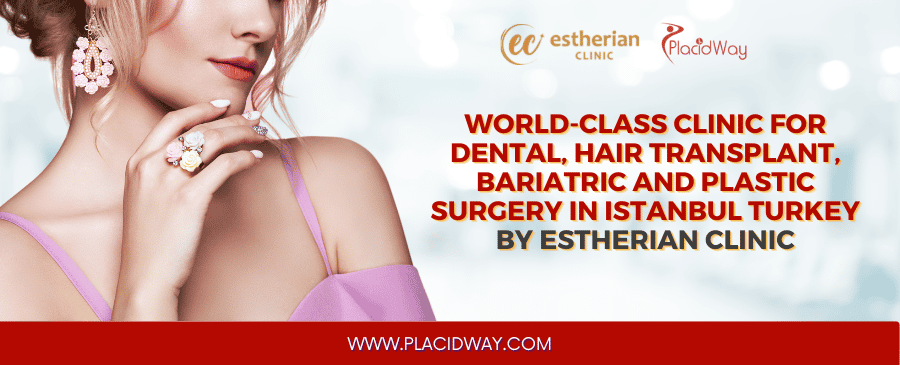 About Estherian Clinic
Estherian Clinic is top-rated clinic for Dental Treatment, Plastic Surgery, Hair Transplant and Bariatric Surgery in Istanbul Turkey. Book now at PlacidWay! Welcome to Estherian Clinic, the leading provider of dental, plastic surgery, hair transplant, and bariatric surgery services in Istanbul, Turkey.
We are dedicated to providing our patients with the highest quality of care possible. We utilize the latest technology and techniques to ensure that our patients receive the best possible results. Our teams of experts are highly skilled and experienced, and are committed to providing each and every one of our patients with the individualized care they deserve.
We believe that everyone deserves to look and feel their best, and we are here to help our patients achieve their goals. If you are looking for the best possible care and results, then look no further than Estherian Clinic. Make sure to schedule a consultation. We look forward to meeting you and helping you achieve your goals!
About Istanbul
Istanbul is one of the most popular tourist destinations in the world, and it's not hard to see why. With its rich history, beautiful architecture, and friendly people, Istanbul is a city that has something for everyone.
And when it comes to medical tourism, Istanbul is quickly becoming one of the top destinations. Thanks to its experienced doctors and state-of-the-art facilities, Istanbul offers world-class medical care at a fraction of the cost of what you would pay in developed countries.
Clinic Name: Estherian Clinic
Procedure: Cosmetic Surgery, Dental Treatment, Bariatric Surgery, and Hair Transplant
Location: Istanbul, Turkey
Doctor: Dr. Ali, Dr. Ismail, Dr.Abdullah, and Op. Dr. Cengizhan Ekizceli
Here are several benefits of choosing Cosmetic Surgery and Dental Treatment in Turkey at Estherian Clinic:
A luxury car, accompanied by a private translator

A qualified experts/doctors in Dental, Bariatric, Hair Transplant and Cosmetic Surgery

Provide patient impressive results without discomfort or pain.

Safe and cost-effective solution for your dental and aesthetic surgery

Adopting the most advanced technology to manage the quality and perfection of work

Best prices compared to others.
Here are list of procedures available at best clinic for Cosmetic, Dental Obesity, and Hair Transplant in Turkey:
Cosmetic surgery is a surgical procedure that is performed to improve the appearance of a person's physical features. It can be used to correct deformities, improve symmetry, and enhance features that a person may feel self-conscious about.
Mommy Makeover

Abdominoplasty

Liposuction

BBL Surgery

Six Packs

Double Chin

Thigh Lift

Arm Lift

Butt Implant

Face Aesthetics

Breast Aesthetics
Dental treatment can include a variety of procedures, depending on the condition of a person's teeth. Some common treatments are teeth cleaning, teeth whitening, dental fillings, and many more.
Hollywood Smile

Dental Implants
A hair transplant is a surgical procedure that moves hair follicles from one part of the body to another. It is primarily used to treat male pattern baldness. In this condition, hairs are usually lost in a well-defined pattern, starting at the temples and moving backward over time. A hair transplant can also be used to restore eyelashes, eyebrows, beard hair, chest hair, and pubic hair and to fill in scars caused by accidents.
FUE

DHI

Beard Transplant

Eyebrow Transplant
Obesity surgery, also known as bariatric surgery, is a type of surgery performed on people who are obese. The goal of obesity surgery is to help people lose weight and improve their health. There are several different types of obesity surgery, including gastric bypass surgery, gastric banding surgery, and sleeve gastrectomy surgery.
Choosing to have plastic surgery is an important decision. You want to make sure you are working with a reputable surgeon who can give you the results you desire. Cost is also an important factor to consider. At PlacidWay, we can help you find the best plastic surgeons in Istanbul, Turkey at a price that fits your budget. Check our price list table below to learn more:
| | |
| --- | --- |
| Procedure | Cost |
| Brazilian Buttock Lift | $3,250 |
| Mini-Facelift | $2,100 |
| Breast Lift with Augmentation | $3,400 |
| Mommy Makeover | $4,700 |
| All-on-4 Dental Implants | $4,100 |
| Teeth Whitening | $420 |
| Dental Veneers | $230 |
Note: price may change and vary depends on patient condition and complexity of the procedure. Click free quote button below for more information:

Check below for information about best surgeon for Cosmetic, Dental, Bariatric and Hair Transplant in Turkey at Estherian Clinic:
Dr. Ali – Aesthetic Plastic and Reconstructive Surgery

Dr. Ismail – Aesthetic Plastic and Reconstructive Surgery

Dr.Abdullah – Plastic Surgeon

Op. Dr. Cengizhan ekizceli – Head of the Plastic Surgery Department
Planning to have Plastic Surgery, Dental Treatment, Hair Transplant or Bariatric Surgery? Then you should definitely consider Istanbul, Turkey! At PlacidWay, we can help you find the best medical center and specialist for your needs and arrange your consultation. So if you're looking for high-quality, affordable medical care, Istanbul is the place to be. And at PlacidWay, we can help you make it happen. Contact us today by clicking button below:

---
---