Dr. Rodrigo Aguirre Rojas Orthopedic Surgeon
Top Orthopedic Surgeon in San Jose del Cabo, Mexico
CARRETERA TRANSPENINSULAR KM 24.5, HOSPITAL Hmas SAN JOSE DEL CABO Baja California Sur, San Jose del Cabo 23405, Mexico

Specialty:

Orthopedic/Knee Surgery, Sports Medicine

Focus Area:

Dr Rodrigo Aguirre Rojas | San Jose del Cabo | Mexico | Hip Replacement Surgery | Hip Joint Resurfacing Surgery | Knee Replacement Surgery | Sports Medicine | Joint Replacement
Dr. Rodrigo Aguirre Rojas Orthopedic Surgeon Profile Overview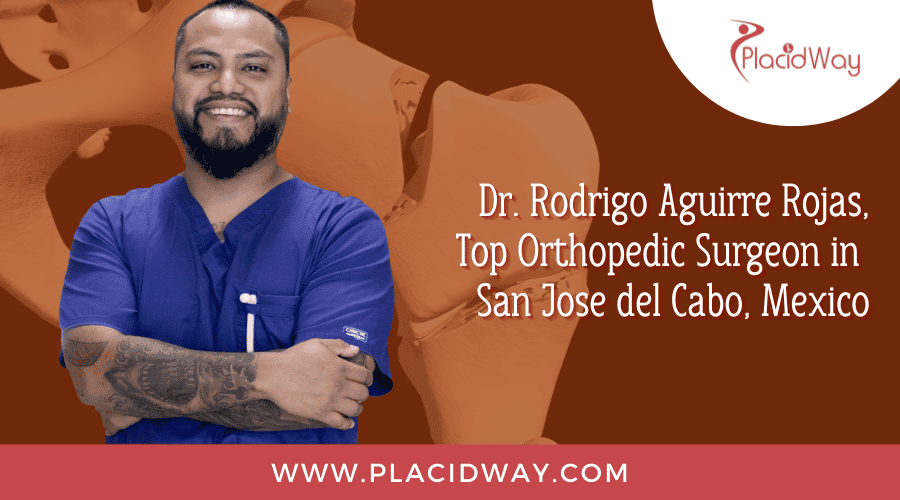 Board Certified Orthopedic Surgeon in San Jose del Cabo, Mexico by Dr. Rodrigo Aguirre Rojas
Dr. Rodrigo Aguirre Rojas is the best Orthopedic Surgeon in San Jose del Cabo, Mexico. Book your consultation for Knee Surgery in Mexico at PlacidWay. Orthopedic surgery is a branch of medicine that deals with the diagnosis and treatment of disorders of the musculoskeletal system. It is a highly specialized field that requires many years of training and experience to master.
Dr. Rodrigo Aguirre Rojas is a board-certified orthopedic surgeon who has been practicing in San Jose del Cabo, Mexico for several years. He is widely regarded as one of the best orthopedic surgeons in the country and has helped thousands of patients recover from their injuries and get back to their lives.
Dr. Aguirre Rojas specializes in treating a wide variety of orthopedic conditions, including arthritis, bone fractures, dislocations, ligament and tendon tears, muscle strains and sprains. If you are suffering from any of these conditions, or if you have been injured in an accident, contact Dr. Aguirre Rojas today to schedule a consultation.
Clinic Name: Orthopedic Surgery Clinic by Dr. Rodrigo Aguirre Rojas
Procedure: Orthopedic Surgery and Sports Medicine
Location: San Jose Del Cabo, Mexico
Doctor: Dr. Rodrigo Aguirre Rojas
Table of Content
• Cost • Procedures • Advantages
• Doctors • How to Book
Affordable surgery

World-class facilities

Experienced surgeons

Short wait times

Personalized care
Here are several procedures available at Dr. Rodrigo Aguirre Rojas Clinic in San Jose Del Cabo, Mexico:
Joint Replacement

Hip Joint Resurfacing Surgery
The cost of medical care in Mexico is a fraction of what you would pay in the United States. You can save up to 80% on orthopedic surgery by coming to Mexico. For more information about price for orthopedic surgery in San Jose del Cabo, Mexico, click contact us button below:

Check below information about highly qualified surgeon for orthopedic surgery in Mexico:
Doctor Name: Dr. Rodrigo Aguirre Rojas
Experiences and Specializations:
Certified Orthopedist and Traumatologist with a fellow in Joint Surgery.

Trained as a General Practitioner in the Faculty of Medicine of the Autonomous University of Chihuahua from 2003 to 2010.

Taking Internship in the Central Hospital of Chihuahua and Social Service in charge of the Mexican Ministry of Health (SSA).

Practiced 4 years of Orthopedics and Traumatology (2013-2017) at the National Institute of Rehabilitation (National Autonomous University of Mexico).

Fellow in Joint Surgery (2017-2018) in Mexico City.

Had rotations and courses abroad in Miami, Florida.

Currently practice Orthopedics, Traumatology and Joint Surgery.
Book your consultation and get free quote for affordable orthopedic surgery in Mexico today! Our partner clinic, Dr. Rodrigo Aguirre Rojas, is a state-of-the-art facility that is accredited by the Joint Commission International (JCI). For more information, click contact us button below:

---
---