DENTIFAMILY
International Dental Clinic in Bucaramanga, Colombia by DENTIFAMILY
Carrera 33 # 54- 47, 680001 Bucaramanga Colombia, Bucaramanga, Colombia

Focus Area:

DENTIFAMILY | Bucaramanga | Colombia | Dental Veneer | Dental Implant | Dental Crown | Dental Prosthesis
DENTIFAMILY Profile Overview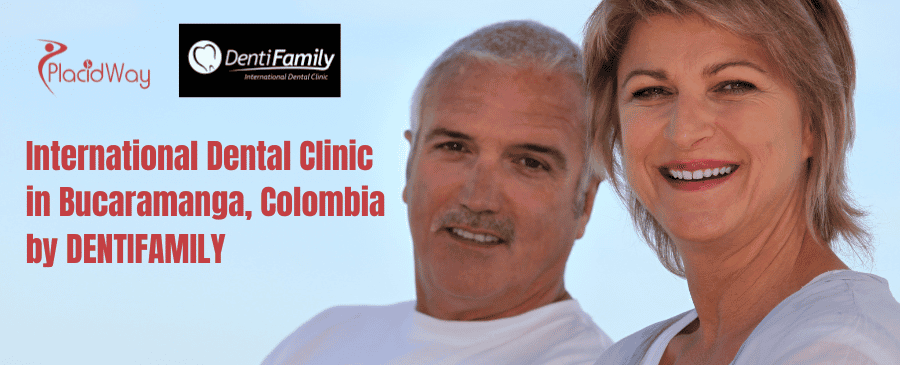 Transform Your Smile at DENTIFAMILY – The Premier Dental Clinic in Bucaramanga, Colombia
DENTIFAMILY is a renowned dental clinic located in the beautiful city of Bucaramanga, Colombia. With a team of highly skilled and experienced dental professionals, DENTIFAMILY is dedicated to providing top-quality dental treatments and personalized care to patients of all ages. The clinic prides itself on its commitment to excellence, using state-of-the-art technology and the latest techniques to ensure optimal dental health for every patient.
Comprehensive Dental Services: DENTFAMILY excels in providing a wide range of comprehensive dental services, including expertise in porcelain veneers for stunning smile transformations. Our specialists create natural and beautiful veneers tailored to your preferences, allowing you to choose the color, shape, and size that best suits you. We also offer advanced technology for dental implants and dental crowns, ensuring optimal results, as well as invisible braces and aesthetic solutions for discreet orthodontic treatments. Moreover, our experienced specialists in dental prosthesis are dedicated to restoring your dental function with high-quality prostheses.
As a leading dental clinic in Bucaramanga, DENTIFAMILY is committed to staying at the forefront of dental technology. We utilize advanced equipment and cutting-edge techniques to provide precise diagnoses and effective treatments. From digital X-rays that reduce radiation exposure to intraoral cameras that allow for detailed examination, our technology enhances the accuracy, efficiency, and overall patient experience.
Under the leadership of Dr. Jairo Enrique Leon Cano, our esteemed General Director and renowned cosmetic dentist, DENTFAMILY is committed to providing exceptional dental care. Driven by our passion for creating beautiful smiles, we invite you to visit our clinic and experience the smile of your dreams. Alongside Dr. Jairo, our team includes Dra. Viviana Rojas, our dedicated General Manager, Dr. Andres Chinchilla, specializing in orthodontics, and Dra. Grecia Martínez, expert cosmetic dentist. With their expertise and commitment to excellence, we are dedicated to delivering outstanding results and ensuring your utmost satisfaction..
Patient-Centered Approach
At DENTIFAMILY, we prioritize our patients' comfort and satisfaction. From the moment you step into our clinic, you will be greeted by a warm and friendly atmosphere. Our team takes the time to listen to your concerns and understand your goals, tailoring treatments to meet your individual needs. We believe that open communication and patient education are vital for maintaining good oral health, and we strive to empower our patients to make informed decisions about their dental care.
Strict Sterilization and Hygiene Standards
Your health and safety are of utmost importance to us. DENTIFAMILY strictly adheres to international sterilization and hygiene standards to ensure a clean and sanitized environment. We follow rigorous infection control protocols, including the use of disposable materials and regular disinfection of all equipment and surfaces. With our commitment to maintaining a sterile environment, you can have peace of mind knowing that your dental treatment is conducted in a safe setting.
Convenient Location and Flexible Scheduling
Situated in the heart of Bucaramanga, DENTIFAMILY offers a convenient location for our patients. Whether you live in the city or are visiting from abroad, our clinic is easily accessible. Additionally, we understand the importance of flexibility in scheduling dental appointments. We strive to accommodate your busy lifestyle by offering flexible appointment times, ensuring that you receive the dental care you need without disrupting your routine.
The Most International Dental Clinic in Colombia
Experience the ultimate destination for cosmetic dentistry at our internationally acclaimed dental clinic in Bucaramanga, Colombia. We pride ourselves on being the most comprehensive and sought-after center for enhancing smiles. With a team of highly skilled dentists and cutting-edge technology, we offer a wide range of cosmetic dental treatments tailored to your unique needs. From teeth whitening and veneers to smile makeovers and full mouth reconstructions, our clinic is dedicated to delivering exceptional results that will transform your smile and boost your confidence.
DENTIFAMILY is dedicated to ensuring that your dental experience is comfortable, safe, and tailored to your unique needs. Trust us with your smile, and let us help you achieve optimal oral health. Click contact us button below to get started:

---
---