All on 4 Dental Implant in Bogota Colombia
Retain Natural Smile with All on 4 Dental Implants in Bogota
Thinking of getting new teeth at an affordable price? In the USA and Canada, high dental care costs make people put off dentist visits. But with All on 4 Dental Implant in Bogota Colombia, you can save thousands of dollars and replace a whole arch of missing teeth.
Millions of tourists visit Colombia's vibrant capital annually, and many take advantage of the trip to restore their smile at a fraction of the American cost.
With all on four in Bogota you'll enhance your appearance and improve your quality of life with restored teeth functionality. In addition, you'll explore Bogota's exciting nature, scenic views, and colonial places and experience a relaxing vacation.
In our guide, you'll find out why choosing Bogota for All on 4 treatment is your cost-effective option.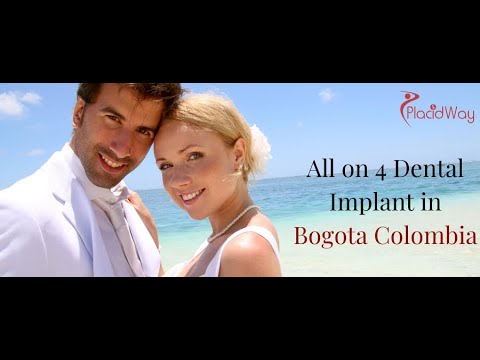 ---
Affordable All-on-4 Dental Implants Packages in Bogota
Dental clinics in Bogota we partner with provide cost-effective packages for various dental procedures. Therefore, you can book All on 4 implants in Bogota through our PlacidWay team or by contacting the clinic directly.
We will help you create a package that suits your needs and budget.
---
Cost of All on 4 Dental Implants in Bogota, Colombia
Regarding the price of dental implants, North American patients prefer undergoing treatment abroad. They find All-On-4 dental implants more affordable in Bogota since they can pay around $7,900 per arch here, while in their country it costs over $22,500.
Therefore, in Bogota, you can restore teeth in both jaws at the price of one in the USA and Canada with the same materials and manufacturers. Our table below shows prices in Bogota compared to North America.
All on 4 Dental Implants Cost Comparison in Colombia

| Country | Procedure | Price |
| --- | --- | --- |
| Colombia | All on 4 Dental Implants, Dentistry | $7900 |
| Canada | All on 4 Dental Implants, Dentistry | $22500 |
---
Top 3 Dental Clinics in Bogota for All-on-4 Implants
Patients from America and Canada have been visiting dental clinics in Bogota for years. Thanks to a well-established medical system and experienced dentists, Bogota welcomes international patients who find affordable, safe, high-quality dental treatment here.
You can get all on four implants and other restorative dentistry in Bogota clinics with the same quality as in the US. The best clinics in Bogota are modern, well-equipped, and adhere to internationally-recognized safety protocols.
We can help you find a reputable clinic by checking its background, dentist qualifications and real patient reviews. Below you'll see the top 3 dental clinics in Bogota profiles, compare their facilities and make a confident choice.
Top Center
Get exciting dental care and advanced smile designing at Dentica by Cristina Suaza by expert dental experts. Enjoy complete dental solutions in Bogota, Colombia at affordable prices.
Top Center
Get world-class dental treatment and makeover at Dental Vacations Colombia, Bogota, Colombia. Learn about clinic procedures and treatments. Key services include cosmetic tooth bonding, teeth whitening, porcelain veneers, dental implants, crowns, bridges, dentures, root canal and more.
Top Center
Instituto Roosevelt is located in Bogota, Colombia and provides comprehensive orthopedic, mental health, dentistry and pediatric treatment for their patients.
---
Watch Video about All on 4 Dental Implants in Bogota, Colombia
See video about All on 4 Dental Implants in Bogota, Colombia below for more information:
---
Dental Work in Bogota Reviews
---
Best Dentists in Bogota for All-on-4
If you are opt-in for teeth implants in Bogota, you must know your dentist beforehand. Our team provides important information regarding Bogota dentists who work at our recommended clinics.
You will have a video consultation with your dentist to discuss your options and treatment planning. Even when the all-on-4 procedure is over, you will stay in touch with your dentist for further instructions on maintaining your newly restored teeth.
Contact us for more details on the best dentists in Bogota for all-on-4.
---
Why Choose All on 4 Teeth Implants in Bogota?
Choosing an affordable all-on-4 teeth implant in a fascinating Bogota will pay off in more ways than one. You'll experience a well-deserved vacation, cost savings, and smile restoration at the fraction of the USA and Canadian prices! The low cost of living in Colombia allows pocket-friendly dental trip for foreign patients.
The El Dorado International Airport, also known as Bogota Airport (BOG) is well-connected with major cities in the USA and Canada. You can easily arrive in Bogota within 4-6 hours of the flight.
Bogota has a long history of a reputation for cocaine cartels, violence, and crime. But in recent years it has become a more friendly and welcoming city with numerous markets, restaurants, and places to explore. Some of the top attractions in Bogota include:
La Candelaria, the historic city center;

Cerro Monserrate, seeing the city from above is the real attraction in Bogota

Plaza Bolívarhome, the home to Colombia's Palace of Justice, the Capitol Building, the Cathedral of Bogotá, and the city mayor's office.

Andrés Carne de Res, a restaurant in Zona Rosa.
---
Book Your All on 4 Dental Implants in Bogota Today!
Well-qualified dentists, modern facilities, saving of 70%, and an enjoyable holiday are waiting for you with All on 4 Dental Implants in Bogota, Colombia!
Ready to book? Connect with our Customer Service Team for more details on dental work in Bogota and get a free quote today!
---