Cataract Mexico
Top Cataract Surgery Clinic in Guadalajara, Mexico by CataractMexico
Domingo Sarmiento 2822, Prados providencia, Zapopan, Guadalajara, Mexico, Guadalajara, Mexico

Specialty:

Eye/Lasik Care

Focus Area:

CataractMexico | Guadalajara | Mexico | Guillermo Enriquez Tostado | Cataract Surgery | LASIK Surgery | Eye Surgery
Cataract Mexico Profile Overview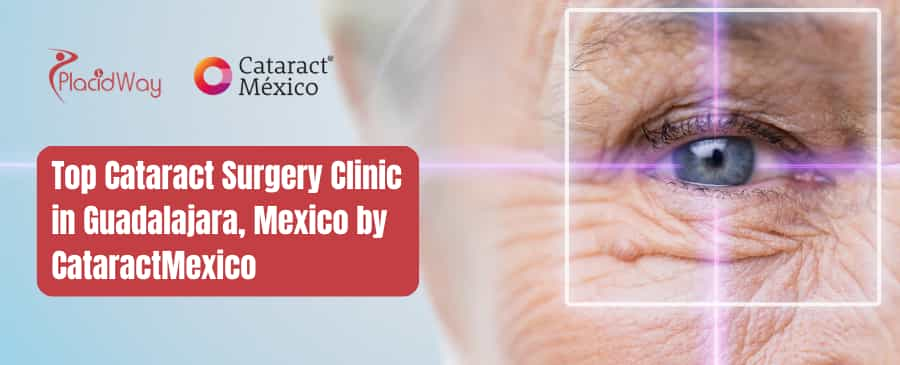 State-of-the-Art Facilities for Cataract Surgery in Guadalajara, Mexico
Mexico has gained international acclaim as a premier destination for medical tourism, and our exceptional clinic in Guadalajara stands at the forefront of this burgeoning trend. Notably, Mexico holds the distinction of being ranked second globally in medical tourism, primarily due to its vast array of healthcare options that incorporate state-of-the-art technology comparable to leading facilities in the United States and Europe.
This technological parity has a profound effect on the cost of healthcare, making it considerably more affordable for patients seeking top-notch medical services. At CataractMexico, we wholeheartedly embrace these advantages to provide our valued patients with world-class cataract surgery and comprehensive eye care solutions that combine affordability with excellence.
Allow us to introduce Dr. Guillermo Enríquez Tostado, an eminent anterior segment surgeon who specializes in cataract surgery and leads our accomplished team. Dr. Guillermo Enríquez Tostado's illustrious career boasts impressive certifications from the Mexican Council of Ophthalmology and the International Council of Ophthalmology ICO, credentials that underscore his impeccable expertise.
As a testament to his dedication to advancing the field, he maintains active memberships in prestigious organizations, including the American Society of Cataract and Refractive Surgery (ASCRS) and the Mexican Center of Cataract Surgery. With Dr. Tostado's extensive experience and unwavering commitment to the highest standards of eye care, you can confidently entrust him with the responsibility of safeguarding and restoring your precious vision.
At CataractMexico, we believe that genuine patient-centered care forms the bedrock of our practice. We recognize the profound significance of providing individualized attention and crafting bespoke treatment plans tailored to your unique needs. Our unwavering commitment to prioritizing your comfort and satisfaction spans the entirety of your cataract surgery journey, from the moment you step into our clinic for your initial consultation to the attentive care we extend throughout your post-operative recovery.
Our clinic offers an array of advanced cataract surgery techniques, including the deployment of monofocal IOLs, astigmatism-correcting (Toric) IOLs, and presbyopia-correcting IOLs. These diverse options empower us to customize your surgical procedure precisely to match your specific vision needs. Our overarching objective is to deliver the best possible outcome, ensuring that you emerge from your cataract surgery experience with newfound clarity of vision and the utmost confidence in your visual future.
Proven Success Stories: Transforming Lives, One Eye at a Time
As a testament to our unwavering commitment to excellence, we invite you to delve into the resounding success stories of patients who have entrusted us with their vision. These poignant narratives bear witness to the life-altering results our clinic has consistently delivered, as patients have emerged with significantly improved vision and an enhanced quality of life. Your journey to clear vision begins with a deeper exploration of these heartening testimonials.
Cutting-Edge Technology: Advancing Eye Care in Guadalajara, Mexico
CataractMexico cataract surgery clinic in Guadalajara, Mexico takes immense pride in its commitment to employing cutting-edge technology as a cornerstone of our practice. Our investments in the latest advancements in ophthalmology stand as a testament to our dedication to providing our patients with the highest standard of eye care. These cutting-edge tools and techniques are meticulously chosen to ensure precise and safe cataract surgery, facilitating optimal outcomes and expediting your journey to swift recovery.
We place paramount importance on the global medical accreditations that underscore our dedication to adhering to international standards of excellence. CataractMexico is honored to hold membership in esteemed organizations such as the American Society of Cataract and Refractive Surgery (ASCRS) and the Centro Mexicano de Cirujanos de Catarata (CMMC).
Additionally, our clinic is proud to be board certified by the Consejo Mexicano de Oftalmología, a recognition that serves as a testament to our unwavering commitment to upholding the highest standards of patient care and safety. When you choose CataractMexico, you are choosing to embark on a journey towards visual excellence, guided by a team that is dedicated to your well-being and the preservation of your precious eyesight.
Our customer representative at PlacidWay will help you connect with cataract surgery clinic in Guadalajara, Mexico by CataractMexico. Click contact us button below to get started:

---
---