Why are Western Europeans going east for Dental Implants?
Healthcare standards in first world countries like the United Kingdom, Germany and Switzerland are significantly better. For patients seeking quality over cost, these countries are premier medical tourism destinations to consider. Most of the cutting edge treatments made known internationally are available in these countries - such as fertility techniques, world-leading diabetes centers, pioneering cancer therapies, spinal surgeries and top quality dental care. These ground-breaking healthcare treatments are simply not available in many budget healthcare tourism destinations, making these countries truly one of the best healthcare options available.
With Dental Implants in Eastern Europe, you can save a lot of money! See this chart!
DENTAL IMPLANT COSTS IN WESTERN EUROPE AND EASTERN EUROPE

Country

Type of Implant

Cost

Western Europe

Eastern Europe

YOUR SAVINGS




$2,500 – $3,000



"Both quality and quantity come at a price"
Standards of care provided by the National Health Service (NHS) in the UK, the governing body that provides healthcare for all its citizens is considerably good, providing well-trained healthcare professionals and well-equipped clinics. However, some setbacks the organization face is being underfunded and long waiting lists for elective surgery and non-urgent procedures.
Some Brits still take the price risk opting for private healthcare services. A private hospital in Britain tends to be better off in terms of services, compared to its NHS counterparts – quality of facilities and services are quicker and better plus it offers treatments that are not available on the NHS, such as cosmetic surgery, fertility and weight loss treatments.
UK private healthcare is costly compared to other countries in Asia or Eastern Europe. Even dental care charges in Britain remain among the highest in Europe. The cost of dental implants in the UK starts from USD $2,200 up to $3,500. It is now a fact that many British now travel to neighboring countries like Poland and Hungary where the price of dental treatments specifically dental implants can be cheaper. In Poland, a dental implant costs USD $872 - $1,047 depending on the type of implant. Meanwhile, in Hungary, it could cost USD $768 - $900 for a dental implant.
"Both quality and quantity come at a price." That saying can be true for dental care in Germany. Similar with the UK, dental care costs for dental health in Germany also rank one of the highest in Europe, despite public healthcare costs comprise a large portion of the national budget. In Germany, a dental implant could cost €3,000 or USD $3,263. As a consequence, an accumulative number of dental treatments have been exempted from reimbursement by public healthcare plans.
Further, Germany has been criticized for creating a two-tiered medical system for the affluent and needy, who may not be able to afford paying for an attractive smile and healthy teeth. Albeit, Germany is known for cutting edge dental technology, we cannot deny the high standards of dental care it imposes and practices.
Just like Germany, Switzerland also has a reputation for high-quality and efficient healthcare. Comparative to the US, it is affordable, although most residents find the monthly cost of the obligatory health insurance quite outrageous. All residents are obliged to have medical coverage. A family of four or five could use more than USD $900 a month for a standard-type insurance, with dental services not indicated.
Just as medical costs in Switzerland are high, so are rates for dental care services. However, when highly innovative and skilled dentists are provided with the best of dental technology, definitely no cost is too high. Switzerland also has a thriving dental tourism industry. Aside from chocolates and cheeses, they are known for unique metal-free implantology, wide array of dental care services - from routine dental check-ups to prosthetic and restorative dentistry to the most high-tech cosmetic dentistry procedures. In Switzerland, the cost for metal-free implants is USD $1,483. The cost includes an implantology check-up, 3D X-Ray, with complete clinical examination and metal-free dental implants.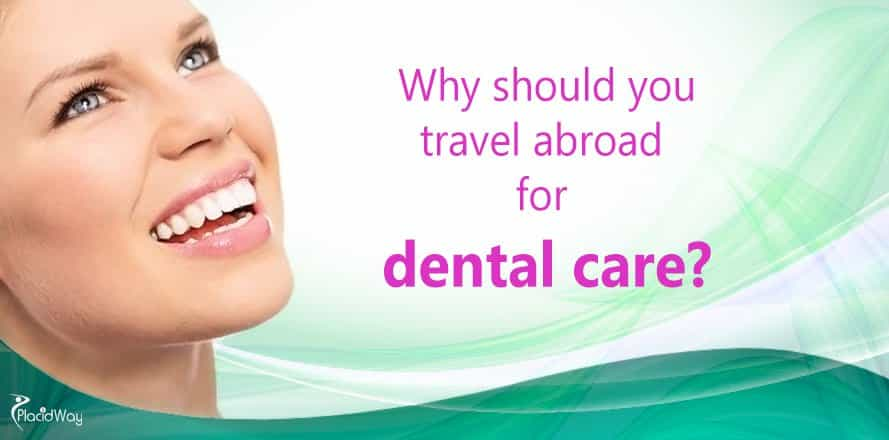 Despite high quality dental services, why do they still travel abroad for dental care?
Whether Western Europeans are unwilling to wait or to finance the high cost of private healthcare, more and more people are travelling abroad dental treatment. Among the top destinations most visited for dental care and implants are Hungary, Poland, Ukraine, Bulgaria, and Croatia.
Aside from the quality of the work, cost is a main reason why people go abroad for dental treatment. Lower cost of healthcare and cost of living means you can cut the price as much as 75% off the treatment price tag.
Although Germany and UK have stable national healthcare schemes, many of its citizens still travel abroad to avoid the long waiting list while others may travel for plastic surgery not covered by their public health insurance. However, in the UK, a growing number of couples are increasingly looking for successful fertility treatments abroad. Others are after sophisticated yet affordable surgery - such as heart surgery overseas particularly in India. Accessibility of decent low-cost medical and dental services can also be a major reason in selecting a retiring destination abroad.
Many British people have learned to temporarily put off necessary dental treatment because of the cost - so as the Swiss. They avail of the treatment it later when at the end, it can be too late – abscesses have formed and a crown fell off. In a Swiss district without dental care insurance coverage, forgoing dental care due to economic reasons was highly the norm and is highly dependent on one's income.
In Switzerland, as far as the costs of dental treatments are concerned, it can be problematic. Prices for other dental procedures differ from practice to practice - braces, root canals, sealants, crowns, dentures, bridges, and implants, and may vary from practice to practice, while returns may also vary from insurance companies.
It can be appalling that most Swiss have no dental insurance. Actually, there is NO FREE state healthcare service in Switzerland. Thus, Swiss residents and citizens are obligated to avail private health insurance where all dental treatments must be paid for. Dental insurance in Switzerland is considered of little value - premium costs remain high, and coverage isn't comprehensive as indicated in fine print. The bad news is dental care, except emergency accident treatment, is not covered at all. You will generally have to pay up front!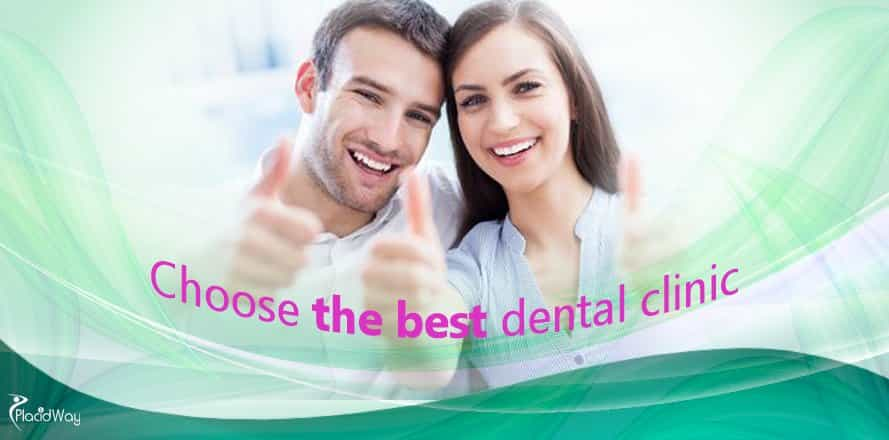 What do Eastern European dental clinics have for international dental tourists all over the world?
Dental Implant Clinics in Eastern Europe offer an all-inclusive full-scale dental service. Most clinics have the dental laboratory, consultation rooms, and the accommodation located within the clinic's vicinity – making dental treatments comfortable, accessible, quicker and safer for international patients. The equipment and facilities they provide are well-maintained and modern.
Because dentists and implantologists have more than 15 years of experience, dentists in Eastern Europe are very professional, and are bonafide members of the European Association of Cosmetic Dentistry. Dentists and implantologists are board certified, and are continuously updating their knowledge of cosmetic dentistry and implantology by participating in lectures and training courses delivered by world-renowned dental specialists. You are guaranteed to avail a personalized dental care that offers a full service warranty for a very affordable price.
Dental clinics in Eastern Europe specialize in combining affordable dental treatments with wonderful holidays. What's convenient is that everything will be arranged for you – from your transportation to your accommodations and treatments! By availing of their dental treatment packages, you've locked in savings because dental treatments, your dental travel and lodging expenses, airport pick-up and transfers, city tours to explore the city while you're in recovery are already included in one affordable package.
Aside from dental implants, dental clinics in Eastern Europe can also perform treatments for cosmetic dentistry, inlays, crowns, bridgework, dentures, tooth whitening, root canal treatments, prophylaxis, anaesthesia, diagnostics conservative treatment (composite fillings), treatment for children (pedodontics), aesthetic dentistry (veneers etc.) and gum disease treatments.
Despite expensive dental treatments in Western Europe, who says you can't avail of affordable yet quality dental care in Eastern European dental clinics? Below are the best dental implant clinics in Eastern Europe.
Best Dental Implant Clinics in Eastern Europe
Fedasz Dental Clinic, Budapest, Hungary
Cost of Lagacy Implant: USD $768

KCM Clinic, Jelenia Gora, Poland
Cost of MIS Implant - $872 / Nobel Replace/ Activ - $1,222 / Biomet 3I Implant - $1,047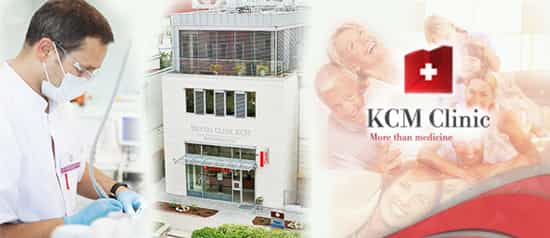 Donetsk Center for Dental Implants, Donetsk, Ukraine

KievDent Dental Clinic, Kiev, Ukraine

Tokuda Hospital Sofia, Sofia, Bulgaria

Pantalon Dental Practice, Zadar, Croatia
Dental Implants €600 - €800 or $631-$841

Phoenix Hotel, Zagreb, Croatia

Cost of Dental Implant - €800-$1,075

About PlacidWay:
Since 2008, PlacidWay has been one of the forerunners in providing medical travel information to international customers around the world. Aside from providing healthcare that is personalized, safe and high quality, it is one of its goals to assist the medical traveller in making an informed decision about her health.