Contident
Contident, Cosmetic Dentistry, Dental Care, Dental Implants, Dental Crowns, Veneers, Inlays, Tooth Decay, Budapest, Hungary

Budapest, 1134 Szt. István körút 4. 3rd floor Budapest , Budapest 1134, Hungary

Focus Area:

Contident | Cosmetic Dentistry | Dental Care | Dental Implants | Budapest | Hungary
Contident Profile Overview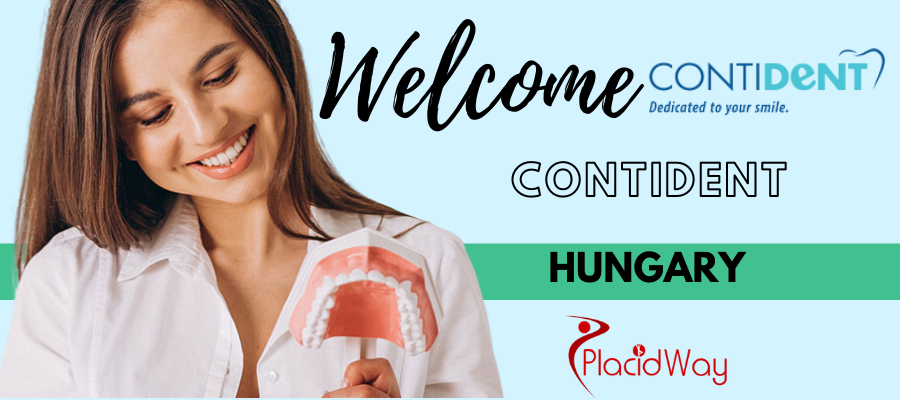 Contident: The Trusted Expert in E-Max Veneers and Full Porcelain Zirconia Crowns and Bridges

Picture this:

A gorgeous smile that makes everyone jealous...
Natural-looking, perfectly-aligned pearly whites ...

What if we tell you that these are all possible to achieve… In just 3 - 5 days?
Premium-quality, affordable, and long-lasting!

Contident makes all of these happen for you - and more.
As a trusted dental clinic specializing in cosmetic dentistry, we make sure you walk away getting what you want each time.
Our client's needs are our priority. So, we do our best to give you a relaxed, soothing, and wholesome environment from start to finish. This is why our loyal clients continue to choose us and achieve the results they want minus the hefty prices!

Want to learn more about how we can help you? Click on CONTACT US and we will answer all your questions and concerns right away!

Quality Over Steep Prices

Client satisfaction means so much to us.

This is why our dental services revolve around the needs of our clientele. We like to keep the entire process seamless and effortless for you:

- We offer pickups from the airport to our dental clinic

- Our team will stay with you throughout the entire process

- You can contact us 24/7 if you encounter issues, problems, or concerns.

The process of improving your smile may be intimidating.

You may be clueless about how it works, what to expect, and proper care and maintenance tips to ensure the long lifespan of your brand new smile.
But we are here to clear things out for you.

Feel free to ask away and allow our friendly and professional experts to assist you.

At Contident, you can rest assured that all your needs are well taken care of.


---
---
Reviews
Windsor (

I cannot recommend Contident, Budapest, highly enough. They are a thoroughly professional Clinic. The Mr fix it team comprise Lorand Gergley, who made all the arrangements behind the scenes and his son Adam, who escorted us back and forth from our apartment booked at a special rate to the clinic nearby and arranged courtesy airport transfers and air travel. Lorand answered all my searching questions while I was making the decision as to which clinic to attend. Nothing was too much trouble for either Lorand or Adam. The Dental Surgeon, Dr Peter Virag and his nurse Ildiko were very considerate and caring in their approach. I was a little concerned at the prospect of having 18 zirconium crowns done at the same time, but relieved to discover that there was only minimal discomfort, easily dealt with by taking a couple of Paracetamol. A key member of the team was Judith, the highly skilled Dental Tehnician who spent several hours fine tuning the crowns so that they were a perfect fit and match when finally cemented in by Dr Virag the following day. The whole process took 6 working days from start to finish and cost just over 25% of the price I would have had to pay in England. I had seen adverts for similar clinics which boast a conveyor belt system of treating 250 patients per month. Frankly, that put me off. Contident gave me a such personal service, they made me feel that I was their only patient, although of course, I was not! Furthermore, Budapest is a very impressive place to visit, with stunning architecture, a sophisticated background of art and music and of course exhilarating thermal baths and very friendly people. A perfect centre for a short holiday at the same time. Highly recommended all round and of course, a great result!

Website

Feb 28 2021

KATIE

Absolutely fantastic experience with Contident. The staff are lovely, and though I would not call the dentist friendly, he is very skilled, professional and knows exactly what he is doing you can tell he is had a lot of experience. The escort to and from appointments made me feel that little bit safer and Lorand was extremely helpful during the all setup. Thank you to everyone at Contident, and I would definitely go back again should anything big buck happen to my teeth that needs fixing!

Website

Feb 26 2021

M

5 EMax Veneers, 1 Bridge and 2 White Crowns. What a great and comfortable experience for something so daunting! I must be honest, I have had allot of dental treatments in the past and still to this day get extremely nervous when it comes to further treatment. So, you can imagine how I felt on the plane going to another country to get treatment done. From the minute I stepped off the plane all my fears and anxiety lifted when I met my driver Enrico, who was waiting in the airport very professionally dressed with a name board. I was then taken directly to my hotel where I awaited treatment the next morning. The following morning I was greeted outside my hotel Adam who took me to the clinic and stayed with me through the initial polishing of my original teeth. The dentist and dental nurse were extremely professional and put my comfort first. I was then taken into another treatment room where a gentlemen whitened my lower teeth in order for my new ones to match. After the treatment Adam to me to a pharmacy to ensure I had some basic pain relief. A couple of days later I was picked up again by Adam where I have a fitting and customisation appointment where my new teeth had fine adjustments to ensure they were comfortable before for my final fitting the next morning Friday. Overall Llorand was with me every step of the way even helped me get the football on my hotel TV and always very conscious that I was alone through the whole process and did his best to keep company. Adam and I shared many things in common and ended up becoming good friends in which we still stay in contact to this day. I can honestly say he put my comfort and ease first all the way and never left my side during treatment. I got quoted around £12,000 here in the UK for my treatment and paid £2650 at Contident with the added bonus that I got a very personal service and made great friends for the future. I really could not recommend them enough. Thanks Guys!

Website

Feb 22 2021
---
Dentistry Related Packages
Dentistry Related Experiences