Dentures in Hungary
Why Get Full Mouth Dentures in Hungary?
Tooth loss is a problem for people of all ages caused by many factors like aging or accident. It can cause shame and a lack of self-esteem to smile and talk in public. Fortunately, Dentures in Hungary can improve your physical and oral health at an affordable price.
All types of dentures in Hungary clinics are available at low cost, which is on par with American or UK quality of dental care. Skillful dentists in Hungary will help you achieve a natural-looking smile you will be proud of showing.
Aside from dental work, you will experience a fantastic vacation in this beautiful country. Let's find out more.
Clinic: HD Dental Clinic and Dentium Implant Center
Procedure: Dentures
Complete Dentures Cost in Hungary: $510
Partial Dentures Cost in Other Countries: From $960
Savings: Up to 70%
Top Tourist Places: The Danube River, Buda Castle, Hungarian Parliament Building, and more.
---
How much are dentures in Hungary?
The cost of dentures in Hungary varies depending on the type of denture you need. Complete Dentures cost in Hungary $510 on average while in other European countries like Spain, Greece, and Romania it's over $960. A UK patient would have to pay $1,900 or more for a partial denture, while in the USA this procedure is over $1,500.
Therefore, Hungary is up to 70% cheaper for dentures than Western countries. In addition, you can expect to have a great vacation in this amazing Central European country.
Here is our cost comparison table where you can see prices in different destinations:
Dentures Cost Comparison in Hungary

| Country | Procedure | Price |
| --- | --- | --- |
| Greece | Dentures, Dentistry | $963 |
| Hungary | Dentures, Dentistry | $510 |
| Romania | Dentures, Dentistry | $1058 |
| Spain | Dentures, Dentistry | $1322 |
| United Kingdom | Dentures, Dentistry | $1900 |
| United States | Dentures, Dentistry | $1500 |
---
Top 3 Dentures Clinics in Hungary
Hungary is among the most-visited European countries for dental work thanks to well-established dental clinics and professional dentists. Patients from other countries across Europe and neighboring countries visit Hungarian clinics to receive high-quality dental care at more affordable prices.
Its facilities and infrastructure meet high international standards, and ensure safe and effective treatment for its patients. Below are the top 3 clinics in Hungary where you'll see clinic photos, former patient reviews, medical team, and advantages that dental clinics in Hungary offer for your dentures procedure.
Top Center
Dentium Implant Center is located in the beautiful Budapest, Hungary. The Dentium Implant Center specializes in Dentistry. Dentium Implant Center is dedicated to the constant pursuit of excellence, committed to high quality medical care, featuring experienced and trained professionals and using the latest technology. In order to contact the medical center, please fill out the contact form.
Top Center
HD Dental Clinic in Mosonmagyarovar, Hungary provides the latest services in dental technology. Get Dental Care, Dentures, Dental Implant, Dental Fillings, Jaw Surgery, Root Canal, Paradontal Treatment, and Oral hygiene all under one roof by expert dental caregivers.
Top Center
Deutscher Zahnarzt Budapest is the best medical center for the Dental Treatment in Budapest, Hungary. You can get best treatment for Dental Implants, Aesthetic Dentistry, and Conservative Dentistry at Deutscher Zahnarzt Budapest. You can find and compare your Dental Treatment options at this clinic.
---
Reviews on Dental Work in Hungary
---
Dentures in Hungary FAQs - Things to Know
Wondering about dentures prices in various cities across Hungary? You can discover and compare the costs by reading our answers below.
---
Qualified Dentures Doctors in Hungary
Are you curious to find out the best dentists in Hungary for dentures? PlacidWay will help you find and choose highly qualified prosthodontists who can provide the natural-looking dentures you need.
Thanks to extensive training in the country and abroad, Hungary has reputable dentists you can rely on. Your dentist in Hungary will discuss the values of different materials for dentures with you to help you decide on the type of dentures. Therefore, you'll bring the proper decision based on what is best for your individual circumstances.
Ready to meet your dentist in Hungary? Get in touch with our Customer Care team for more details.
---
Dental Vacation in Hungary - Explore Top Attractions
From historical cities with baroque-style architecture to impressive countryside, Hungary is truly an amazing country to explore. Its natural thermal spas are perfect for unwinding before or after dental treatment.
Apart from having a relaxing holiday in Hungary, you'll also experience a superior quality of dental care at its world-class clinics. Also, Hungary is well-connected to all major cities in Europe and USA, which makes it easily accessible.
So, while saving hundreds of dollars on dentures, here are some excellent places to visit in Hungary:
Buda Castle in Budapest, a UNESCO World Heritage Site
The Danube River
Historic Spa Towns, date back more than 2,000 years to the time of the Romans
Esztergom Basilica, the impressive Catholic church
Hungarian Parliament Building
The Caves of Lillafüred in the Bükk Mountains
The historic city of Sopron, located near the eastern foothills of the Alps
Old town of Visegrád in the Danube Bend and the ruins of Visegrád Royal Palace
The Buda Hills, on the western outskirts of Budapest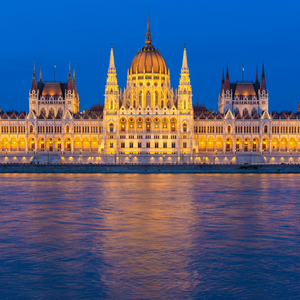 Bucharest Parliament at night
---
Book Your Dentures in Hungary Today!
Save over 50% on the cost of your new dentures in Hungary and enjoy a short break n this charming destination! Return home with a natural-looking smile by booking your dental vacation in Hungary with PlacidWay.
Contact us for more information about dentures in Hungary and a free quote!
---