Dental Veneers in Hungary
Why Go to Hungary for Veneers?
We all want our teeth to look charmingly white and healthy. Unfortunately, many cannot afford it due to the high cost of dental treatment in their country. Therefore, going for dental veneers in Hungary is an affordable and efficient way to restore your teeth' aesthetics.
Thousands of patients from the USA and Europe discover the cost-saving option of dental care in Hungary and the pleasure of sightseeing the country. Hungary is an attractive combination of superior medical care, low prices, and stunning scenery and architecture. 
Let's explore why it's worth visiting for dental tourism.
Clinic: Contident and Deutscher Zahnarzt Budapest
Procedure: Dental Veneers
Cost in Hungary: $500
Cost in Other Countries: From $600
Top Tourist Places: The Danube River, Buda Castle, Hungarian Parliament Building, and more.
---
How much is veneers in Hungary?
When planning your dental treatment in Hungary, one of the most common things you want to know is the cost of veneers compared to other countries. Below you'll see the cost comparison table showing the average dental veneers cost in Hungary of $500. A patient from the UK would have to pay more than $600, while in Germany a single veneer can cost up to $4,200.
The quality of treatment in Hungary matches the one at home so you should not worry about that. Also, traveling from your place to get veneers in Hungary is budget-friendly, and the country is accessible thanks to its location and available airports.
Dental Veneers Cost Comparison in Hungary

| Country | Procedure | Price |
| --- | --- | --- |
| Australia | Dental Veneers, Dentistry | $2000 |
| Germany | Dental Veneers, Dentistry | $4213 |
| Hungary | Dental Veneers, Dentistry | $500 |
| United Kingdom | Dental Veneers, Dentistry | $600 |
---
Top 4 Clinics for Veneers in Hungary
Dental clinics in Hungary are very modern, with state-of-the-art facilities and in compliance with international protocols on hygiene. Hungary is also home to some of the most experienced dentists in Europe. Equipped with the latest technologies, clinics allow specialists to carry out safe and effective dental work on their patients.
Therefore, you can stay confident knowing that you'll get dental veneers in some of the best clinics in Hungary performed by certified dentists. And here are the profiles of the top 4 dental clinics in Hungary:
---
Dental in Hungary Reviews
---
2 Most Asked Questions about Hungary Veneers
Considering veneers Hungary? To make an informed decision, look at our answers about clinics and price for veneers in Hungary.
What is the cost of Dental Veneers in Hungary?
Show More
Affordable Dental Veneers in Hungary The average price of Dental Veneers in Hungary is $500. The final cost for Dental Veneers depends on the final diagnosis, treatment requirements, clinic certifications, equipment and materials used, and duration of the treatment. If you are a medical tourist, remember that this price usually doesn't include airfare and hotel stay. You can also find a lot of packages that dentists in Hungary are offering for Dental Veneers which include lot of benefits for similar price, not only the treatment itself. Dental Veneers help you to boost your confidence and improve your oral health. Also, paying attention to oral health helps prevent bad breath, keep teeth whiter, prevent tongue problems, and helps your natural teeth last longer. Questions to Ask Your Dentist Before Dental Trip to Hungary In order to help you choose the best dentist for Dental Veneers in Hungary, here is the list of some questions that you should ask your dentist before you make an appointment: Are you certified? Are you a member of any Dentistry association or society? How many years of experience do you have performing Dentistry? How often have you performed Dental Veneers? What are the advantages and disadvantages of Dental Veneers? What about the risks and complications? What if something goes wrong during Dental Veneers procedure? What if I am not happy with Dental Veneers results? Why Hungary for Teeth Veneers? In the past few years, Hungary started to become an attractive destination for many medical tourists. With many historical and attractive places that tourists can visit, Hungary started to increase the number of medical tourists yearly. Also, as medical tourism in Hungary expanded, the medical providers started presenting more attractive offers to their customers to remain competitive. Hungary has many dentists who offer different packages for Dental Veneers using the latest technology in Dentistry. Find out more about the best dentists in Hungary and their prices! Contact us and choose the best dental specialist!
Which are the most trustworthy Dental Veneers clinics in Budapest, Hungary?
Show More
The Best Dental Veneers Clinics in Budapest, Hungary There are quite a few world-class reliable Dental Veneers clinics in Budapest, Hungary that offer premier dental care for affordable prices. These top-notch centers offer their medical tourists all-inclusive Dental Veneers packages that most often include transportation to and from the airport/hotel and excellent accommodation options. Basically, the only thing patients have to do is get to Budapest, Hungary to undergo the procedure. What Are the Benefits of Dental Clinics in Budapest? Dental Veneers are one of the most popular dental tourism procedures. Prices for dentistry in the international patients' home countries are pretty expensive - significantly higher than they would pay for the same procedure at one of the top clinics in Hungary. Even when you add on the cost of flights and accommodation, these prices can still represent a considerable saving compared to undergoing Dental Veneers at home, plus you get to enjoy a nice vacation into the bargain. Besides the unbeatable prices, the best dental clinics in Budapest, Hungary also offer cutting-edge technology, safety, and the highest standards of work performed by board-certified, experienced, and renowned dental specialists. Questions to Ask Dental Clinic in Budapest To ensure that your final decision is the best for you, here are some questions you should ask each Dental Veneers clinic. What national or international accreditations does the dental clinic hold for Dental Veneers? Are the dentists board certified? How many Dental Veneers does the clinic carry out each year? What information can you provide regarding the center's and dentist's success rates? Can I speak to any past patients from my country to learn about their Dental Veneers experience with the clinic? What safety and quality measures are practiced at the clinic? What is the level of fluency in English (or my language) of the dentists, dental assistants, and support staff at your clinic? Do you have a dental laboratory on site? If not, which dental laboratories do you use and why? Know more about the most trustworthy Dental Veneers clinics in Budapest, Hungary! Contact us and choose the dental tourism option that's best for you!
---
Qualified Dentists in Hungary
The most qualified dentists in Hungary undergo training on a par with dentist training in the UK or the US. They also complete continuing education throughout their careers.
Their extensive experience helps them to perform high-quality cosmetic dentistry and other procedures a patient requires. Hungary dentists know how to help you feel anxiety-free and will guide you during treatment.
PlacidWay team will support you in finding the right dentist for your needs.
---
Explore Hungary on Your Dental Trip!
Located in Central Europe, Hungary is easily accessible whether you come by air from a distance or by road from a neighboring country. This fascinating destination has a lot to offer besides advanced dental treatment. The unique architecture, beautiful nature, delicious food, and friendly locals will enchant you to explore.
Let's find out which attractions in Hungary promise an unforgettable trip:
Buda Castle in Budapest, a UNESCO World Heritage Site
The Danube River
Historic Spa Towns, date back more than 2,000 years to the time of the Romans
Esztergom Basilica, the impressive Catholic church
Hungarian Parliament Building
The Caves of Lillafüred in the Bükk Mountains
The historic city of Sopron, located near the eastern foothills of the Alps
Old town of Visegrád in the Danube Bend and the ruins of Visegrád Royal Palace
The Buda Hills, on the western outskirts of Budapest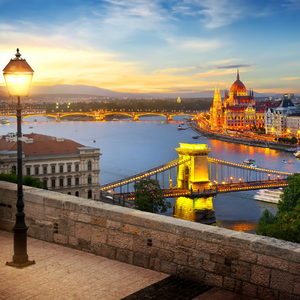 The view of the beautiful Danube River in Budapest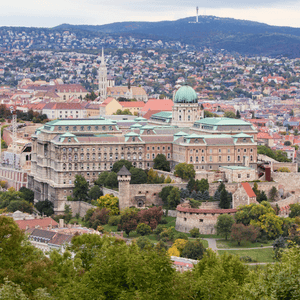 Buda Castle in Budapest
---
Get Your Dental Veneers in Hungary Today!
Book an appointment for your low-cost dental veneers in Hungary with PlacidWay and save over 60% on American and UK prices.
Experience a dental trip in stunning Hungary you'll remember! Contact us for more information!
---