Dental Implants in Budapest, Hungary by PlacidWay
Treatment:
Dentistry, Dental Implants
Focus Area:
Dental Implants in Budapest Hungary | PlacidWay Hungary Medical Tourism
---
Choose Low-Cost Teeth Implants Package in Budapest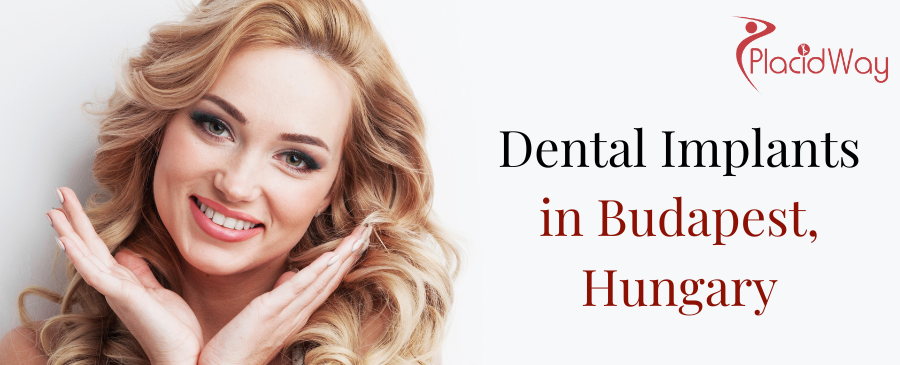 All-Inclusive Package for Dental Implants in Budapest, Hungary
Get new, natural-looking teeth with dental implants in Budapest Hungary! PlacidWay Hungary Medical Tourism provides an affordable package for dental implant surgery to help you reach the desired smile and improve your oral health with long-lasting positive results. Save up to 90% on dental implants in Hungary compared to UK and USA and enjoy a relaxing vacation in beautiful Budapest.
Package Price: $375
Package Includes: 
Procedure for one tooth

All medical fees

Airport/clinic/hotel transfer

Bilingual assistance
Location: Budapest, Hungary
Best Clinic: Dentium Implant Center
Advantages of Choosing PlacidWay Hungary Medical Tourism:
15 years of successful work

Over 1,000 medical centers in 50 countries

Affordable medical care

Renowned healthcare specialists

Patient-centered approach
The Dental Implants procedure replaces tooth roots with metal, screwlike posts and replaces damaged or missing teeth with artificial teeth. Dental implant surgery can be an alternative to dentures or bridgework that doesn't fit well.
Teeth implants improve your oral health as well as smile aesthetics. A dentist will perform this procedure to help you restore your teeth' function.
Cost of Dental Implants in Budapest, Hungary
The dental implants cost in Budapest, Hungary is only $375 per tooth, up to 90% cheaper than in the UK and the USA.
Note: Contact PlacidWay Customer Care team directly for more information about the final price. The price may vary depending on your condition, the clinic, and the complexity of the procedure.

Here are the benefits of getting dental implants: 
The high strength of jaws

You can eat your favorite food

Boost your confidence

Natural-looking smile

More youthful appearance

Easy maintenance

Cost-effective implants
Procedure for a tooth

All medical fees

Airport/clinic/hotel transfer

Bilingual assistance
​Payment Options: Cash, Credit Card, or Checks.
Budapest is home to world-renewed dentists specializing in Smile Design and Restorative dentistry. They work at world-class dental clinics providing successful smile restorations to local and foreign patients at reasonable prices. 
Best dentists in Budapest will help restore your smile and teeth function while guiding you through the process. Most of them are also fluent in English so communication will be smooth.
Dentist Name: Dr. Ali Dehghani
Specialization: Dentoalveolar Oral Surgeon
Membership:
The Dental Department of the Hungarian Medical Chamber
Languages:
Why Choose Dental Work in Budapest?
Budapest is easily accessible by air and road. Ferenc Liszt International Airport in Budapest welcomes flights from all major cities worldwide. Millions of tourists visit Budapest annually to explore its stunning history, culture, places, and people.
In addition, Budapest has become a famous dental tourism destination in recent years. It has numerous dental clinics offering high-quality treatment at more affordable prices than at home.
Charming places to see in Budapest are
Buda Castle, a UNESCO World Heritage Site
The Danube River
St. Stephen's Basilica
Hungarian Parliament Building

Central Market Hall

Heroes Square and the Millennium Monument

Széchenyi Thermal Bath

City Park (Városliget)

The Buda Hills, on the western outskirts of Budapest
FAQs about Dental Implants in Hungary
Am I a good candidate for dental implants procedure?
You are a good candidate for a tooth implant if 
You have all or most of the missing teeth 

Sufficient jawbone structure and gum tissue in place 

You are committed to proper oral hygiene

You have bone loss 

Good general health 

You don't smoke.
Consult your doctor first to know whether dental implants are the right procedure for you.
What should I expect after the teeth implants procedure?
Dental implant surgery is an outpatient procedure that requires a patient to wait up to 6 months until the whole process is over. Placing a dental implant involves multiple steps, including:
Damaged tooth removal

Bone graft, if needed

Dental implant placement

Bone growth and healing

Abutment placement

Artificial tooth placement
Talk to your doctor about preparing for the procedure and what to expect after tooth implant placement.
What is the recovery process after the teeth implant procedure?
You may feel minor discomfort after dental implant surgery like with any other dental surgery. Usually, the following may occur:
Swelling of your gums and face

Bruising of your skin and gums

Pain at the implant site

Minor bleeding
A dentist can prescribe pain medications or antibiotics after dental implant surgery. Contact your oral surgeon if any of these problems become worse.
Also, eating soft foods while the surgical site heals is nececcery.
Book Today Low-Cost Dental Implants Package in Budapest Hungary!
Dental implants in Budapest, Hungary can help you regain a natural-looking smile and self-esteem as well as improve oral health. Experienced dentists in Hungary will provide you with the best treatment at an affordable price. Contact us now for more information!

Related Experiences:
Dental Implants in Hungary for Your Confident Smile
Dental Implants in Ankara, Turkey
Dental Implants in Juarez
Dental Implants in San Jose, Costa Rica
Dental Implant in Bursa, Turkey
Dental Implants in Bogota Colombia
---
---
---
---