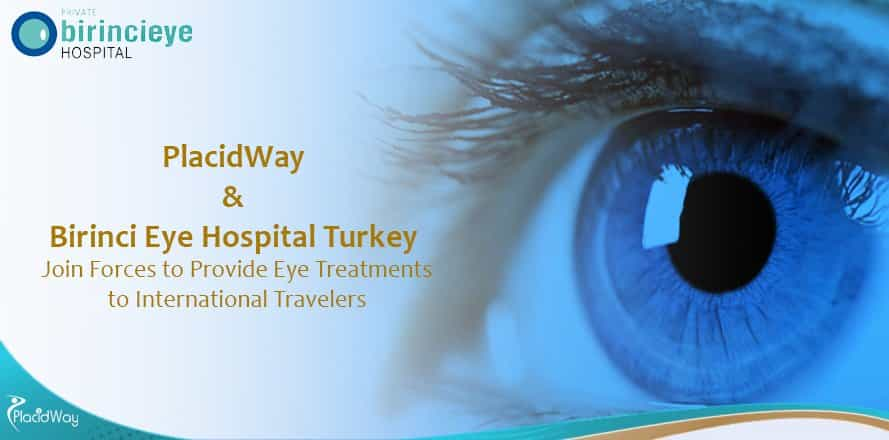 Eye Treatments for International Travelers
PlacidWay joins forces with Birinci Eye Hospital, a world class eye hospital that specializes in the latest eye treatments and procedures in Istanbul, Turkey. Through their experienced opthalmologists, eye surgeons and the latest laser surgical specialties, Birinci Eye Hospital aims to provide a wider reach in its eye expertise to more international customers.
Denver, CO, USA 10 March 2015: PlacidWay, a renowned leader in the medical tourism industry announced today its pioneering partnership with Birinci Eye Hospital, a well-known private eye hospital in Istanbul, Turkey. Together, they share a collaborative vision to improve the quality of life of patients, and contributing to the eradication of eye diseases locally and internationally."
"We can now reach a wider patient clientele, and we look forward to sharing Birinci Eye Hospital's expertise in iLasik (blade-free laser), laser, glaucoma and cataract surgeries and services," said Ali Aksu, MD, Board Chairman of the Birinci Eye Hospital. "We have collaborated with PlacidWay so that patients and their families in Europe, Asia and the Middle East can have access to our proven models of eye care technology, and surgical expertise. Together, we are committed to provide better outcomes for eye diseases because of the technology we can provide."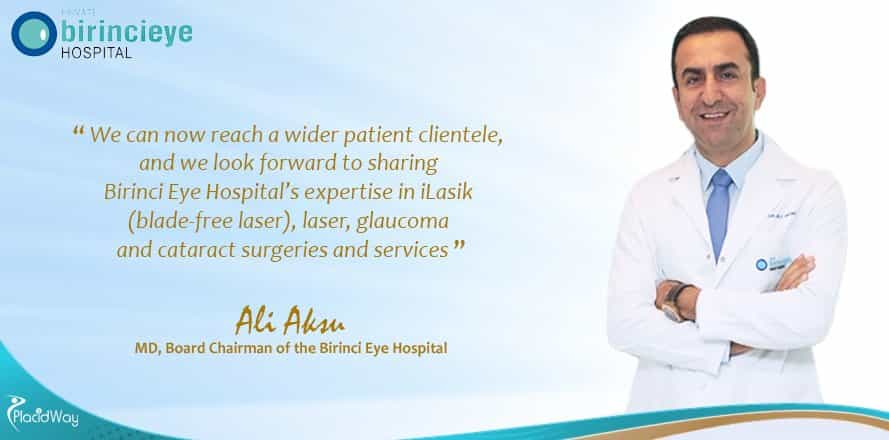 "Our new partnership with Birinci Eye Hospital represents an integral step in providing access to high quality yet affordable eye care for medical travelers all over the world, especially to those who don't have the latest eye care technology in their home countries," said Mr. Pramod Goel, CEO of PlacidWay.
Birinci Eye Hospital is one of the largest hospital branches in Turkey and Europe – a provider of world class ophthalmology treatments and procedures through its qualified eye surgeons, and modern eye technology. As part of its healthcare initiatives, Birinci aims to provide reliable eye care without compromising the ethical values and exceeding the patient's satisfaction.
Birinci Eye Hospital has enhanced their eye hospital by providing all types of eye examinations and treatments. Their private patient rooms are comparable to a five star hotel, with 8 operation theaters and 25 examination suites, all hepa-filtered.
Birinci is also proud of its talented roster of opthalmologists and eye surgeons who specialize in specific eye surgeries such as iLasik With Wavefront, Femtosecond Laser Cataract Surgery, Glaucoma, Cornea Implantation with Intralase Laser, Vitreoretinal and Oculoplastic Surgeries, Multifocal Lens Implantation and Acu Focus/Presby Lasik.
"Our experienced opthalmology team at Birinci Eye hospital performs more than 10,000 eye procedures annually," said Prof. Ali Aksu, MD, who is one of Birinci's veteran laser and refractive surgeons. "What's moving is the fact that this partnership will allow us to deliver higher quality eye treatments for more international patients."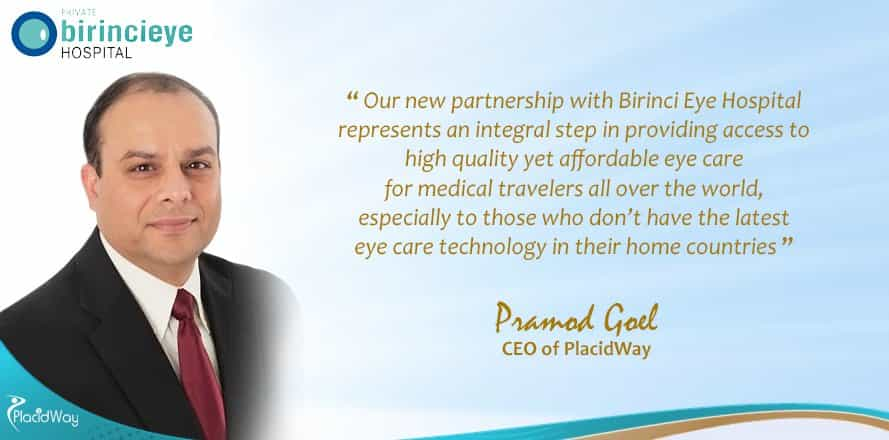 "I am very eager for all of us here at Birinci Eye Hospital, about this new landmark partnership. This alliance is a big plus for both of our organizations. This will not only increase the quality of eye care and technology but more importantly, improve the lives of our patients wherever they are in the world" said Prof. Ali Aksu, MD, Board Chairman of the Birinci Eye Hospital.
"Birinci Eye Hospital is a perfect partner for PlacidWay as we are both recognized for providing access to personalized and affordable quality care. Our anticipated partnership reflects two like-minded systems working together to expand healthcare services to meet the changing demands of global patients. We both do our best to serve in the highest quality way possible," said Mr. Pramod Goel, CEO of PlacidWay.  
With the strategic partnership of both organizations, they share a common goal to enhance the delivery of healthcare services to a wider reach, not only to the citizens of the communities they serve, but more importantly, the international patients who need the care the most.
About PlacidWay:
PlacidWay is one of the most comprehensive industry leader in providing medical tourism services in the world today. Through its collaborative enterprises with healthcare facilities from all over the world, PlacidWay aims to provide information services to medical travelers who badly need healthcare services not available in their own home countries.
For more information about PlacidWay and Birinci Eye Hospital Istanbul, Turkey please do not hesitate to contact us!