Passion for Excellence at Fortis Hospital
Couples around the world seeking the safest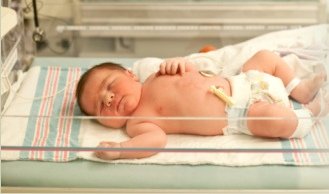 and most advanced birthing centers in the world are lucky to find Fortis Hospital, located in New Delhi, India. Fortis hospital in India is known for its childbirth center, neonatal care and its ability to safely deliver high-risk pregnancies.
Rupinder is only one of the many women who have benefited from the expertise and experience of staff and find pediatricians and obstetricians at Fortis hospital. Reopened air, a young mother, experienced a complicated childbirth, and required over 50 blood transfusions and focused and intense of care. Doctors at the facility, including Dr. Swapna Misra stated that the surgery lasted four and a half hours and was one of the most challenging surgeries of his career.
Rupinder's Story
Rupinder was nearing the end of her pregnancy when she started to experience a massive flow of blood. Her blood pressure and pulse rate dropped as doctors and nursing staff at Fortis hospital sought to save not only her life, but also the life of her unborn child. The medical expertise and focused determination on part of the staff members at Fortis saved her life and that of her child. Initially, Rupinder required 11 blood transfusions, but the bleeding didn't stop.
Rupinder was placed on ionotopic support to help her heartbeat efficiently and provide a steady flow of blood to her fetus. During the surgical procedure to stem the flow of blood and deliver her baby, Rupinder developed additional complications that severely threatened her chances for survival. In fact, surgeons were forced to ask Rupinder for what is called and "death on table consent" to operate on her and deliver her baby after her kidney function ceased and unabated bleeding had severely damaged her intestines.
During the course of the surgery, Rupinder eventually required over 50 blood transfusions, extensive in any circumstance. Following the surgical procedure, with Rupinder hanging on to life by a bear thread, the intensive care team took Rupinder to the intensive care unit and carefully monitored minute by minute.
Eventually, the intensive care team was able to save both Rupinder and her baby, in an event that medical personnel not only of Fortis Hospital, but also in other areas of the world considered a miracle. The staff at Fortis Hospital never gave up, even when the situation seemed dire. They struggled to save Rupinder and did so with dedication, compassion, and determination.
About Fortis Hospital
Fortis hospital not only provides the best in the obstetric and neonatal pediatrics, but for diabetes treatment and treatment packages. Fortis Hospital and Fortis Healthcare are proud to provide world-class healthcare services and highly qualified specialists in the fields of cardiothoracic and vascular surgery, cosmetic, plastic and reconstructive surgery, gastroenterology and general surgery as well as laparoscopic and endoscopic approaches to surgical care.
Fortis Hospital has one of the finest oncology departments in the world, and facilitates bone marrow transplants, orthopedics, and pediatric care as well as pediatric surgical procedures.
PlacidWay, a medical resource and provider based in Denver, Colorado, is pleased to partner with Fortis Hospital and Fortis Healthcare in efforts to offer superb medical services in numerous fields of care. From obtaining passports and visas to arranging with their doctor and surgeon in India, PlacidWay give patients information and access to surgery consultation, surgery and post-op care prior, during and following surgical procedures or care. This is what PlacidWay is all about - offering easy access to acclaimed and world-class providers and facilities around the world.
Rupinder and her family are supremely happy that she was taken care of at Fortis Hospital in a situation where many medical providers would have given up. Staff at Fortis Hospital never gives up, and today, Rupinder's smile and gratefulness are evident of their dedication.
Please Click Here to request more information about treatment in Fortis Hospital.