Dr. Gustavo Ernesto Ramirez Reyna, Orthopedic surgeon - Jalisco, Mexico
Del Parque 354, Col. Chapalita, CP:45040, Zapopan
Jalisco, Mexico
Speciality:
Orthopedic surgeon,
Degree:
Orthopedics and Traumatology Specialist
Focus Area:
Dr. Gustavo Ernesto Ramirez Reyna | Orthopedic surgeon in Jalisco, Mexico | Spine Surgery | Hip and Pelvic Surgery | Knee Surgery | Joint Replacement | Fractures | Foot Surgery | Shoulder Surgery | Ankle Surgery | Hand Surgery
---
About - Dr. Gustavo Ernesto Ramirez Reyna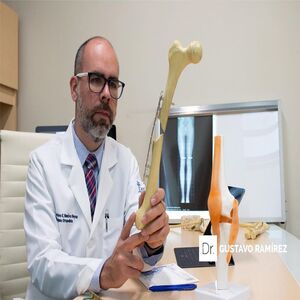 Dr. Gustavo Ramirez is a the best choice for you with the top service and care related to Orthopedic Surgery. He is providing exceptional treatments in his clinic in Jalisco, Mexico.
PROFESSIONAL DEVELOPMENT
Mexican Social Security Institute.
In charge of the Traumatic Spine and Hip Module at the General Hospital of Zone 45, in the Morning shift.
Orthoplus.
Orthopedics and Traumatology Group
Integrity
Medical Office with Orthopedics and Traumatology service
Tamazula of Gordiano.
Orthopedics and Traumatology Office

Education
Academic Qualification
2000 - 2004 Autonomous University of Guadalajara Guadalajara Jal
• Faculty of medicine He studied with the 8 semesters of the medical career.
• Graduated in 2004.
• Completion of a practical theoretical professional exam in July 2005, accrediting both exams.
2004 - 2005 Undergraduate Rotating Internship Guadalajara Jal
• Rotating undergraduate internship carried out at the Hospital Ángeles del Carmen, rotating through the services of Gynecology and Obstetrics, Critical Medicine, Internal Medicine, Emergencies and Surgery, obtaining a letter of completion of the internship.
2005 Social Service Guadalajara Jal
• Social Service carried out in the modality of linking from August 1, 2005 to July 31, 2006 rotating by:
• First period to the Health Center of San Juan de Ocotan, in Zapopan Jalisco, corresponding to the sanitary region number X.
• Second period of social service carried out in the Mobile Unit of the Community Medicine Program of the UAG.
2007-2011 Postgraduate Studies Guadalajara Jal
• Specialty Course in Orthopedics and Trraumatology.
• Carried out in CMNO UMAE HE, where he rotates for 4 years during the different phases of training of the resident of this specialty, complying with the requirements and programs of said specialty, acquiring different clinical-surgical skills, finishing said course in February 2011.
• Rotating mainly in the modules of Spine, Pelvis, acetabulum, Hand and Shoulder.
• Currently in charge of the Traumatic Spine and Hip service at the Mexican Institute of Social Security, Regional General Hospital 45 "Ayala" in the morning shift.
COURSES AND CONGRESSES
November 2004 - ACS Guadalajara Jal
Completion of the Advanced Trauma Life Support (ATLS) course taken to cavo at the Angeles del Carmen hospital in the city of Guadalajara, taking the exams, accrediting, thus obtaining credential validated by the ACS valid for 4 years.
March 2008 - Queretaro.
Advances in Pediatric Orthopedic Surgery from AO Foundation (Arbeitsgemeinschaft für Osteosynthesefragen/ ASIF: Association for the Study of Internal Fixation) Receiving Certificate of accreditation of said course.
October 2008 - Mexico City.
Theoretical-Practical Workshop "instrumentation prostheses and surgical anatomy of the spine. Receiving Constancy endorsed by the Mexican Society of Neurological Surgery A.C.
August 2009 -Guadalajara.
AO Spine Residents Seminar: Basic Sciences.
October 2009 - Guadalajara.
XX National Congress AMOT. Endorsed by the Mexican Association of Orthopedics and Traumatology, Federation and National College of Orthopedics, A.C., The Medical College of Orthopedics of Jalisco, A.C.
February 2010 - Guadalajara.
X International Meeting of the Mexican Society of Hip Surgery.
July 2012 - Puerto Vallarta.
Course advances in orthopedics, management of complex fractures.
March 2013 - Chicago, Il.
American Academy Orthopaedic Suergeons meeting, which I attended as an affiliate international member.
May 2013 - San Francisco California.
8th Annual San Francisco Orthopaedic Trauma Course, endorsed by the University of California San Francisco.
May 2013 - Guadalajara.
Participation as Speaker in the general session with the theme Lumbalgias at the HGR 45 "Ayala" IMSS hospital.
August 2014
Membership in AOSpine Latin America.
February 2015 - Puerto Vallarta
XV International Meeting of the Mexican Society of Hip Surgery A.C.

Membership
Certified By The Mexican Council Of Orthopedics And Traumatology
Member Of American Academy Otrthopaedic Surgeons
Member Of Aospine And North American Spine Surgeons
Holder Spine And Hip Surgery Imss Hgr 45

Prices
| Knee Replacement Cost in Jalisco Mexico - Dr Gustavo Ramirez | Prices | Enquire |
| --- | --- | --- |
| Hip Replacement Surgery Partial or Total in Guadalajara , Mexico | $13000 | Enquire |
| Knee Replacement Total or Partial in Guadalajara , Mexico | $13000 | Enquire |
| ACL Repair in Guadalajara , Mexico | $7000 | Enquire |
| Meniscus Repair in Guadalajara , Mexico | $5000 | Enquire |
| Rotator Cuff Repair in Guadalajara , Mexico | $5000 | Enquire |
| Carpal Tunnel Surgery in Jalisco, Mexico | $2400 | Enquire |
---
Dr. Gustavo Ramirez | Orthopedic Surgeon reviews
Alberto

Excellent professional, without a doubt the best!

Facebook

May 20 2020

Gabby

Great doctor Dr. Gustavo Ramírez, super professional, very dedicated and passionate about his specialty ... 100% recommended.

Google

May 11 2021

Leo P D

I had a high ankle sprain with a broken fibula and significant ligament damage and needed surgery. A friend suggested Dr Ramirez in Mexico. I was delighted to find him willing to get me in for a consult and surgery fast. Dr. Ramirez used a world class surgical technique and did an outstanding job.
Moreover, the pain management was better then I ever expected and he only prescribed non addictive medications.
Finally, he helped me find a great place to stay for a few weeks after the surgery, with nursing care, and even coordinated all my transportation. If I could give 6 stars I would! :-)


Mar 30 2018
---
PlacidWay.com provides information and travel related services. We do not provide health care services. We provide information solely for informational purposes and do not endorse any particular health care provider or facility or any particular health care service or treatment. We are not affiliated with any health care provider or service and we are not responsible for any health care service. Please consult with your own domestic licensed health care provider before seeking the services of any health care provider you learn about via our site.
---