Face Lift in Antalya, Turkey
Reduce Sagging Skin with Facelift Surgery in Antalya
If sagging and excess skin on your face causes you to feel less confident, you should consider Facelift Surgery in Antalya, Turkey. A facelift involves reducing the aging signs and tightening the underlying tissues and muscles on your face. This popular cosmetic procedure is done by professional plastic surgeons at state-of-the-art facilities in Antalya.
Known as a tourist hot spot in summer, Antalya is visited by millions of Europeans annually. They also take advantage of the trip to undergo plastic surgery, such as facelifts, at a more affordable price here than back home.
In our guide, you'll discover modern clinics equipped with advanced technology, highly skilled doctors, and cost-effective packages, giving you a wide range of opportunities to choose from.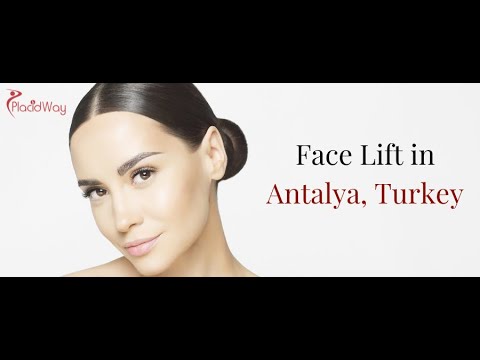 ---
Affordable Facelift Package in Antalya
The best way to take advantage of your medical trip abroad is to select an all-inclusive package deal. We will help you create the facelift package that best suits you, or you can get the one we already have for facelift in Antalya at only $2,460.
You'll find more information about this popular package and how to book it with us in the following link.
Are you looking for the best facelift surgery package? Antalya, Turkey is a top destination for pati
---
Cost of Facelift Surgery in Antalya
Considering a facelift but not sure where are the lowest prices. You should know that a facelift cost in Antalya is $3,500 on average while in other European countries over $4,300. In the UK this cosmetic procedure is over $6,000 and in the US $8,000.
You can thus save between 30% and 60% by coming to Antalya facelift instead of spending the fortune back home.
Compare facelift prices in Antalya clinics with your home country and see how much you can save.
Face Lift Centers Cost Comparison in Antalya, Turkey
| Provider | Procedure | Price |
| --- | --- | --- |
| Prof. Dr. Omer R Ozerdem | Face Lift, Cosmetic/Plastic Surgery | $3790 |
| Dr. Sibel Atalay International Clinic | Face Lift, Cosmetic/Plastic Surgery | $4000 |
Face Lift Cost Comparison in Turkey

| Country | Procedure | Price |
| --- | --- | --- |
| Germany | Face Lift, Cosmetic/Plastic Surgery | $4300 |
| Greece | Face Lift, Cosmetic/Plastic Surgery | $6279 |
| Spain | Face Lift, Cosmetic/Plastic Surgery | $5500 |
| United Kingdom | Face Lift, Cosmetic/Plastic Surgery | $6000 |
---
Best Clinics for Facelift in Antalya
Turkey boasts world-class clinics and hospitals with modern infrastructure and advanced technology. Some of the best plastic surgery clinics in Turkey are located in Antalya. We have listed below the top 5 clinics for facelifts in this Mediterranean resort, where you'll have high-quality surgery performed by experienced doctors.
A beautiful environment and warm weather will produce faster recovery from the facelift surgery, and you'll have the time to explore the city before or after your facelift.
Let's see which Antalya clinics are an excellent choice for rhytidectomy procedure.
---
Plastic Surgery in Antalya Reviews
---
Rhytidectomy in Antalya FAQs
Read our answers below to meet the best clinics for facelifts in Antalya and learn more about their affordable cost.
What is the cost of Face Lift in Antalya, Turkey?
Show More
Having Face Lift in Antalya, Turkey will cost you on an average $7400. The surgeon will be able to give you the final price after the first consultation when he/she will determine what type of procedure is needed, how long will it take, what materials will be used, etc. If you are from another country and you want to have Face Lift in Antalya, Turkey you can also benefit from the many packages offered to international patients, which include airport pick-up, transportation to and from the hotel and clinic, pre and post operative care, case manager, translator, or even accommodation. By choosing Face Lift in Antalya, Turkey you will find top plastic surgeons, accredited medical facilities, highly experienced medical staff, modern techniques and affordable prices. Besides all these you will also recover and relax in one of the most beautiful countries in the world. Finding the right plastic surgeon in Antalya, Turkey for you can be hard. There are so many, each of them promising great results. But there are some questions that you can ask, which will help you find the right one for you. How many years of experience do you have performing Cosmetic/Plastic Surgery? What are the advantages and disadvantages of Face Lift? What about the risks and complications? How often have you performed Face Lift? What should I expect after the surgery? What if I am not happy with the Face Lift results? How long should I be staying for recovery? Are you certified? Are you a member of any Cosmetic/Plastic Surgery association or society? What if something goes wrong during Face Lift procedure? Turkey has won its reputation as one of the best destinations for medical tourism, offering superlative medical care in the plastic surgery field. Internationally accredited medical facilities are located in large cities such as Antalya.  Surgeons and physicians in Turkey provide high class care and expertise to both local and international patients and most of them have been trained in Europe and the US. Below you can find some of the best plastic surgeons in Antalya, Turkey that offer most affordable price for Face Lift.Find out more about the best plastic surgeons in Antalya, Turkey! Contact us and choose the best plastic surgeon!
Which are the most reliable Face Lift clinics in Antalya?
Show More
Here are some of the best choices if you are looking for top Face Lift clinic in Antalya, Turkey. All these plastic surgery clinics are accredited and offer safe and highly successful cosmetic procedures for patients from all over the world. When you are unhappy about your physical appearance, you whole life will take a negative turn. You will isolate yourself from your friends, you will avoid getting out and having fun, you will feel depressed and unloved. Face Lift can solve that, by improving your body and therefore your self-confidence. More and more medical tourists undergo Cosmetic Surgery in Antalya, Turkey, which is known as one of the most sought after plastic surgery destinations. The best clinics in Antalya have gained their reputation thanks to their high-standards of care, certified, highly trained, and educated teams of plastic surgeons who use cutting-edge technology and the latest treatment methods. Top Clinics for Face Lift Surgery in Antalya, Turkey Dr. Sibel Atalay International Clinic Yasam Hospitals Group Dr. Sultan Yalcin Clinic Estemita Aesthetics Clinic of Op. Dr. Hakan Olmezturk Prof. Dr. Omer R Ozerdem Cost of Face Lift in Antalya, Turkey Country Procedure Cost Antalya, Turkey Face Lift $4,200 United Kingdom Face Lift $6,000 Switzerland Face Lift $16,444 Note: Price can change and vary depends on patient condition and complexity of the procedures. Board Certified Cosmetic Surgeon in Antalya, Turkey Dr. Sibel Atalay Dr. Medine Kanturk Dr. Selcuk Aytac Riza Kanturk Ali Ekber Yurekl Gulden Gurel 4 Questions to Ask Before Having Face Lift in Antalya, Turkey To be sure that your choice is the most suitable one, you can ask the Face Lift clinics several questions. How long have you been performing Face Lift? How safe is the Face Lift? What kind of anesthesia will be used on me during Face Lift? Will I need to stay overnight for Face Lift? Advantages of Choosing Plastic Surgery in Antalya, Turkey High prices, long waiting lists, or lack of insurance are just some of the reasons people seek plastic surgery abroad. Luckily, these trustworthy cosmetic surgery clinics in Antalya, Turkey offer: Top medical services, Pocket-friendly prices, and comprehensive care to international patients. Book Your Consultation for Face Lift Surgery in Antalya, Turkey at PlacidWay! Many cosmetic procedures are done for the purposes of physical health, such as nose surgery, breast reduction, tummy tuck or liposuction being only some of them. So besides offering you the body you want, Face Lift also helps you live a healthy and happier life. No more hiding your body, no more hiding yourself from the rest of the world. Plastic surgery offers a new beginning. Are you looking for more information about Face Lift clinics in Antalya, Turkey? Click contact us button to learn more:
---
Best Plastic Surgeons in Antalya for Facelift Surgery
Antalya plastic surgeons specializing in facelift surgery have more than 10 years of clinical practice and effectively treat local and international patients. Some of their membership includes these organizations:
Aesthetic Surgery Association
Turkish Medical Association
Turkish Plastic Reconstructive Aesthetic Surgery Association
West-Mediterranean Exporters Association
Here you'll see the profiles of two highly qualified Plastic Reconstructive and Aesthetic surgeons in Antalya and their past patient reviews.
Contact us to book your consultation with one of the following plastic surgeons:
Dr. Sibel Atalay is a qualified Plastic Reconstructive and Aesthetic Surgeon. Dr. Sibel Atalay has ...
---
Why Should I Choose Antalya for Facelift?
Antalya is among the top Turkish cities for plastic surgery, especially a facelift procedure. It boasts world-class clincis, high-quality plastic surgery at reasonable cost, and well-trained plastic surgeons. In addition, Antalya is a famous tourist spot due to its nice weather, beautiful beaches, and luxury resorts.
You can easily reach Antalya by air from major cities since it has an international airport located 13 km northeast of the city center. And if you want to explore the city before your rhytidectomy surgery, here are some exciting sites we recommend:
Antalya's Old Town Kaleici

Konyaalti Beach

Aspendos

The Ruins of Termessos

The Yivli Minare

Hadrian's Gate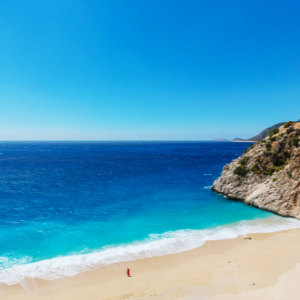 Mediterranean Coast - Antalya
---
Get Facelift in Antalya Today at Low-Cost!
Remove excess skin on your face with cost-effective Facelift Surgery in Antalya, and indulge in this beautiful summer resort!
Our PlacidWay team will help you arrange your medical trip at no charge. Contact us today and get your free quote!
---