Top Quality IVF with Egg Donor Package in Famagusta Cyprus
Package price starting from:
$4991
Treatment:
Fertility Treatment, IVF with Egg Donation, In Vitro Fertilization (IVF), Egg Donation
Location:
Esref Bitlis Avenue, Cyprus
Focus Area:
IVF with Egg Donation in Famagusta Cyprus | Cyprus IVF
---
Low-Cost IVF with Donated Eggs in Cyprus Starts from $4,991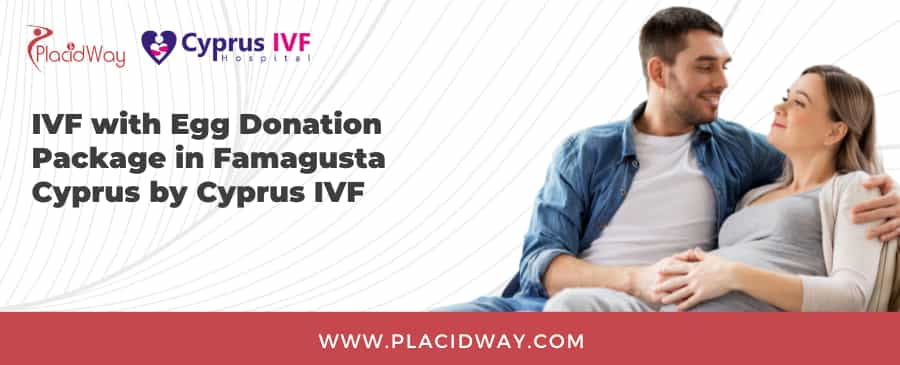 Increase Chance of Having Baby with IVF with Egg Donation in Famagusta by Cyprus IVF
Cyprus IVF provides affordable packages for IVF with Egg Donation in Famagusta Cyprus. Book now In Vitro Fertilization with Egg Donor at PlacidWay. Looking to have a baby through IVF? You may have better odds by using egg donation at Cyprus IVF. According to a recent study, patients who use donor eggs in their IVF treatment have a significantly higher chance of success than those who don't. So if you're hoping to increase your chances of having a baby, egg donation may be worth considering.
What is In Vitro Fertilization with Egg Donation?
In Vitro Fertilization is a process of fertilization where an egg is combined with sperm outside the body, in a laboratory dish. Egg donation is when a woman provides one or more eggs (ova, oocytes) for another person.
You can get IVF with Egg Donation Package in Famagusta Cyprus by Cyprus IVF with the price starts from $4,991.
| | | |
| --- | --- | --- |
| | | |
| | IVF with Egg Donation | |
| | IVF with Egg Donation | |
| | IVF with Egg Donation | |
Note: Price subject to patient's requirements. The surgeon will set the final price once the patient has a proper evaluation.

If you're considering IVF with an egg donor, it's important to understand the process. Here's a quick overview of what you can expect:
Note: All transfers between airport-hotel-hospital will provided by our hospital for free of charge
Note: The pre-op tests will be suggested after an essential physical check up. The tests are required to be done before 7-10 days of the treatment.
Payment Options: Cash, Credit Card, Wire Transfer.
Note: The clinic may ask you for money deposit once you decide to receive the surgery.
Here you can find information about top surgeon for IVF with Egg Donation in Cyprus: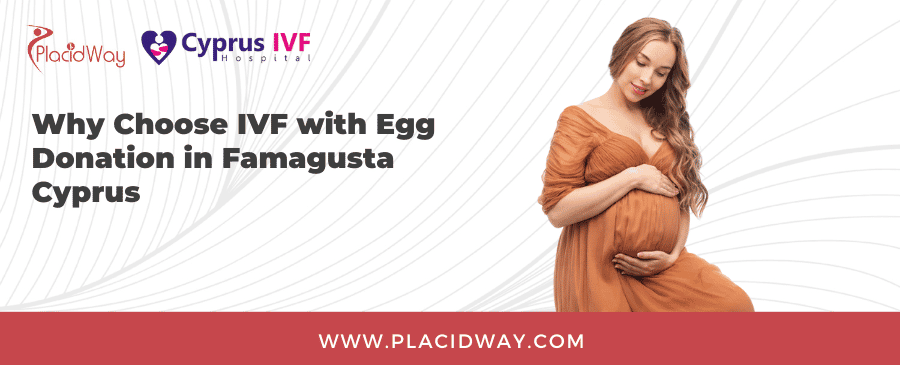 Famagusta, Cyprus is an excellent choice for IVF treatments for a number of reasons. The climate in Famagusta is conducive to a healthy pregnancy, with warmth and sunshine throughout the year. Famagusta also has world-class medical facilities, and the doctors and staff are experienced and knowledgeable in fertility treatments.
What's more, the cost of IVF in Famagusta is very reasonable, making it an affordable option for many couples struggling with infertility. So if you're considering IVF, be sure to give Famagusta, Cyprus a closer look.
Check below for information about about Frequently Asked Questions for IVF with Egg Donation Surgery in Famagusta Cyprus:
There are a number of reasons why someone might need to consider IVF with Egg Donation. This includes women who have a low egg reserve, those who have previously had unsuccessful IVF cycles, or those who are carrying a genetic disease which could be passed on to their child.
The first step is to find a suitable egg donor. This can be done through a fertility clinic or an egg donation agency. Once a donor has been found, the recipient will undergo fertility treatment in order to prepare their body for embryo transfer. The next step is to collect eggs from the donor, which is then fertilized with sperm from the recipient's partner. The resulting embryos are then transferred into the uterus of the recipient.
IVF with Egg Donation has a high success rate, with many women going on to have a successful pregnancy and healthy baby.
There are a few risks associated with IVF with Egg Donation, but these are generally low. These include the risk of infection and the risk of multiple births.
Think you need help conceiving? You're not alone. At Cyprus IVF, we offer Egg Donor IVF services to give you the best possible chance of success. And what's more, we're located in the stunning Famagusta, Cyprus. So why not book today at PlacidWay and start your journey to becoming a parent?

Related Experiences:
IVF Fertility Treatment in Cyprus - Affordable IVF Treatment
IVF Fertility Treatment in India - Hope for Family
IVF Fertility Treatment in Colombia - Successful IVF Treatment
IVF in Bangkok Thailand
IVF in Cancun, Mexico
Get Pregnant with IVF Fertility Treatment in Costa Rica
---