Package Details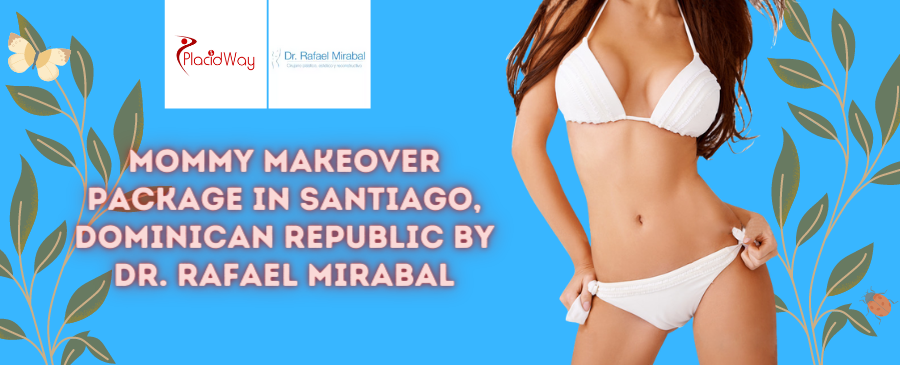 Affordable Mommy Makeover Package in Santiago Dominican Republic - Dr Rafael Mirabal
Dr. Rafael Mirabal provides a cheap package for Mommy Makeover in Santiago, Dominican Republic. Get top treatment free quotes for top centers. Dr. Rafael Mirabal has providing great Mommy Makeover procedure for local patients and foreign patients. He is graduated from prestigious school of medicine of Universidad Del Salvador, from Buenos Aires, Argentina. Dr. Rafael Mirabal and his medical teams will assure you to get better looks that you need.
What is Mommy Makeover?
Mommy Makeovers are a combination of procedures that are applied to assist you with getting the pre-pregnancy shape or figure that you are looking for. As is known, a woman's body will change from time to time, especially after pregnancy. The skin seems to lose its adaptability, proportionately as its standard shape. This effects decreasing confirmation, additionally as changes in body shape totally. Suitably, Mommy Makeover offers top solution for lady to get tight skin, delete stretch etchings, give generally skin changing and improvement, and other beautification benefits.
Get Mommy Makeover Package in Santiago, Dominican Republic by Dr. Rafael Mirabal with the price starts from $7,500.
Note: Price can different or change depends on complexity of the procedure. Please follow Price Policy in Dr. Rafael Mirabal or contact Customer Representative.
Here you can find inclusions for Mommy Makeover Package in Santiago, Dominican Republic by Dr. Rafael Mirabal:
Check below information of exclusions for Mommy Makeover Package in Santiago, Dominican Republic by Dr. Rafael Mirabal:
Below are some pre op tests in Mommy Makeover Package in Santiago, Dominican Republic by Dr. Rafael Mirabal below:
Note: The pre-op tests will be suggested after an essential physical check up. The tests are required to be done before 7-10 days of the treatment.
Payment Options: Cash, Credit Card, Wire Transfer
Note: The clinic may ask you for money deposit once you decide to receive the surgery.
The purpose of having mommy makeover is to restore the appearance and shape of a woman's body after pregnancy by using Tummy Tucks, Liposuction, Breast Reductions, Genital Rejuvenation, etc. Many Numerous women notice changes in their bodies post-pregnancy. There are numerous region of the body that can be tended to, most commonly the bosoms, mid-region, midriff, genitalia, and hindquarters. A mommy makeover is typically preceded as a solitary stage procedure. There are numerous methods used to play out a mommy makeover, and many elements ought to be thought about while picking which procedures are ideal:
Desired amount of restoration

Placement of the incisions

Type of implant used
Possible Procedures in a Mommy Makeover
Breast augmentation  

Breast lift

Buttock augmentation

Tummy tuck

Liposuction
You may be a candidate for mommy makeover surgery if:
You are in good medical health

You are at your ideal body weight

You have a positive outlook and realistic expectations

You are finished with childbearing
Requirements for Mommy Makeover Surgery
BMI Requirements: BMI less than 35

Procedure: Breast Augmentation (Motiva Implants), Abdominoplasty, 360Lipo, Brazilian Butt-Lift

Requirements: Body Pictures (Front, Side, Back profile), Virtual Consultation, Medical History
Below are some advantages of selecting Mommy Makeover Package in Santiago, Dominican Republic by Dr. Rafael Mirabal:
Here you can find information about Mommy Makeover Surgeon in Santiago, Dominican Republic by Dr. Rafael Mirabal:
Dominican Republic has become one of the essential nations in guaranteed, reasonable plastic surgery with confirm and well known, sought-after surgeons. Plastic Surgery procedures in Dominican Republic are additionally consistently more reasonable than operations acted in the United States and different nations.
Maybe the clarifications for its ubiquity are an immediate consequence of Santiago, Dominican Republic offers Plastic Surgery procedures at reasonable expense and simple to access by neighborhood and new open minded. Going to Santiago, Dominican Republic makes you to set aside money up to 70% on Mommy Makeover.
Most of Santiago, Mexican clinical centers is striking and is staffed by basically prepared and English talking a lot of informed specialists. You can consider to be simpler to chat with all nursing and clinical staffs utilizing English. Santiago, Dominican Republic has accomplished wide prospering thought and its public clinical idea is appealing for most all overall patients.
Here you will find information about FAQ (Frequently Asked Questions) for Mommy Makeover in Santiago, Dominican Republic by Dr. Rafael Mirabal:
The price for plastic procedures in Dominican Republic is one of the most reasonable on the planet. Since clinical thought, standard costs, and clinical supplies are according to an overall viewpoint more reasonable than in the United States and Canada.
Patients who select Mommy Makeover surgery in Dominican Republic will receive the best medical service and comfortable environments. These clinic provide awesome quality for health-care, follow-up for patients, 24/7 consultation or reservation service, safe and hygiene equipments, and many more.
Yes, it is 100% safe! Plastic surgery in Santiago, Dominican Republic is chosen by local patients and abroad patients, and most of them said good reviews about it. All patients will receive good care from the medical staffs, effective surgery from top and certified surgeon, and of course affordable in price!
Santiago, Dominican Republic is a popular place for Mommy Makeover. Of the various nations offering medical tourism, Dominican Republic is among astounding for U.S. and Canadian patients since costs of Dominican Republic surgery are dependably much lower than costs in the U.S. in like manner as Canada.
Mommy Makeover Package in Santiago, Dominican Republic by Dr. Rafael Mirabal will give magnificent outcome that you are searching for. Top surgeon in Santiago, Dominican Republic by Dr. Rafael Mirabal is utilizing the most recent innovation and safe procedure to guarantee your solace and comfort. Update your eminence appearance by applying Mommy Makeover in top office in Santiago, Dominican Republic. Click button under to get more information:
Related Experiences:
Mommy Makeover in Dominican Republic - Transform Your Look
Mommy Makeover in Colombia
Mommy Makeover in Costa Rica - Reshape Your Body Figure!
Useful Guide to Mommy Makeover in Tijuana Mexico
Mommy Makeover Turkey - Restore Your Pre-Pregnancy Body
Transform Your Look with Mommy Makeover in India