Straumann or Nobel Implants with 3D CT Scan Package in Jelenia Gora Poland
Package price starting from:
$1606
Treatment:
Dentistry, Dental Implants
Focus Area:
Dental Implants | Nobel Dental Implants | Straumann Dental Implants | Dental Crowns | Dental Care Poland | Dental Treatment Poland | Jelenia Gora, Poland
---
Dental Implants Cost In Poland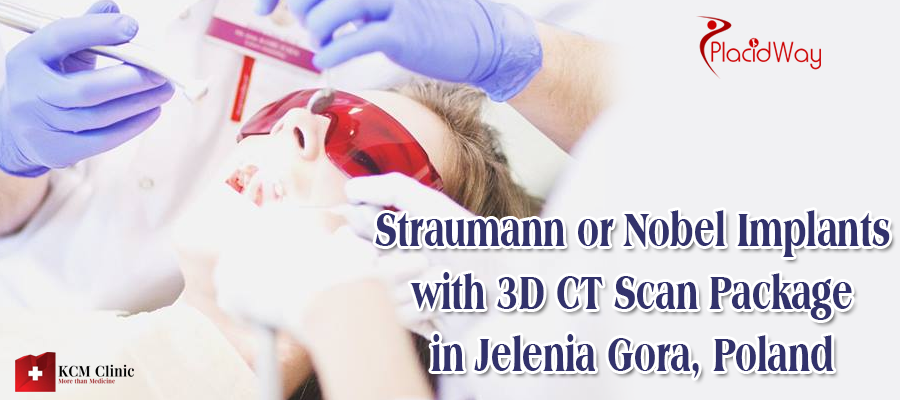 Straumann or Nobel Implants with 3D CT Scan Package
in Jelenia Gora

, Poland
Dental implants are the perfect solution to replace missing teeth, a long lasting option, which preserves the bone and the health of your teeth.
Straumann dental implants are well known for their high quality, user-friendly characteristic, being the perfect long-lasting and esthetic tooth replacement solution. The Straumann have been designed to replace individual teeth, to attach fixed or removable full dentures, or to carry multi-unit bridges.
The Nobel Biocare offers a variety of titanium implants which fit every patient's needs. Maximum stability, esthetic excellence, easy-to-use implant system, efficiency, high-quality; this is what you should expect from the Nobel Dental Implants.
The Package Price is $1,606
The package price includes the following services:
Straumann or Nobel Implants

Dental diagnostic – dental 3D CT Scan, implantologist consultation

local anesthesia (general anesthesia possible)

Personal host at KCM Clinic dedicated to your travel itinerary and medical travel program

Ground transportation to and from the hospital to the hotel and from Wroclaw (WRO) Airport 

2 days Hotel stay
If you have questions regarding the KCM Clinic and the high quality dental implants it offers, click the button below and get the answers you need.

Related Experiences:
Dental Implants in Juarez
Dental Implant in Aydin, Turkey
Dental Implant in Alanya Turkey
Dental Implants in San Jose, Costa Rica
Dental Implant in Bursa, Turkey
Dental Implants in Bogota Colombia
---
Dentistry Related Packages
Dentistry Related Experiences