Top Breast Re-Augmentation at The Aivee Institute in Manila Philippines
Package price starting from:
$4340
Treatment:
Cosmetic/Plastic Surgery, Breast Augmentation
Focus Area:
Top Breast Re-Augmentation at The Aivee Institute in Manila Philippines
---
Breast Re-Enlargement in Manila Cost start from $111 USD, Breast Re-Augmentation at Aivee Institute in Best Price, Breast Implants Costs available,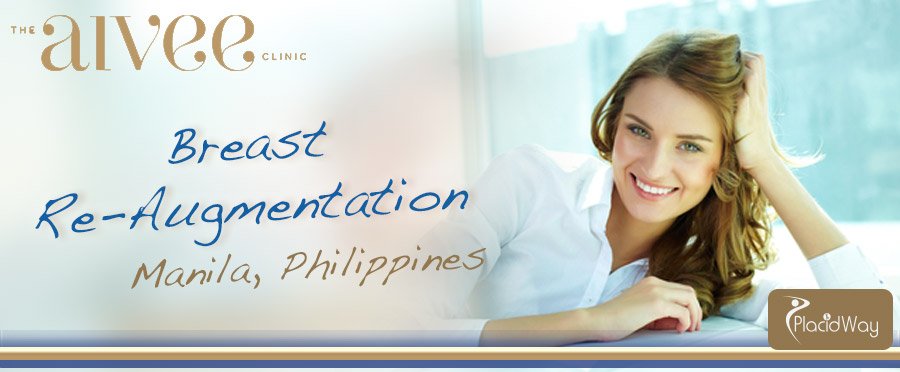 Top Breast Re-Augmentation
at The Aivee Institute in Manila Philippines
Each and every woman deserves to be and feel feminine all the time, and for many women the shape and size of their breasts can make them feel that they lost their femininity. For women suffering from breast cancer, choosing to undergo a breast reconstruction surgery may be a step on the road to healing. Aivee Institute can help every patient achieve her goals in order to feel more confident.
When to Consider Breast Re-Augmentation in Philippines
If you want an improved or more attractive figure
If you wish your clothes fit and look better
If pregnancy, weight loss or aging has affected the size and shape of your breasts
To restore symmetry if one of your breasts is smaller than the other
Breast Augmentation, one of the most popular cosmetic surgery procedures, enhances the size and shape of the breasts. Saline-filled or silicone-gel-filled implants are surgically inserted through the inframammary incision (below the breast), the periareolar incision (along the nipple) or the transaxillary incision (in the armpit).
The implants are placed either below the chest muscle or between the chest muscle and the breast tissue. The procedure takes 2 to 5 hours and can be done on an outpatient basis or with hospital under local anesthesia with sedation.
A breast re-augmentation procedure implies removing the older implants and replacing them with bigger ones.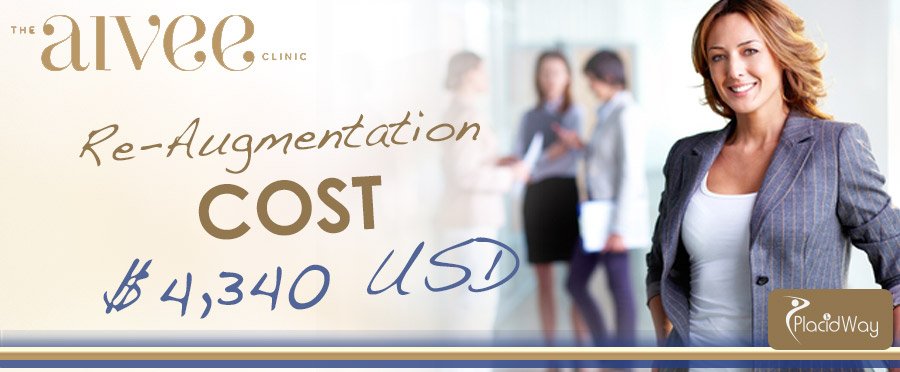 Price for Re-Augmentation Procedure at The Aivee Institute
Re-Breast Augmentation $4,340 USD
    * Areola Repair $780 USD
    * Compression Garment $111 USD
Benefits of Breast Re-Enhancement in Manila Philippines
Feeling more feminine and having a more "womanly" figure.
Having a higher level of confidence and self-esteem.
Improvement of the fitting of clothes.
A more symmetrical appearance for your breasts.
Changes that occurred following pregnancy, breast-feeding or weight loss can be corrected.
You can also be  among our  happy patients who have had an amazing experience at The Aivee Institute!
Choose cosmetic surgery in Manila, Philippines to regain your self-esteem and confidence!

Related Experiences:
Breast Augmentation in Colombia
Breast Augmentation in Monterrey Mexico
Breast Augmentation in Guadalajara, Mexico
Breast Augmentation in Izmir, Turkey
Breast Augmentation in South Korea
Breast Augmentation in Croatia
---
Cosmetic/Plastic-Surgery Related Packages
Cosmetic/Plastic-Surgery Related Experiences