Aivee Institute Philippines
Cosmetic Surgery Philippines, Face Lift Manila, Hair Transplantation Philippines, Anti Aging Philippines, Weight Loss Program Philippines, Affordable Plastic Surgery

2nd Floor, East Bldg. Forbestown Center Burgos Circle Bonifacio Global City, Metro Manila, Philippines

Specialty:

Anti Aging, Cosmetic/Plastic Surgery, Hair Transplantation, Skin Care, Stem Cell Therapy

Focus Area:

Aivee Institute | Anti Aging Treatment | Hair Transplantation Treatment | Weight Loss Treatment | Tummy Tuck
Aivee Institute Philippines Profile Overview

Aivee Institute
Luminous, radiant, and natural beauty that transcends beyond external perfection. The blessed year of 2002 marked an eventful beginning of a journey towards a relentless pursuit to beauty. Dr. Aivee Aguilar-Teo started a humble clinical practice at the Las Piñas Doctors' Hospital with a vision of helping people achieve disease-free, healthy skin.
After years of clinical practice, she gained a special interest in cosmetic dermatology and was truly fascinated on advanced aesthetic lasers and their potential to bring out healthier, blemish-free skin. In 2009, she opened a multi-specialty clinic offering advanced dermatological therapies and anti-aging treatments called The Skin & Laser Clinic. Since then, innovation and genuine focus on her patients' needs allowed her to fully cultivate her growing roster of advanced aesthetic treatments. A team of esteemed surgeon joined her growing practice and established a best-in-class cosmetic surgery unit with a full hair restoration unit. The Aivee Institute was then established in 2013 to fully house the multi-faceted treatments the center provides.

Dr. Aivee's personal penchant for luxury and relaxation coincided with what most of her patients want. A clinic with the most luxurious interiors offering the best facials curated from multiple philosophies around the world. Dr. Aivee with her many travels designed a clinic concept with a skin-focused approach and an inclination to improving the skin without any downtime – The Aivee Clinic thus created.
The Aivee Institute is a first class centre for Advanced Dermatology, Cosmetic Surgery, Hair Restoration, and Aesthetic Therapy; anchored with the latest in cutting edge technology and premiere patient service.
Aivee Institute Team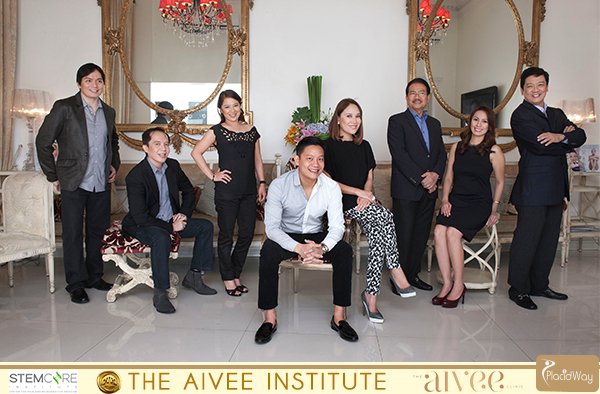 Dr. Z. Teo - CEO
Dr. Aivee Teo - Medical Director & Dermatologist
Dr. Charlie Poblete - Orthopedic Surgeon
Dr. Rolando De Guzman - Anesthesiologist/Pain Specialist
Dr. Janice Soriano - Associate Dermatologist
Dr. Porifirio Tica - Cosmetic Surgeon
Dr. Jennie De Jesus - Associate Dermatologist
Dr. Jose Crisanto III - General Surgeon/Hair Restoration
Treatments & Procedures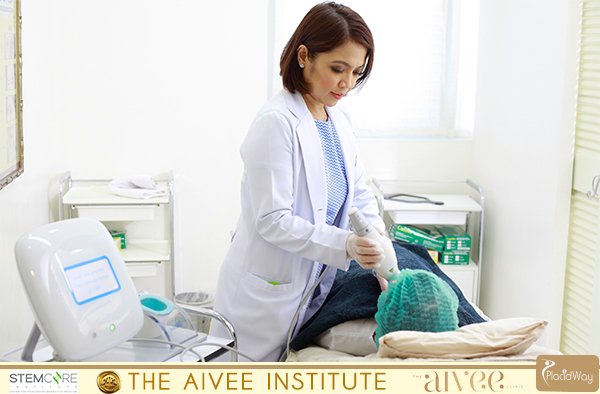 Surgical Cosmetic Treatments

Breast Augmentation
(Round)
Breast Augmentation
(Anatomic - NTRL/MNTR)
Breast Augmentation (Cell Assisted)
Breast Reduction
Brazilian Butt Lift (Cell Assisted)
Brow lift Procedure (Endotine)
Chin Augmentation
Cleft Chin Surgery
Dimple Creation Procedure
Full Facial Lift Procedure
Hair Transplant
Hymen Repair Surgery (Hymenoplasty)
Laser Blepharoplasty (Upper)
Laser Blepharoplasty (Lower)
Laser Blepharoplasty (Extended)
Laser Blepharoplasty (Upper + Lower)
Malar/Submalar Implant
Mid-Face Lift (Endotine)
Noselift
(Goretex + Cartilage)
Nose Trimming (Alarplasty)
Nose Trimming (Base Resection)
Otoplasty (Ear Repair Surgery)
Temporal Lift (Endo-Assisted)
Tummy Tuck (with Anesthesia)
Mini-Tummy Tuck (with Anesthesia)
Upper + Lower Bleph Temporal Lift
Vaginoplasty
Z-Lift
Liposuction
Fat Graft Cell-Assisted (Full Face)
Fat Graft Cell-Assisted with Liposuction
(Face, Butt, Breast & Hand)
Shockwave Therapy
(SEMU Quadruple PT)
Prolotherapy (PRP-Joints)

Laser Treatments for Rejuvenation

Non-Invasive Hair restoration

Revage™ Laser Hair Restoration
Mesohair™
Hair Growth Factor Therapy

HAIR TREATMENTS

Harmony™ IPL Hair Removal
Soprano™ Pain-Free Laser Hair Removal

Laser Treatments
for Face & Neck Skin Tightening

Thermage
Ulthera
Protégé Elite
Refirme Plus™ Skin Tightening
Thermo-Firm™ (Monopolar RF)
Tight-RX™ Multipolar RF (Tripolar)
Legacy Lift (Face)


Laser Treatments
for Body Weightloss,
Contouring & Sculpting

Vanquish™
X-Wave Therapy™
Exilis Elite
Venus Freeze™
Legacy Sculpt™
Vazer Shape™
Maximus™
Advanced Mesolipo™
Weight Loss Therapy
Velashape Plus™
Advanced Cellulite Therapy
Aivee Sculpt™
Body Contouring Triple Therapy
H2™ HCG
Weight Loss Therapy
Carboxytherapy
VDF (Body Ulthera)
U-Sculpt (Arms)
Lipotomy


Laser Treatments
for Anti Aging & Textures

Gentle Laser Pores™
Gentle Laser Pigment™
Revlite™ Laser Whitening
Revlite™ Tattoo Removal
Fraxel Plus™ Advanced Resurfacing Therapy
Pixel Ultra™ High Powered Resurfacing Therapy
IPL Intense™ Skin Rejuvenating Therapy
Sclerotherapy
ECT
Mole Removal (with or without biopsy)
Biopsy
I&D (Incision & Drainage)
Plantar or Palmar Warts
Currettage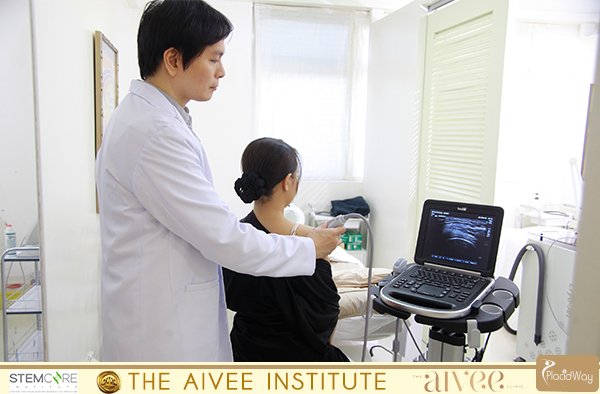 INJECTABLES

Placenta Shot
Vitamin C Shot
Coenzyme Shot
B12 Shot
IM Shot
(Anti-Allergy)
Antibiotic Shot (Lincomycin)
L-Carnitine
Weight Loss Therapy (Shot)
IL of TXA
(Tranexamic)
IL of TA
(for Psoriasis/Alopecia/Eczema)
IL of Pimple

AIVEE (IV) DRIPS

L-Carnitine
Weight Loss Therapy (Drip)
White Fusion™
Whitening Injectables
(Whitening Shot)
White Fusion™
Silver Drip
White Fusion™
Gold Drip
White Fusion™
Platinum Drip
Enerygy Fusion™
Anti-Fatigue Drip
Calm Fusion™


Anti-Insomia Drip

Femme Drop™
Menopause Drip
Fat Flush Drip™


Weight Loss & Metabolism Drip

BOTOX & Fillers




MASTER FACIALS

Radiance Master™
Oxygen DNA Facial
White Master™
Triple Whitening Facial
Pore Master™
Pore Refining Facial
Hydrafacial Plus™
Pregnancy Facial™
(Hydrafacial)
TMT Fuse™
Power Skin Infusion

PEELS

Reversalist™ Peel Series
Restoration Peel Plus™
AIVEE Peel I™ Illumintating
& Radiance Enhancing Peel
AIVEE Peel II™
Vitality Restoring Peel
Acne Peel™
Pimple Clearing Peel
(PCA & Azelan)
Target Peel™
Total Smoothing Spot Peel
TCA Peel
Cosmelan Plus™
Depigmentation Therapy
Cosmelan Soft™ Gentle
Depigmentation Therapy
Jet Peel
Super Whitening Therapy

FACIALS

Signature Facial
Body Cleaning
Cryo-Crystal Peel™
Diamond Facial
Diamond Peel Body Treatment
LED Clearing Facial
Total Clear™
Acne Triple Therapy

SKIN TECHNOLOGIES

Ultra Light Plus™
Advance LED Treatment
Power Needling Therapy
Renew 360 Plus
(Skin Triple Therapy)

TARGETED ULTRASONIC FACIALS

Green Facial™
Rebalancing Skin
Blue Facial™
Super Hydrating Facial
White Facial™
Skin Brightening Facial
Gold Facial™
Anti Aging Facial

LUXURY FACIALS SERIES

Revive™
Skin Vivifying Oxygen Facial
MuscleLift™
Tone Perfecting Facial
Geneo™
Skin Perfecting Super Facial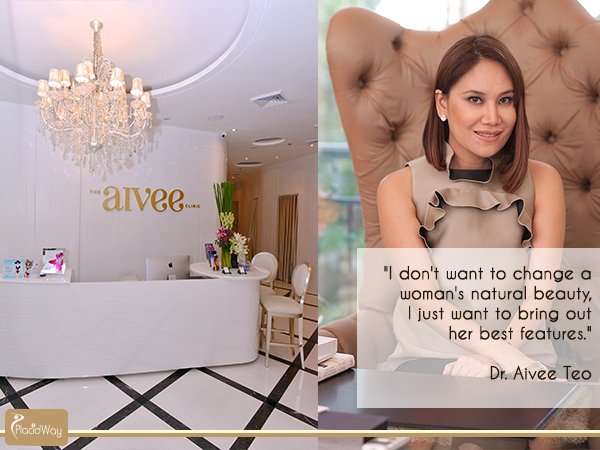 At the Aivee Institute you will find everything you want when it comes to aesthetic & cosmetic procedures.
Contact us and you will feel beautiful, young & attractive!

---
---
Anti-Aging Related Packages