Dental Implants in Ukraine- Get the Best Package
Package price starting from:
$1800
Treatment:
Dentistry, Dental Implants
Focus Area:
Dental Implants | Cosmetic Dentistry | Dental Surgeons | Implantology Abroad | Ukraine
---
Dental Implants, Cosmetic Dentistry, Compare Dentures Doctor, Packages, Center, Clinic, Surgeons, Hospitals, Implantology Abroad, Ukraine

Dental Implants in Ukraine- Get the Best Package
Dental implantation is a both functional and aesthetic surgical procedure. It consists of the replacement of tooth roots with metal screw-like posts or the repair or replacement of damaged teeth. The procedure is an alternative to non-surgical solutions like braces or dentures. The procedure is done through osseointegration. This means that the metal used adders to the jawbone.
Each procedure depends on the type of dental implant and the condition of the patient's jawbone. The major benefit of implants is solid support for your new teeth — a process that requires the bone to heal tightly around the implant. Because this healing requires time, the process can take many months.
What are the Benefits of Dental Implants in Ukraine?
Affordable cost

Fast recovery

Excellent post-op care

Prevents bone loss as we lose teeth

Matches our natural teeth

Comes in a wide variety of shapes and sizes

Prevents the occurrence of any changes in the facial structure

Enables natural speech

Restores bite force

Doesn't let cavities

Easy maintenance

Zero embarrassing slippage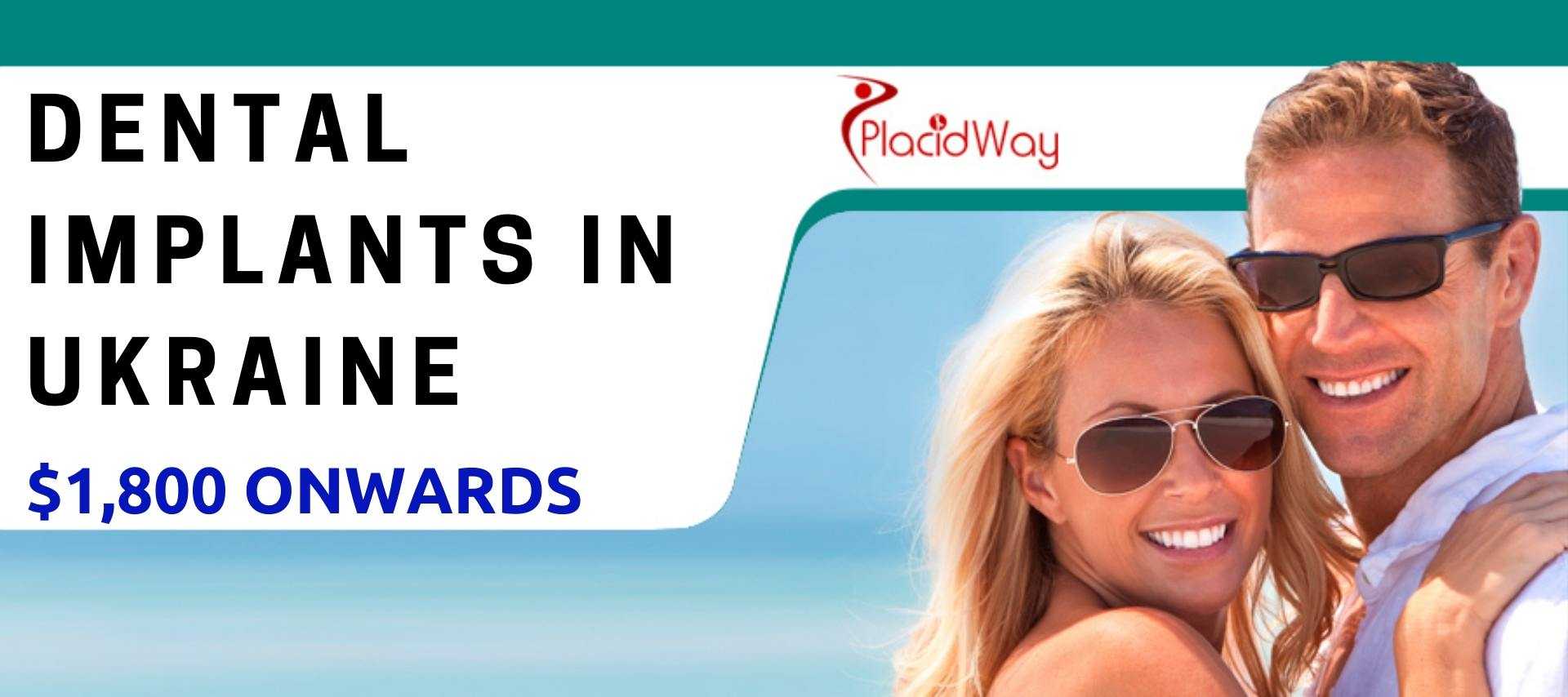 Cost: The cost of Dental Implants in Ukraine starts from $1,800 approximately
Note: Final prices are determined after physical evaluation and laboratory reports analysis.
Length of Stay: Same day procedure
Inclusions
Pre-operative consultations

All medical fees

Post procedure check ups
Exclusions
Hotel or recovery house

Preoperative lab work

Airfare
Which Pre-op Tests are Required for Dental Implants?
The laboratory tests should be done at least 7-10 days prior to the procedure. The particular tests are prescribed after a complete physical evaluation of the patient. The pre-op tests required for Dental Implants are:
Dental imaging like x-ray

Teeth scaling or cleaning

Dental set up model testing

Implant testing, etc.


 
For more information on Dental Implants in Ukraine, or to discuss your concerns about your smile with no obligation, click the bottom below!


Related Experiences:
Dental Implant in Aydin, Turkey
Dental Implant in Alanya Turkey
Dental Implant in Bursa, Turkey
Dental Implants in Zagreb Croatia
Dental Implants in Ankara, Turkey
Dental Implant in Nuevo Progreso Mexico
---