Executive Checkup for Men at Villa Donatello Italy
Treatment:
Executive Healthcheck, Complete Physicals and Histories
Focus Area:
Executive Health Checkup Packages | Complete Physicals & History | Executive Health Check-Up for Men | Executive Health Program Checkup | Florence, Italy |
---
Economical health checkup available for Men in Italy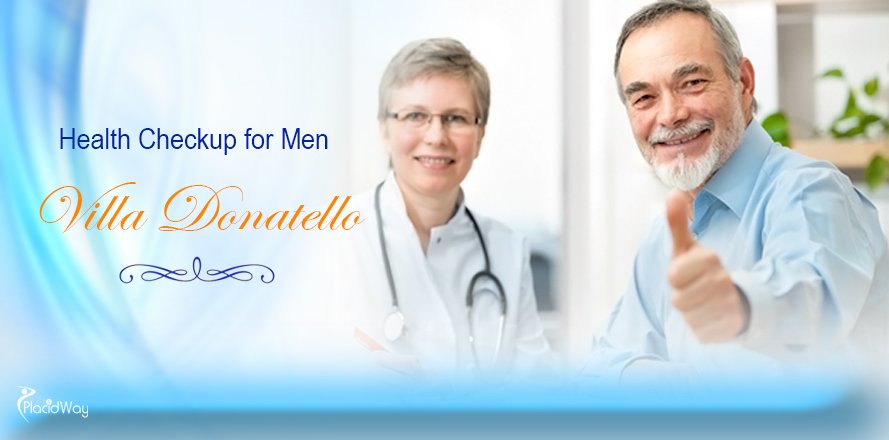 Executive Checkup for Men at Villa Donatello Italy
Want to know the overall state of your health? Villa Donatello, Florence, Italy has designed health and wellness check-ups tailored exclusively for men and women.
Executive Health Check-ups combines a series of screenings, health measurements and counseling aimed to identify illness early before one experiences disease symptoms.  
Recommended for:
Men Under 45 years

Men Over 45 years

Men who have a busy lifestyle

Business executives
Benefits of a health checkup:
Can detect early signs of disease and its treatable stage.

Health measurements (e.g.height & weight) can be used for baseline data.

Opportunity to receive counseling from your doctor on health issues (e.g. weight management, depression etc.)

Updates medical records

Alleviates worries & stress
How much does it cost for health Checkup?
Executive Healthcheck or Complete Physicals and Histories in the US starts at $3,000 while in Switzerland, the price is lower at $2,226. While prices in Mexico can go at $2,200, in Saudi Arabia it can go as low as $1,500. 
At Villa Donatello, Florence, Italy, you can avail of a comprehensive health check-up for men which only cost $1,087-$1,305! The package already includes complete screenings and blood tests along with interpreter and cultural mediator assistance.
MEN'S EXECUTIVE CHECKUP AT VILLA DONATELLO ITALY

Health Check

Type

Price in USD

PACK1

includes

PACK2

includes

PACK1:For Men Under 45 years

$1,087

4. Electrocardiography (ECG)

5. Abdomen ultrasonography

7. HBsAg (Hepatitis B surface antigen)

8. HCV (Hepatitis C virus)

9. FULL report of results

10. 15 types of blood tests

1-9 of PACK1 +++

Prostate-specific antigen (PSA)

 

PACK2:For Men Over 45 years

$1,305

With interpreter and cultural mediator assistants who will stay in a single room during all the tests!

 PATIENT REMINDER: Before blood tests, fast for 12 hours. (You can drink ONLY water.) During urinalysis, drink plenty of water.
Sign up for an executive check-up at Villa Donatello, Florence, Italy!
Just click the button below to get a FREE quote!

---
Executive-Healthcheck Related Packages