Villa Donatello
Affordable Medical Services in Florence, Italy at Villa Donatello
Casa di Cura Villa Donatello S.p.A. Viale Matteotti, 4 50132 Firenze, Florence, Italy

Specialty:

Anti Aging, Cancer Treatment, Chronic Diseases, Cosmetic/Plastic Surgery, Dentistry, ENT, Executive Healthcheck, Eye/Lasik Care, Fertility Treatment, General Medicine, General Surgery, Gynecology Treatment, Heart Care/Surgery, Neurology, Organ Transplant, Orthopedic/Knee Surgery, Radiology/CT Scans, Rehabilitation, Robotic Surgery, Skin Care, Spine Care/Surgery, Urology, Vascular Surgery

Focus Area:

Villa Donatello | Multi Medical Services in Florence, Italy | Orthopedic Surgery | Urology | Ophthalmology | ENT | Cosmetic/Plastic Surgery | Dentistry | Fertility | Radiology | Heart Care | Robotic Surgery | Rehabilitation | Neurology
Villa Donatello Profile Overview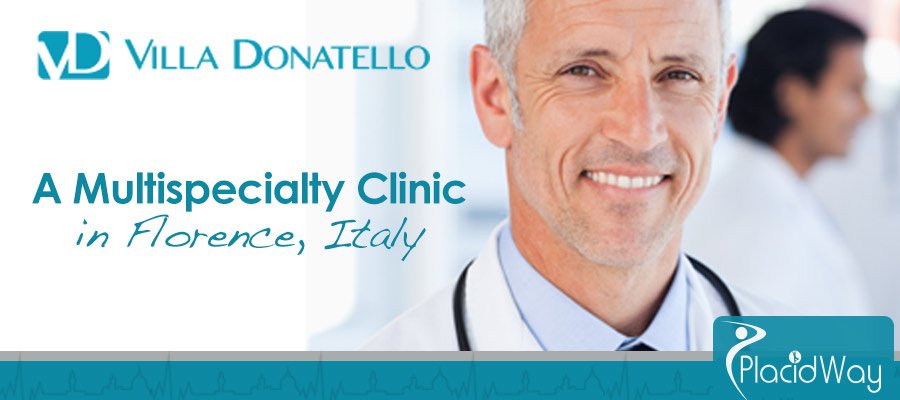 Welcome to Casa di Cura Villa Donatello Clinic in Florence, Italy
Villa Donatello is a Private Institute, which provides services and performance of diagnosis and treatment, as well an outpatient and inpatient services.

Villa Donatello has an operating segment which consists of four operating rooms with modern equipment. In addition to traditional surgery, the medical team also performs video-laparoscopic and arthroscopic procedures, as well as orthopedic microsurgery.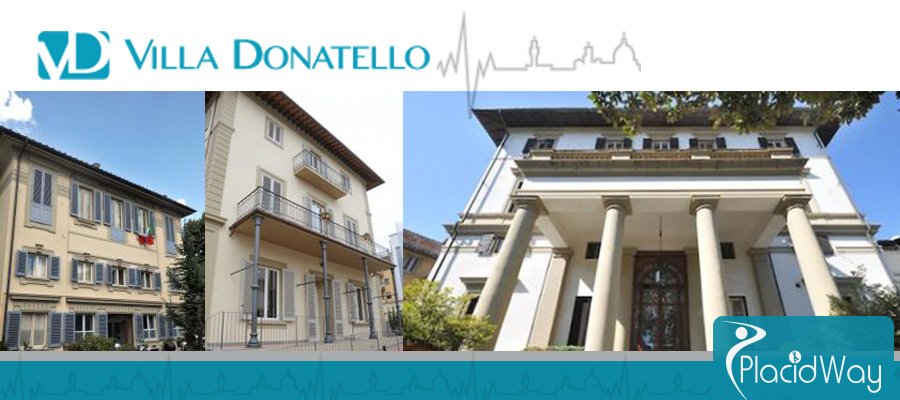 The Clinic has an emergency ward with operating rooms available 24/7, as well as diagnostic services of imaging (CT, MRI, X-ray and ultrasound), the laboratory of analysis and cardiology. Therefore, the clinic can accept admissions for conditions that require urgent performance.

Adjacent to the operating segment is a unit of sub-intensive postoperative therapy dedicated to patients undergoing particularly complex procedures or who have conditions attached that could increase the risk of complications during the postoperative course.

Qualified specialists collaborate with Villa Donatello using equipment and methods of high technological level with the goal of providing the best possible results. In addition to the continuous admission cycle Villa Donatello is authorized and able to offer one day surgery. Villa Donatello has its own advanced diagnostic center for quick and reliable examinations and investigations.

The activity is enriched with new departments and specialist outpatient surgery which also include ophthalmology, dentistry, rehabilitation, physiotherapy and aesthetic dermatology, all equipped with advanced equipment and under the supervision of medical specialists and qualified staff .

The services of Villa Donatello are organized so as to ensure continuity of care and emergency management: surgeons, anesthesiologists, nurses compartment surgery, radiology technicians, cardiologists in alternate shifts to offer night availability, always available for emergencies.


Villa Donatello Team in Florence, Italy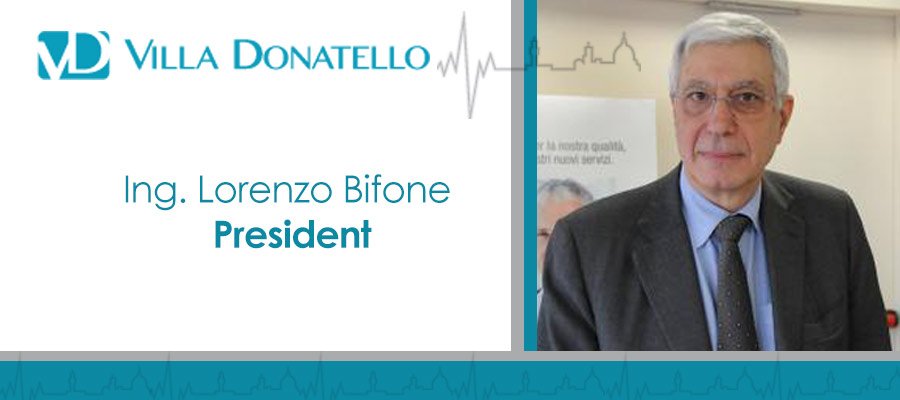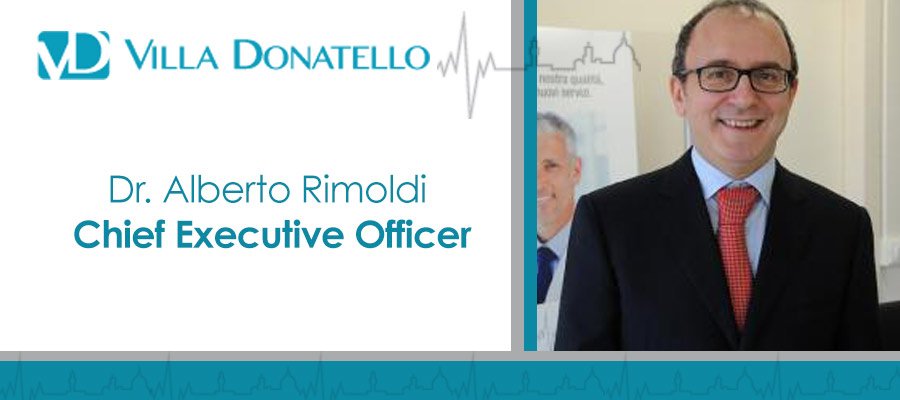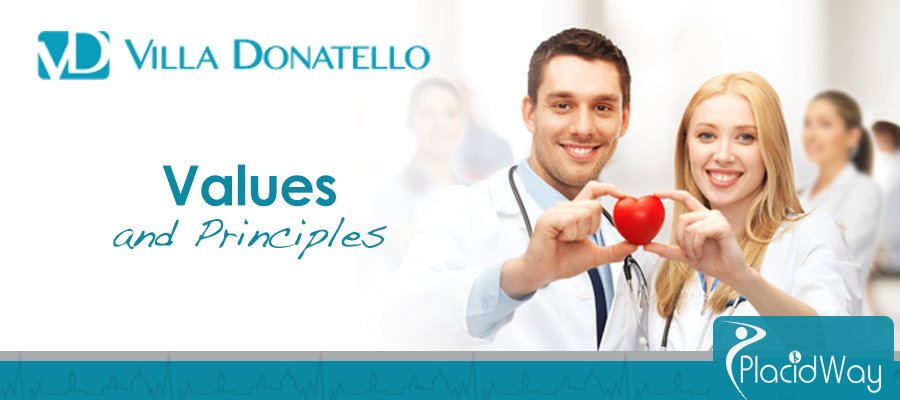 Logistics Management
Villa Donatello is located in Florence, in the Tuscany's heart.
In order to maximize the comfort of patients and their couriers by taking the mostfrom a such beautiful place, Villa Donatello is able to organize and manage the following logistic services:
Hospitality (hotel or apartments)
Interpreter services and cultural mediation
The Villa Donatello's staff is higly trained and fluent in english, even by phone.
In addiction to this, Villa Donatello is conscious of the importance for his foreign hosts to express in their mother tongue (especially for health matters) and has organized an interpreting and cultural mediation service that allows its to "feel like home".
Do you need a second opinion?
Getting a second opinion is an easy and effective way to ensure that you receive the treatment best suited to your needs.
Patients are sometimes told there are no additional treatment options that could be of any benefit to them. A second opinion could save your life.

A second opinion can confirm a diagnosis or allow to discover other overlooked possibilities. It is also important to get a different perspective on available treatment options. Some doctors are generally more conservative and others more aggressive in their recommendations. Getting a second option may help you decide which is right for you.
Villa Donatello would provide you a second opinion about your medical case.
Values and Principles that Underpin Villa Donatello
guaranteeing everyone a chance to a healthy and happy life

responsibility towards customers, focusing on listening to their needs, ensuring fair prices and adequate, transparent and timely intervention

solidarity towards others, placing the professional skills of our physicians and staff to serve the needs of all

continuous improvement of quality of care

multidisciplinary approach to the clinical side

development of experimental research

rapid transfer of results in patient care

find ways of more effective treatment, yet less invasive, having as a constant reference the scientific evidence and technological innovations

adopt towards patients a criterion of acceptance based on hospitality, respect, participation and shared responsibility


The organizational practice for the achievement of these objectives is supported by the activities of:
monitoring the needs and satisfaction of patients and their families

monitoring the quality of the services provided

continuous evaluation of the performance of suppliers of goods and services

reduction in costs due to waste and inefficiency through resource optimization

empowerment of employees with their involvement in education and training

involvement training and continuous training of people

continuous maintenance of compliance with the structural requirements, technological and organizational measures for the exercise of health activities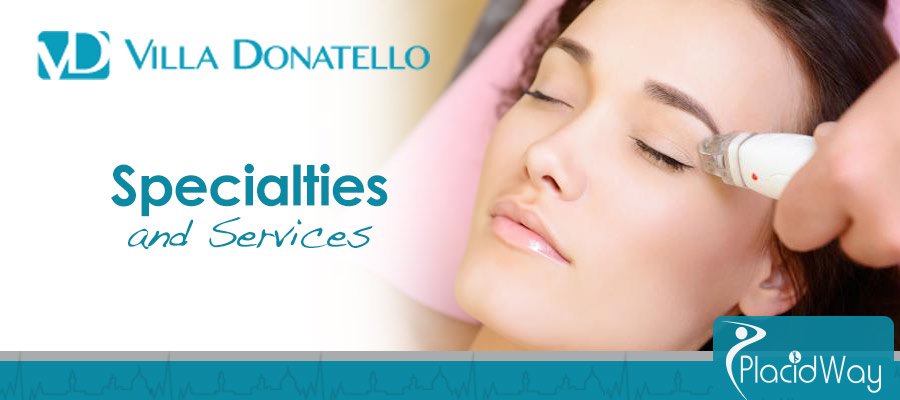 Specialties and Service offered in Villa Donatello Florence, Italy
Allergology

Andrology

Urology

Anesthesia and Intensive Care

Cardiology

Hand Surgery

General Surgery

Maxillofacial Surgery

Thoracic Surgery

Vascular Surgery

Dermatology

Dermatological

Laser Surgery

Dermochirurgia

Laser Dietetics

Endocrinology

Physiotherapy

Rehabilitation Gastroenterology

Gynecology

Speech therapy

Internal Medicine

Neurology

Ophthalmology

Oncology

Orthopedics

Otolaryngology (ENT)

Pneumology

Proctology

Radiology

Radiotherapy

Rheumatology

Rehabilitation of the Hand

Rehabilitation Rheumatology

Breast Care

If you need more information about the treatments and procedures offered by Villa Donatello, click the button below!

---
---
---