All on 6 Dental Implants in Liberia, Costa Rica by Dental Clinic OCI
Treatment:
Dentistry, All on 6 Dental Implants
Location:
Liberia, Costa Rica - In front of Pizza Hut, Liberia, Local Number 3 next to exclusive footwear., Costa Rica
Focus Area:
All on 6 Dental Implants in Liberia, Costa Rica | Dental Clinic OCI
---
Get Low-Cost All on 6 Dental Implants Package in Liberia, C.R.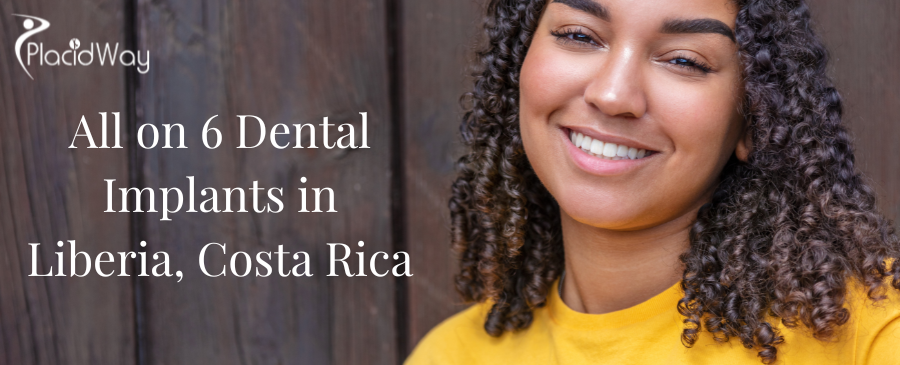 Affordable Package for All on 6 Dental Implants in Liberia, Costa Rica
Restore your smile aesthetics and improve oral health with affordable All on 6 dental implants in Liberia, Costa Rica. Save over 50% on US and Canada prices while indulging in a fantastic holiday of the Caribbean coastline before or after All on 6 procedure.
Package Price: $13,225
Inclusions:
Clinic: Dental Clinic O.C.I.
Dentists: Edgar Pabon, Fabian Fernandez, Karina Malavassi, Luis Granera,  Wendy Villalta and Oscar Cisneros.
Location: Liberia, Costa Rica
Dental Clinic O.C.I. is strategically located in Liberia, Costa Rica surrounded by nature areas and beaches. Here you can gain an excellent dental vacation package, enjoy the beauties of Costa Rica and design your smile at an affordable price. The clinic offers high-quality dental treatments to local and international patients.
Dental Clinic O.C.I. Highlights:
Comply with the highest standards of biosafety and hygiene.

Extensive doctor's experience allows us to provide you with a professional service.

Affordable prices as well as aesthetic packages.

Completely personalized attention according to your needs.
The All-on-6 Dental Implants consist in the placement of 6 implants in each dental arch to work as anchors for a non-removable, fixed dental bridge. These implants will support a dental bridge of 12-14 teeth permanently cemented over the implants. The best candidates for this procedure are patients with an adequate bone level and when extractions are not required.
The purpose of the implants is to act as tooth roots, securing the teeth structure and facilitating oral activity such as speaking, swallowing and eating. The All-on-6 system is perfect for giving you the strong, beautiful, stable smile you have been searching for.
All on 6 Dental Implants cost in Liberia $13,225. Below is a cost comparison table for more details.
| | | |
| --- | --- | --- |
| Country | Procedure | Price |
| Liberia, Costa Rica | All on 6 Dental Implants | $13,225 |
| United States | All on 6 Dental Implants | $28,000 |
| Canada | All on 6 Dental Implants | $27,000 |
Note: Price can vary depending on the complexity of the procedure. Please follow the Price Policy at Dental Clinic OCI or contact the Customer Representative.

Restore lost teeth

Restore teeth function and appearance

Easy to clean and maintain

Long-lasting solution

Minimize the treatment time and surgical procedures
Payment Options: Cash, Credit Card, Wire Transfer
Note: The clinic may ask you for money deposit once you decide to receive the surgery.
Best Dental Implants 

Dentist

 in Liberia at Dental Clinic OCI
Dentists at Dental Clinic OCI in Liberia offer state-of-the-art dental procedures at competitive prices. They are specialists in smile restoration and dental surgery and members of prestigious dental associations. 
Oscar Cisneros

Wendy Villalta
Why Choose Dental Implants in Liberia, Costa Rica?
Getting dental implants in Liberia, Costa Rica will be a double gain for you as a foreign patient. You will receive high-quality care at an affordable price in a top-rated clinic in Liberia and also enjoy a well-deserved vacation before or after the procedure.
Liberia is located in Northern Costa Rica near the Nicoya Peninsula. The city has Daniel Oduber International Airport, 11 kilometers (7 mi) west-southwest in Guanacaste Province. It is well-connected to major USA cities so coming to Liberia for dental work will be a maximum 5 hours flight.
As a dental tourist, you'll find interesting things to do and explore in this beautiful historic city such as:
Volcano in Rincón de la Vieja National Park 

Palo Verde National Park 

Coffee Farm tours

Playa Hermosa

Witch's Rock
FAQs about All-On-6 Implants in Liberia
How long do all on 6 implants last?
All on 6 implants can last a lifetime with proper care, regular hygiene, and high-quality materials. Although the implant is designed to be permanent, the crown attached may need to be replaced due to normal wear and tear in 15 to 20 years.
What is better All-on-4 or all-on-6 dental implants?
The most evident difference between all-on-4 and all-on-6 implants is the number of implants set in the mouth. Some dentists believe that the all-on-6 dental procedure is better than all-on-4. All on 6 implants provide a stronger, more durable base for the prosthetic dental arch, resulting in a more comfortable smile.
How long does the all-on-6 surgery take?
All-on-6 dental implant surgery may take a couple of hours, usually between 2–4 hours. It's a same-day procedure, minimally invasive, and painkillers will be given to you if you feel pain. The surgery time will depend on your bone structure, oral health, and doctor's experience. 
How do you care for all on 6?
Taking care of your All-on-6 implants is the same as for your natural teeth. You should brush your teeth twice daily, floss them, and regularly visit the dentist at least twice a year.
Book Today Low-Cost All On 6 Package in Liberia!
Related Experiences:
All-on-6 Dental Implants in San Jose Costa Rica
Get Affordable All on 6 Dental Implants in Costa Rica
All-on-6 Dental Implants in Croatia
All on 6 Dental Implants in Dominican Republic
All on 6 Dental Implants in Cabo San Lucas Mexico
All on 6 Dental Implants in Mexicali Mexico
---
---
---
---