Affordable Package for Dental Implants in Antalya, Turkey
Treatment:
Dentistry, Dental Implants
Focus Area:
Dental Implants | Teeth Restoration | Dental Abutment | Full Mouth Recovery | Cosmetic Dentistry | Tooth Replacement Surgery | Artificial Teeth | Dental Tourism | Antalya | Turkey
---
Restore Your Beautiful Smile with Dental Implants in Antalya, Turkey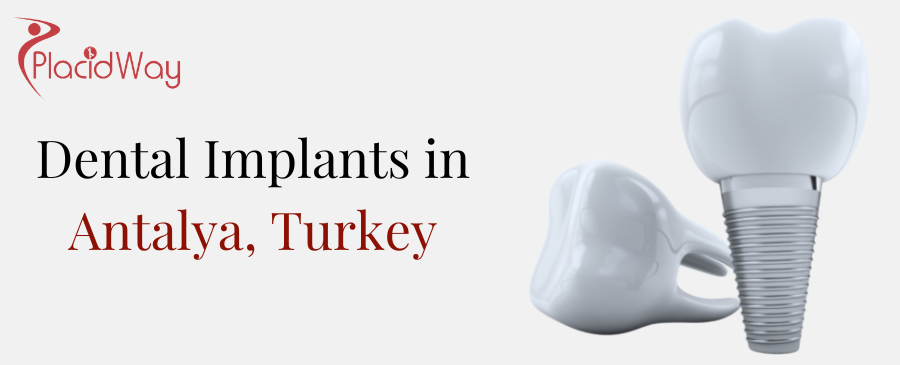 A dental implants in Antalya, Turkey is one of the best choices when the patient misses one or more teeth. The tooth implant consists of a titanium screw that will replace the root of the tooth and a dental crown that will replace the outside part of the tooth, helping the patient eat and talk as before.
Tooth implants also maintain facial structure and reduce the inconveniences associated with tooth loss. With dental implants, you will be able to rediscover your natural smile and boost your self-confidence.
Benefits of Teeth Implants in Antalya, Turkey
Strong and durable

The dental implant replaces the toot's root, maintaining optimal functional and aesthetic features of the bone

Improve phonation, mastication, and physiognomy

Look and feel like natural teeth

Comfortable

Last for years or even a lifetime
The price of dental Implants in Antalya, Turkey starts from $325 to $700. You can save more than 70% by getting teeth implants in Antalya, Turkey compare to UK.
| | |
| --- | --- |
| Country | Single Tooth Implant Price |
| Turkey | $380 to $700 |
| United Kingdom | $2,500 |
The Procedure for Single Tooth Replacement
During the medical procedures to replace the teeth, your oral specialist makes a slice to open your gum and uncover the bone. Openings are penetrated into the bone where the dental implant metal post will be set. Since the post will fill in as the tooth root, it's implanted profound into the bone. 
Now, you'll in any case have a hole where your tooth is absent. A kind of fractional, impermanent denture can be put for appearance if necessary. You can eliminate this denture for cleaning and keeping in mind that you rest.
You may find that the same provider is offering different package prices for Dental Implants in Antalya, Turkey. This happens due to relative factors such as:

Number of teeth requiring a dental implant

Complexities related to the procedure

Age of the patient and his/her jaw flexibility

Experience and qualification of the dentist
Length of Stay: Same day procedure
Tooth Implants Package Inclusions
Pre and post-operative consultations

All clinic fees

All medical fees and doctor fees,
Exclusions in the Package of Dental Implants
Hotel or recovery house

Preoperative lab work

Airfare
List of Required Pre-Op Tests Before Tooth Replacment Surgery
X-ray of teeth

Complete blood count

Blood tests for hormone levels

Rh factor blood test
Note: 
The laboratory tests are done at least 7-10 days before the procedure.
Payment Options: Cash, credit card, wire transfer
Note: 
The center may require a money deposit once a patient decides to book the surgery
Highest industry standards of sterilization and cleanliness maintained

Affordable prices

The carefully selected medical team, dedicated to their profession

Welcoming environment

Customized dental treatment and personalized service

Latest technology equipment
If you want to learn more about the dental implants in Antalya, Turkey, please contact us!

Related Experiences:
Dental Implants in Antalya
Dental Implant in Aydin, Turkey
Dental Implant in Alanya Turkey
Dental Implant in Bursa, Turkey
Dental Implants in Ankara, Turkey
Dental Implants in Izmir Turkey - Your Affordable Oral Health
---
Dentistry Related Packages
Dentistry Related Experiences