IVF with Gender Selection Package in Cyprus by Kyrenia IVF Center
Package price starting from:
$6535
Treatment:
Fertility Treatment,Infertility/IVF, Fertility Treatment, IVF with Gender Selection, In Vitro Fertilization (IVF)
Location:
Kurtulus Ave, Iskenderun Cd. Kyrenia Northern Cyprus, Cyprus
Focus Area:
IVF with Gender Selection in Cyprus | Kyrenia IVF Center | Fertility Treatment | In Vitro Fertilization
---
In Vitro Fertilization with Sex Selection in Kyrenia, Cyprus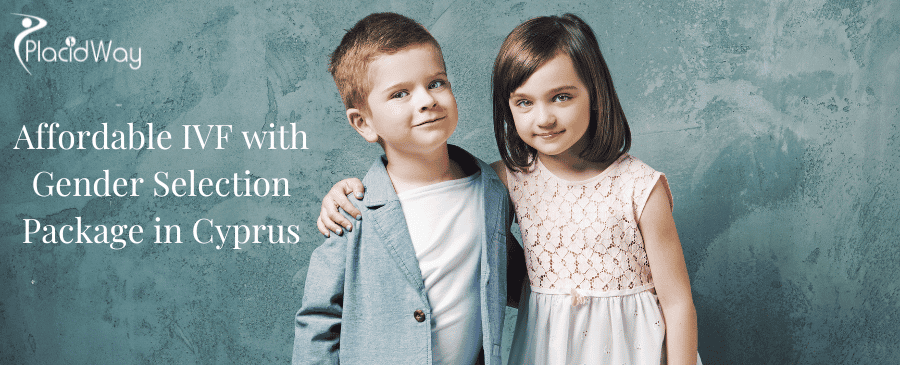 Welcome to Kyrenia IVF Center in Cyprus, where we are proud to offer affordable IVF with gender selection packages. We understand the importance of family planning and the desire to have a child of a specific gender. At Kyrenia IVF Center, we combine our expertise in assisted reproductive technologies with a commitment to providing accessible and cost-effective solutions for couples from around the world. With state-of-the-art facilities and a team of experienced specialists, we strive to make your dream of starting or expanding your family a reality. Explore our comprehensive packages and discover the personalized care and support that sets us apart.
Cost of IVF with Gender Selection in Kyrenia, Cyprus
You can get IVF with gender selection package in Kyrenia, Cyprus by Kyrenia IVF Center with the price starts at 6000 Euro or $6,535. Check our price list table below to learn more:
| | |
| --- | --- |
| City, Country | Cost in USD |
| | |
| | |
| | |
Note: price may change and vary depends on complexity of procedures and patient conditions. Click free quote button below to learn more.

What is IVF with GENDER SELECTION Procedure?
A couple or individuals opt for gender selection for various reasons. Many intended parents often choose gender selection for 'Family Balancing.' In Vitro fertilization with gender selection is often called family balancing. 
Family balancing means that if the Intended Parent(s) wanted a son but only had girls, they can select gender during IVF to ensure a balanced family. 
The process includes several methods combining gender selection principles with In Vitro fertilization.  One of the most popular is called Pre-implantation genetic diagnosis, also known as PGD. This method tests embryos for genetic disorders before fertilization. 
Advantages of In Vitro Fertilization with Gender Selection
Quick recovery time

Increases chances of having a specific child gender

Safe and effective fertility treatment

The high success rate of IVF

Patient health care with best medical team

A vacation in Cyprus and relaxing recovery
IVF with Sex Selection Package Inclusions
Pre-cycle investigations and tests

Ovarian stimulation medications

Ultrasound monitoring during the treatment cycle

Egg retrieval procedure

Laboratory development of embryos

Embryo transfer procedure

Follow-up consultations and monitoring during the early stages of pregnancy
IVF with Sex Selection Package Exclusions
Pre-cycle screening tests (hormone levels, infectious disease screening, genetic testing)

Cryopreservation of embryos for future use

Medications or treatments for male fertility issues

Additional procedures such as ICSI, assisted hatching, or embryo biopsy for genetic testing

Pregnancy monitoring and care beyond the early stages
Family Balancing with In Vitro Fertilization in Cyprus Program
Given that majority of our patients come from abroad, we are able to offer our treatments where your initial tests and screening can be carried out locally in your country under our supervision via satellite testing and screening clinics we collaborate with. After your initial preparation, you will arrive in Cyprus for a total of 7-8 days to finalize your treatment.
This period in Cyprus is when we perform your final scan, obtain the male partner's sperm sample, perform oocyte retrieval and proceed with fertilization of the oocytes. 3 days after fertilization, we will proeed to gender selection procedure via a technique PGD (Pre genetic diagnosis) and 2 days after, depending on embryo fertilization/quality and endometrial parameters, we proceed with embryo transfer. At this time, you will receive further post-embryo transfer instructions.
1) Hormone tests on day 2 or day 3 of your period:
FSH,

LH,

Estradiol,

Prolactin,

TSH.

Also AMH (Blood Tests).
These test results help to measure your level of fertility and also help us identify the right medication regimen which will optimize the outcome.
2) A basic trans-vaginal ultrasound scan to check your Antral Follicle count and to make sure there are no fibroids/polyps/free fluids in the uterus or cysts in the ovaries, or anything visible that can potentially interfere with a successful pregnancy process. The sonogram should also be done on day 2 or day 3 of menstrual period.
3) Your husbands/partners semen analysis and culture.
After both your test results have been checked by the Doctor, he will decide on the appropriate medication schedule for you. A script for medications is emailed to you and you have the choice of asking your own Dr to prescribe the same or using the international online pharmacy.
If you start treatment from your home country you should come to cyprus on day 10 of your period and from there we will take over by scheduling the eggs collection and fertilixation and gender selection process done via a method called PGD which gives us not only the gender but also test for genetic diseases. After that a transfer can be plan.
The cycle cost does not include your medications as most people do prefer to start these at home.The cost ofthese will depend on the country you are in.
You will also a step by step schedule to follow, which tells you precisely when you'll be taking yourmedications each day, when your scans are needed and the date you will both need to travel to Cyprus for egg retrieval and your IVF.
Meet Op. Dr. Verda Tuncbilek, a highly skilled and experienced gynecologist and IVF specialist based in Cyprus. Dr. Tuncbilek has an impressive educational background, including graduation from Guzelyurt Turkish Maarif College and specialization in the Department of Obstetrics and Gynecology at Izmir Ataturk Training and Research Hospital. She further honed her expertise in IVF at Zeynep Kamil Gynecology and Obstetrics Hospital. With previous experience at Private Marmaris Caria Hospital in Turkey, Dr. Tuncbilek returned to Cyprus in 2008 to focus on the field of IVF. With her qualifications and dedication, she is committed to assisting couples in their journey to parenthood.
Fertility Doctor in Kyrenia, Cyprus

 

Op. Dr. Verda Tuncbilek

Graduated from Guzelyurt Turkish Maarif College.

Got her specialization in ? Izmir Ataturk Training and Research Hospital, Department of Obstetrics and Gynecology.

IVF Specialty at Zeynep Kamil Gynecology and Obstetrics Hospital.

Worked at Private Marmaris Caria Hospital in Turkey from 2005 to 2008.

Returned to TRNC in 2008 and started to in the field of IVF.
Why Choosing IVF with Gender Selection in Kyrenia, Cyprus
Choosing Gender Selection IVF in Kyrenia, Cyprus offers a multitude of compelling reasons. Renowned for its advanced medical infrastructure and highly skilled fertility specialists like Op. Dr. Verda Tuncbilek, Kyrenia provides a supportive and nurturing environment for couples seeking assisted reproductive treatments. The city's cutting-edge facilities, combined with the expertise of its medical professionals, ensure the highest quality care throughout the IVF process. Additionally, Kyrenia's picturesque surroundings and serene atmosphere provide a soothing backdrop, allowing couples to relax and focus on their journey towards parenthood.
Top FAQs about IVF Treatment in Cyprus
Is IVF gender selection successful?
As parents, you can determine your baby's gender through PGD (PGT-A) during an IVF journey. A fertility doctor must have the ability to identify XX or XY chromosomes in the embryo with PGD (PGT-A) tests to provide a 100% accurate gender selection process.
What are the risks of IVF gender selection?
There are minor to no risks at all of IVF gender selection. In fact, due to genetic embryo testing, the possibility of a birth defect is lower with IVF than with natural conception. 
The parents should be aware of the risk of not having healthy embryos on the desired gender after genetic embryo testing (PGT-A). All healthy embryos might be of boy although they are looking for a girl or vice versa. 
Are IVF babies normal?
IVF is a different way of conception from normal sexual intercourse. But the IVF children are as normal as other children concerning their mental and physical attributes.
IVF babies are born under the expert supervision of IVF specialists. However, the results of the treatment can vary from couple to couple. Therefore, discussing all your concerns as a couple with your IVF doctor before the treatment is essential
Get Sex Selection Fertility Treatment Package in Cyprus Today!
Choose our top package deal for IVF with Sex Selection in Cyprus at Kyrenia clinic! Start planning your family and enjoy this wonderful experience with your partner. Contact us for more details!

---