Stem Cell Therapy for Cerebral Palsy Package in Bangkok, Thailand by Beike Biotech
Package price starting from:
$25300
Treatment:
Neurology,Stem Cell Therapy, Stem Cell Treatment for Cerebral Palsy, Cerebral Palsy
Location:
Bangkok, Thailand, Thailand
Focus Area:
Beike Biotech | Bangkok | Thailand | Stem Cell Therapy for Cerebral Palsy
---
Regenerative Medicine for Cerebral Palsy in Bangkok, Thailand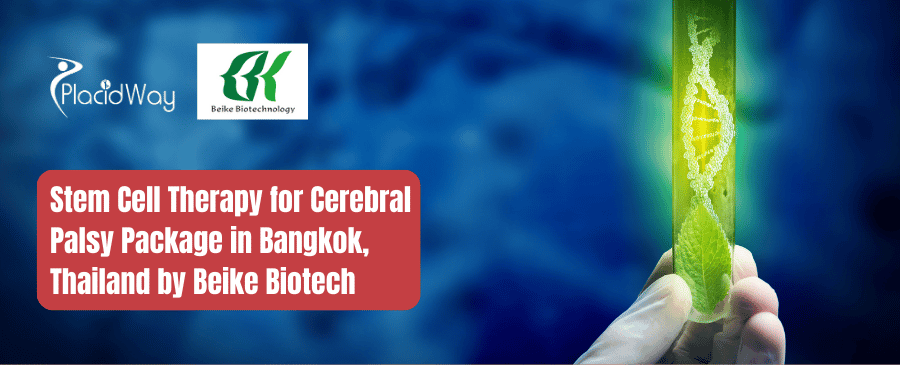 In the bustling city of Bangkok, Thailand, a groundbreaking treatment is offering hope to children with cerebral palsy. Stem cell therapy has emerged as a game-changer in the field of regenerative medicine, providing a glimmer of hope for those afflicted by this complex neurological disorder. Using the power of stem cells, doctors in Bangkok are harnessing the body's natural healing abilities to improve the quality of life for children with cerebral palsy. By introducing these specialized cells into the affected area, they are able to stimulate tissue repair and regeneration, leading to improved motor function and enhanced mobility.
Unleashing the potential of stem cells in the treatment of cerebral palsy is a cutting-edge approach that is capturing the attention of medical professionals worldwide. With its globally renowned medical facilities and innovative therapies, Bangkok has become a hub for individuals seeking advanced regenerative treatments. In this comprehensive guide, we will explore the transformative impact of stem cell therapy on children with cerebral palsy and how Bangkok, Thailand is unlocking hope for a brighter future. Join us as we delve into the world of regenerative medicine and discover the incredible potential it holds for those living with cerebral palsy.
Cerebral Palsy is a neurological condition affecting motor skills and movement, often present from early childhood. Stem Cell Therapy has emerged as a promising treatment to improve symptoms and enhance the quality of life for those with Cerebral Palsy. In Bangkok, Thailand, Beike Biotech offers cutting-edge Stem Cell Therapy packages to address this condition. With state-of-the-art facilities and experienced medical professionals, patients can find hope and potential relief in this revolutionary treatment.
Beike's Autism treatment program combines adult stem cells with several complementary therapies to give patients the best possible chance of recovery. Please find some general information below:
Treatment location: Bangkok, Thailand
Duration of stay: 15 to 23 days.
Number of stem cell injections: 6 to 8 injections.
Injection methods: IV and intrathecal.
Cell type provided: Umbilical cord blood stem cells + umbilical cord mesenchymal stem cells
Included therapies: occupational therapy, physiotherapy, aqua-therapy, acupuncture, hyperbaric oxygen therapy, transcranial magnetic stimulation, and nutrition.
Total cost:

$25,300 to $37,000
(All of the above information is given solely for your convenience. The exact treatment plan will be decided after an online medical evaluation)
You can get stem cell therapy for cerebral palsy package in Bangkok, Thailand by Beike Biotech with the price starts at $25,300 to $37,000. Please refer to our price list table below:
| | | |
| --- | --- | --- |
| City, Country | Cost in USD | Clinic |
| Bangkok, Thailand | $25,300 -$37,000 | |
Note: price may change and vary depends on complexity of procedures and patient conditions. Click free quote button below to learn more:

The potential treatment outcomes for Dania's condition are:
Improved cognition and development,

Improved muscle tone and strength,

Improved neck control,

Improved fine motor skills,

Improved social skills,

Improved quality of life.
Note: Please note that improvements cannot be guaranteed. For more information about the chances of improvement, please review the attached improvement statistics.
On behalf of Beike Biotechnology and Better Being Hospital, welcome to Bangkok! We understand you have had a long trip and may still have some questions about Bangkok, the hospital and facilities, and general treatment information. This guide and our on-site Beike staff will be your answer to any concerns that may arise.
First, here is a short history of Better Being Hospital and why Beike Biotechnology saw them as a perfect partner treatment facility choice. Being Hospital was first established in 2009, with the core concept of innovative, evidence-based Functional Medicine. The hospital's board of medical practitioners, led by Torsak Tip-pairote, M.D. are pioneers in Functional Medicine practice in Thailand and Southeast Asia.
 Better Being Hospital was founded to provide the most effec- tive medical innovation for all people in medical need. Better Being Hospital provides individualized treatment and rehabil- itation programs based on each patient's specific condition. Stem cell therapy is combined with basic physiologic function recovery programs to ensure the best chance for long term physical recovery, symptoms suppression, and illness control.
Better Being Hospital is located in Bangkok, Thailand's capital and largest city with over 14.5 million residents. Bangkok is an international city with various transportation networks, major park areas, popular tourism sites, and cuisines from all over the world, and is easily accessible by air from most major international airports.
Better Being Hospital Facilities – Powered by Beike Biotech
Discover a world of exceptional care and advanced medical facilities at Better Being Hospital – Powered by Beike Biotech. Our top-notch hospital kitchen offers natural and organic meals tailored to your nutritional needs, promoting the effectiveness of stem cell therapy. Enjoy hassle-free laundry services and stay connected with free Wi-Fi access. Check out our facilities below to learn more and embark on your path to healing with confidence.
Facilities

Details

Hospital Kitchen:

• Opening Hours: 8:00 a.m. to 6:00 p.m., 7 days a week.

• Inclusive Food Costs: Patients' food expenses are included in the treatment price.

• Customized Meals: Nutritionist interview to cater to culinary preferences and address food allergies.

• Nutritional Focus: Meals adapted to individual needs, emphasizing stem cell nourishment.

• Natural and Organic Food: High-quality, natural, and organic servings for optimal nutrition.

• Blended Food Option: Available upon request for patients with difficulty eating solid food.

Laundry Services:

• Convenient Pickup and Delivery: Laundry picked up and returned within two days.

• Cost: 20 THB per piece ($0.67 USD).

Internet Wi-Fi:

• Free Wi-Fi: Hospital provides free Wi-Fi access.

• Wi-Fi Names: BETTER_F1, BETTER_F2.

Password: betterbeing.

Voltage:

• Local Voltage: 220V in Thailand.

• Electronics Compatibility: Most modern electronics work at this voltage.

• Converter Suggestion: Check and buy a converter for older electronics if needed.

Local Communication:

Three options for local mobile phone usage:

• Option 1: Bring or rent an unlocked GSM-capable mobile phone from home and use a local Thailand SIM card.

• Option 2: Inquire with hospital staff for loaned mobile phone and purchase a local SIM card.

• Option 3: Purchase a new mobile phone, starting at around US$50.
What is Included in the treatment?
Our treatment includes not only the stem cell injections but also transportation from the airport, all necessary testing and examinations upon arrival at the hospital, a room with an additional bed (for a caregiver) for the whole treatment duration, meals customized by our nutritionist based on the patient's health assessment, and a comprehensive rehabilitation program that includes 14 acupuncture sessions, 16 physiotherapy sessions, 10 Occupational therapy sessions, 8 Hyperbaric oxygen sessions, and 8 Transcranial Magnetic stimulation sessions.
Doctors on site may modify the above therapy program depending on each patient's personal needs, and certain therapies may be substituted. Therapies cannot be removed from our treatment package or refunded. Extra therapy sessions are available at an additional cost upon request and approval. Feel free to contact me in advance or directly seek advice from the doctors at the hospital while receiving treatment.
The accommodation included in the treatment package is a standard room at the hospital. An extra fee will be required if you wish to book another type of accommodation. Please let us know if you want more information.
Quantity of stem cells provided: 20 million cells in each pack
Arriving with a Caregiver
We recommend coming for treatment with at least one caregiver, and we provide an extra bed in the patient room for that purpose. We outline different accommodation options in the attached guide. A standard room is suitable for two adults, and a child (10 years of age or younger) is included in the treatment price. Upgrades at an additional cost may be available upon request.
Thailand's immigration entry rules related to COVID-19
Since October 1, 2022, all COVID travel restrictions for Thailand have been lifted. Normal travel is possible again.
Vaccinations and Inoculations Before Treatment - General Information
We do understand that some patients may prefer to receive various vaccinations before coming for stem cell treatment. Our doctors, however, strongly recommend that patients not receive any vaccinations within two months of the treatment starting date to avoid any potential drop in treatment efficacy. If you have any concerns regarding vaccination, please contact our customer representative at PlacidWay Medical Tourism.
Stem Cell Therapy for Cerebral Palsy Overview
Stem Cell Therapy for Cerebral Palsy involves the administration of stem cells to regenerate damaged brain tissues and improve neural connections. The procedure begins with a thorough medical evaluation to determine the patient's suitability for treatment. The patient's own stem cells or ethically sourced donor cells are then carefully infused into the affected areas. The treatment aims to stimulate the body's natural healing mechanisms, potentially leading to enhanced motor function and reduced symptoms.
Stem Cell Injections: Administration of 20 million stem cells in each pack to promote regeneration and healing.
Airport Transportation: Hassle-free pick-up and drop-off from the airport to the hospital.
Testing and Examinations: Comprehensive medical evaluations upon arrival to assess the patient's condition and treatment needs.
Room with Additional Bed: Accommodation with an extra bed for a caregiver throughout the treatment duration.
Customized Meals: Nutritionist-designed meals based on the patient's health assessment.
Comprehensive Rehabilitation Program: Tailored rehabilitation plan with the following sessions: 14 Acupuncture Sessions, 16 Physiotherapy Sessions, 10 Occupational Therapy Sessions, 8 Hyperbaric Oxygen Sessions, and 8 Transcranial Magnetic Stimulation Sessions.
Personalized Therapy Program: Doctors may modify the therapy program to suit individual needs.
No Removal or Refunds: Therapies cannot be removed from the package or refunded.
Extra Therapy Sessions: Additional therapy sessions available at an extra cost, subject to approval.
Direct Doctor Consultation: Patients can seek advice and guidance from doctors during treatment.
Note: Accommodation provided is a standard room at the hospital. Any other type of accommodation will require an additional fee. For more information, please inquire in advance.
Travel Expenses: Costs associated with airfare and travel arrangements to and from Bangkok are not included in the package.
Personal Expenses: Any personal expenses such as phone calls, additional meals, and entertainment are not covered.
Unforeseen Medical Complications: In case of unexpected medical complications unrelated to the treatment, additional expenses may be incurred.
Visa and Documentation: Patients must arrange and cover the costs of obtaining the necessary visa and documentation for travel.
Non-Standard Treatments: Any additional treatments or procedures not explicitly mentioned in the package are not included.
Stem Cell Therapy for Cerebral Palsy Pre-Op Tests
Neurological Assessment: Evaluating the extent of cerebral palsy and understanding its impact on motor functions.
MRI or CT Scan: Detailed imaging to visualize brain structures and identify affected areas.
Blood Tests: Checking for any underlying health conditions or infections that may affect the treatment.
Allergy Screening: Ensuring that patients are not allergic to any components of the stem cell therapy.
Cardiac Evaluation: Assessing the heart's health and its ability to withstand the treatment process.
Steps to Maximize the Effectiveness of Stem Cell Treatment
Background
Stem cells respond to all types of cellular signals, including cell damage, cell injury, inflammatory and oxidative stress signals. In order to maximize the specific response of the stem cells to your particular purpose, we need to make sure that all irrelevant active signals are weakened in order for the stem cells to seek out the area of damage we wish to treat.
Before your stem cell treatment begins there is much you can do to increase the likelihood of improvements. Also, while you are the hospital, the therapists will help to educate you more on the external factors that aid the stem cells therapy to maximize benefit. Lastly, stem cells will continue to work up to 12 months, so you should continue to improve your condition after treatment to ensure your body is the right environment for the stem cell transplant to be successful.
Here are some recommendations for before, during and after treatment activities that can help to maximize the positive effects of the treatment and extend the length of recovery:
Pre-treatment Steps
Healthier dietary modification
Bad diet and nutritional deficiency lead to inflammation and oxidative stress.

General recommended core food plan, as guided by BBH nutritionist team, will be moderated control of all carbohydrate and sugar meal, regular consumption of various types of protein and always including different colorful vegetables in each meal. Bottom line concept is to move toward a plant-based diet, while keeping regular and rotating types of protein sources.

Regular drinking of vegetable juices, 2-3 glasses per day, for 3-4 weeks before treatment is also another good option, if possible.

Correct all nutritional deficiencies that exist. Consultation with a nutritionist or naturopathic doctor will be ideal.
Regular physical activities
Exercise helps to modulate healthy immunologic response and rebalance many physiologic functions.

Aim for regular physical activity, or non-sedentary life routine as a baseline. Add higher intensity workouts when you feel ready to do that.

Training of the specific area that is targeted to be improved will help keep the specific neuro-feedback signal active. This would be ideal to guide the homing response to MSCs.
Correct all possible physiologic imbalances
These are aimed to dampen all irrelevant signals before MSCs treatment.

If infection or inflammation is present, MSCs might respond to deal with these conditions, rather than respond to our primary concern.

Look at possible sources of infection and inflammation, such as chronic dental problems, chronic virus infections, etc. Do your best to remedy these; see a dentist, eat a healthy diet, exercise regularly, or even take supplementation if needed.

Reduce the possible level of toxic exposure. Stop or avoid smoking. Get clean air, food, and water as much as possible.

Aggressive options for detoxification, such as chelation, is not recommended though, as these methods will usually mobilize the accumulation toxins and keep it in your system for a certain time.

Look closely at heathy gut function. Make sure that bowel movement is regular and there are not many symptoms of bloating, gas or bleaching. This is a common cause of chronic food malabsorption, nutritional deficiency, bacterial or yeast overgrowth leading to chronic immunologic activation. Plant based diets, prebiotic or probiotics are good options to be considered.
During Treatment Steps
The attending physician will assess your individual nutritional, physical and emotional status and provide a plan to support any existing nutritional deficiency, personalize the specific food plan for your particular condition, decide whether any supporting treatments, such as hyperbaric oxygen therapy, repeated transcranial magnetic stimulation, acupuncture etc., may help to provide a better chance for a positive outcome of treatment.

Keys to success are depending on both patient and practitioner cooperation. Proactive participation on assigned programs are a must.
Post-treatment Steps
Stay healthy! Continue the suggested food plan and physical training program.

Avoid emotional stress, as this is known to provoke a stress response with glucocorticoids or cortisol release. These hormones can deteriorate newly formed neurons.

Avoid toxins from the environment, food and water. Do not smoke. Moderate alcoholic beverage intake.

These programs must be continued for six months after the treatment for maximum progress.
About Your Stay in Better Being Hospital
Air Travel
You should schedule your flights so your final destination is the Bangkok Suvarnabhumi Airport. A Better Being staff member will pick you up upon arrival at the arrivals gate and bring you to the hospital. Before arriving, BBH will send you an e-mail containing a Welcome Letter with a phone number in case you may need it. At the airport there will be an immi- gration officer with a sign waiting for you in order to escort you to our coordinator.
Day 1
The doctor on duty will give the patient a general orientation and basic evaluation within a few hours of arrival. The nurses will show the patient around the hospital. This will include an orientation of the first floor (reception, consultation room, physiotherapy, occupational therapy and nutritional workshop) and second/third floors (patient accommodations). Shortly afterwards, patients will be left alone to rest and sleep.
Days 2 - 3
Blood Test: In the morning, the nurse will come to take your blood sample for per-procedure testing following the doctor's order.
Full Physical Examination: Dr. Torsak will have a brief interview with each patient and his team will visit all patients and give everyone a detailed initial assessment. (Patients should bring any medical documents they have with them for this assessment.)
Consulting Physicians: In specific cases, the attending physician might decide to consult the specialists for their sug- gestions in order to help with treatment planning. Specialists may conduct their evaluations on day two to four after the arrival. The neurologist and rehabilitation doctors are the most frequent consulting physicians for patients undergoing stem cell treatment.
Physical Rehabilitation: This program will start the same day or the day after the initial check-up according to the patient's condition or depending on the rehabilitation doctor's decision. Rehabilitation occurs at least once a day, Monday to Sat- urday (except on stem cells transplantation days). We recommend patients follow the schedule given to them upon arrival and plan to be at the facility and present for each rehab session.
MRI, ECG, EMG Tests: These examinations may be required on an as-needed basis. All tests conducted upon arrival are included in the price of the treatment. Any additional tests not related to the stem cell treatment may require an additional fee.
Informed Consent: Before the first injection, the coordinators will provide you with the Informed Consent Document. At this time the patient or legal caregiver should complete and sign this informed consent of treatment. Please inform your patient service representative if you wish to view this form before arrival.
Stem Cell Injections: Normally the first injection will be provided two to three days after the patient's arrival once all ex- amination and laboratory results are received and reviewed by the doctor. Patients will be provided a weekly injection schedule. Injection time usually starts around 5:30 pm but is subject to change.
Beike Biotech has a team of experienced neurologists and stem cell specialists dedicated to treating patients with Cerebral Palsy. These doctors have extensive expertise in the field of regenerative medicine and are committed to providing the best possible care and outcomes. Check their doctor profile below:
Highly Qualified Regenerative Medicine Specialist in Bangkok, Thailand
1. Dr. Kusuma Kunawongkrit
Dr. Kusuma Kunawongkrit graduated from the Faculty of Medicine, Rama Hospital University in 2002 followed by further study at the Faculty of Medicine, Siriraj Hospital, Ma- hidol University. After graduation Dr. Kusuma specialized in rehabilitation medicine gaining diplomas in rehabilitation from Siriraj Hospital, Mahidol University. Dr. Kusuma has furthered her studies both in Thailand and abroad in Func- tional Medicine, aesthetic medicine, Chelation therapy, Tra- ditional Chinese Medicine and acupuncture

Position: Functional Medicine and Rehabilitation Practitioner, Acupuncture Specialist
2. Dr. Worawit Kitisakronnakorn M.D.
Dr. Worawit Kitisakronnakorn is an expert in Preventive Medicine, Traditional Chinese Medicine, and acupuncture. He graduated from. Thammasart University School of Medicine in 1999. After graduation, Dr. Worawit has furthered his studies both in Thailand and other countries such as the Board Certificate in Preventive Medicine by the Medical Council of Thailand, Certificate in Traditional Chinese Medicine and Acupuncture by The Shanghai University of Traditional Chinese Medicine.

Position: Functional Medicine Practitioner, Traditional Chinese Medicine & Acupuncture
Who is Eligible for Stem Cell Therapy for Cerebral Palsy?
Suitability Assessment: A detailed medical evaluation will determine if the patient is an ideal candidate for Stem Cell Therapy.
Realistic Expectations: Understanding potential outcomes and discussing individual treatment goals with the medical team.
Patient Commitment: Successful treatment may require adherence to rehabilitation programs and post-treatment care.
Consultation and Clarification: Patients are encouraged to seek clarifications and ask questions during the consultation phase.
Family Involvement: Involving the patient's family in the decision-making process can provide valuable support and understanding.
What to Expect During the Stem Cell Therapy for Cerebral Palsy?
Warm Welcome: Patients are warmly welcomed and assisted throughout their treatment journey.
State-of-the-Art Facilities: Top-notch facilities and advanced medical technology ensure a comfortable and effective treatment experience.
Compassionate Care: The medical team at Beike Biotech provides compassionate care, addressing any concerns or anxieties patients may have.
Post-Treatment Support: After the procedure, patients receive dedicated support and guidance for a smooth recovery and rehabilitation.
Exploring Bangkok: Patients can also enjoy the beauty and culture of Bangkok during their stay, making the treatment journey more enriching.
Why Choose Bangkok, Thailand?
A CULTURAL AND ECONOMIC CAPITAL - Bangkok is not only the most populous city in Thailand, but also one of the most prosperous in all of Southeast Asia. Bangkok experienced tremendous growth in the 1980s and 1990s and is now an economic and transportation hub for the region. The city also boasts an incredible amount of international cuisine, arts and entertainment.
It is an optimal treatment location for patients, as there is no need for citizens of most countries for a visa if their stay is under 30 days. There is also a huge permanent international population, millions of international visitors a year, English language is prevalent, the city is filled with embassies, international restaurants are abundant, there are direct flights from most countries and Bangkok's medical services, and the hospitals are world renowned.
Bangkok has a tropical, wet and dry climate. The average high temperature during the year is 33 Celsius (91 Fahrenheit) while the average low for the year is 24 Celsius (75 Fahrenheit). The monsoon season, characterized by periods of rain- fall and high humidity, begins in mid-May and lasts through September.
Top Tourist Vacations in Bangkok, Thailand before getting Stem Cell Therapy
We encourage social activity and organize gatherings to help you enjoy your stay, make friends and feel at home during your visit.
Best Tourist Vacation in Bangkok, Thailand

Grand Palace

Since 1782, the Grand Palace has been the his- torical home of Thailand's monarchy. The Palace lies along the banks of the Chao Phraya River and is a huge complex consisting of ceremoni- al halls, pavilions, courtyards and gardens. The Palace is currently used for state events and functions and is one of Bangkok's (and Thai- land's) most popular tourist attractions.

Wat Arun

The Wat Arun is located on the Chao Phraya Riv- er across from the Grand Palace and is consid- ered one of Thailand's most beautiful and well- known temples. Many structures in the temple's complex date back 400 years. The main spires, built in the 19th century, rise to a height of about 80 meters.

Wat Pho

Wat Pho also knows as Temple of the Reclining Bud- dha is a Buddhist temple situated in the Rattanakosin district. The temple houses the largest collection of Buddha statues, including the 46 meters long Reclin- ing Buddha.

Wat Phra Kaew

The Wat Phra Kaew meaing Temple of the Emer- ald Buddah in English, is located in Phra Nakhon District. The temple is regareded as the most sacred Buddhist temple in Thailand. Inside the temple houses the statue of the Emerald Bud- dah carved from a single Emerald jade stone.

Wat Ratchanatdaram

Wat Saket meaning Temple of the Royal Niece was built in 1846 for the Princess, Grand-Daughter. The temple is located in Phra Nakhon district, between Ratchadamoen Klang and Maha Chai Road. The tem- ple is best know for the Loha Prasat, a multi-tiered structure 36 meters high and having 37 metal spires, which symbolises 37 virtues towards enlightenment.

Wat Saket

Wat Saket knows as the Golden Mount because of being on a low hill crowned with a gleaming gold chedi. Artificial man-made hill best known for it's landmark and is a sacred pilgrimage site during the weeklong worshipping period in November. The climb is 300 steps up, which encircle the chedi like a loosely coiled snake.

Erawan Shrine

The Erawan Shrine temple also knows as the "Shrine of Lord Brahma the Great" is the house of the Phra Phrom statue, the Thai representation of the Hindu god, Lord Brahma. Phra Phrom is a Brahma god most knowd to be the Four-Faced Buddha, each symbolises his four virtues; kindness, mercy, sympathy and impartiality.
1. Q: What is Stem Cell Therapy for Cerebral Palsy, and how does it work?
A: Stem Cell Therapy involves the infusion of stem cells into the body to stimulate natural healing processes. In the case of Cerebral Palsy, the therapy aims to regenerate damaged brain tissues and improve neural connections, potentially leading to improved motor function and reduced symptoms.
2. Q: Is Stem Cell Therapy safe for children with Cerebral Palsy?
A: Yes, Stem Cell Therapy for Cerebral Palsy is generally considered safe for children. Beike Biotech in Bangkok has experienced specialists who ensure the procedure is tailored to each patient's needs, and thorough evaluations are conducted to determine suitability.
3. Q: What are the potential benefits of Stem Cell Therapy for Cerebral Palsy?
A: The potential benefits of Stem Cell Therapy may include improved motor skills, reduced spasticity, enhanced coordination, and an overall better quality of life. However, individual results may vary, and it is essential to have realistic expectations.
4. Q: How long will I need to stay in Bangkok for the treatment?
A: The duration of your stay in Bangkok for Stem Cell Therapy will depend on the treatment plan designed by the medical team at Beike Biotech. Typically, patients may need to stay for a few weeks to complete the therapy and post-treatment care.
5. Q: Can international patients receive Stem Cell Therapy in Bangkok, Thailand?
A: Yes, Beike Biotech in Bangkok welcomes international patients seeking Stem Cell Therapy for Cerebral Palsy. The city is renowned for medical tourism, and the facility is well-equipped to cater to the needs of patients from around the world.
Take the first step towards potential improvement in Cerebral Palsy symptoms. Book your consultation with Beike Biotech in Bangkok through PlacidWay Medical Tourism for a personalized treatment plan and expert care. Embrace hope for a better future with cerebral palsy stem cell therapy. Click contact us button below to get started:

---