Comparing Package Prices for Liposuction in Turkey
Package price starting from:
$3250
Treatment:
Cosmetic/Plastic Surgery, Liposuction
Focus Area:
Liposuction Turkey | Dentistry Procedure| Cosmetic Surgery | Cosmetic Body Sculpting Turkey | Liposuction Abroad | Turkey
---
Compare Cost of Liposuction in Different Cities of Turkey

Choose the Best Package for Liposuction in Turkey
Liposuction is a preferred combined process that does a lot of work in a single cosmetic procedure. It is a one-time technique to reshape your body. The procedure brilliantly reshapes the desired areas of your body by getting you rid of the excess fat and skin that anyhow was impossible to be eliminated from your body by diet and routine physical exercise.
Qualified and experienced cosmetic surgeons at Turkey apply multiple body sculpting techniques to give you a lean and toned figure. Liposuction is, in fact, a combination of Liposuction, Breast Augmentation, Abdominoplasty, required Body Lift and Implant procedures. It includes thigh lifts and buttock lifts as well.
What is Liposuction?
Liposuction is a type of cosmetic surgery designed to help remove excess fat deposits from certain areas of the body. Women are more apt to consider liposuction than men, as it helps to improve proportion, body contours, and most importantly, self-image and confidence. Liposuction is also known as lipoplasty and can be performed on an outpatient basis.
Average Cost of Liposuction in Turkey
The average price of Liposuction in Turkey is $3,250 approximately. The price ranges from $2500 to $4,000 approximately depending upon the services and facilities provided by the medical center.
Package Cost in Turkey- City-Wise Break-up
City
Price
Inclusions
Exclusions
Learn More

Izmir

$2700

Certified hospital

Use of OR

Use of Recovery Room

Surgeon Fees

Anesthesiologist Fees

Surgical Team Fees

Surgical Supplies expenses

Blood work

Medications(antibiotic/pain control)

Compression Garment

Round transportation(hotel-clinic-hotel)

All the follow up Appointments

Meals

Airfare

Airport pick-up/drop-off

Accommodation

Learn More

Istanbul

$3800

Pre and post- operative consultations

All hospital fees with a night stay

All medical fees (doctor fees, assistant plastic surgeon, anesthesiologist and nursing staff)

Post-surgery garment

Hotel or recovery house

Preoperative lab work

Airfare

Learn More
All the Benefits form Getting Liposuction in Turkey
One procedure can target many areas of the body

Stubborn areas are finally improved

Safe techniques

Significantly improved comfort

Long lasting results

Flattens figure

Improves appearance and confidence

Tightens loose muscles

Reduces stress urinary incontinence

Ventral hernia correction

Better posture

Get an affordable treatment within world-class facilities
List of Required Pre-op Tests for the Liposuction Pacakge
The laboratory tests should be done at least 7-10 days prior to the procedure. The particular tests are prescribed after a complete physical evaluation of the patient. The list of pre-op tests is:
Complete Blood Count (CBC)

Pregnancy test to check if the woman has attended menopause

Hematocrit

Anemia

ECG, etc

Psychological assessment
Before and After of Liposuction Surgery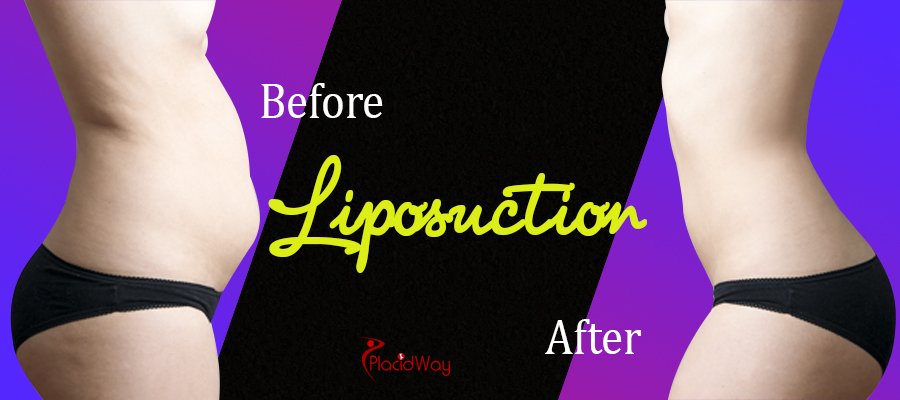 How to Reach Turkey for your cosmetic surgery procedure?
Did you find the package you like? Contact us for a free quote and one of our agents will contact you shortly. PlacidWay can help you with free quotes and schedule the appointment for you. If you have some of the mentioned pre-op tests they can be helpful for a doctor to provide you with more accurate quote. If you would simply love to consult with our agents, you can always give us a free phone call.


Related Experiences:
Liposuction in Istanbul Turkey
Liposuction in Antalya
Liposuction in Izmir, Turkey
Affordable Liposuction in Turkey - Save Up to 75%
Liposuction in Croatia
Liposuction in Mexico City
---
Cosmetic/Plastic-Surgery Related Packages
Cosmetic/Plastic-Surgery Related Experiences