Package Details

Best Package for Stem Cell Treatment for Parkinson in Los Algodones, Mexico
Parkinson's disease is a disorder of the motor system, affecting muscle movement. Common symptoms of Parkinson's disease include trembling of the hands, tremors, stiffness of the limbs and torso, and slow, stiff movements. Individuals diagnosed with Parkinson's may also have difficulty maintaining balance and exhibit poor coordination. Parkinson's disease generally affects people over 50 years of age, though the symptoms of the developing disease occur gradually.
Stem cell treatment for Parkinson disease has been proved to be highly effective with a record rate of success. It is important to identify and treat the symptoms at the right stage. Now you can easily avail advanced stem cell treatment for Parkinson disease in Los Algodones, Mexico. Stem cell treatment is becoming an alternative to surgical procedure and it is undergoing several clinical procedures across the globe. As you can avail the advanced treatment in Los Algodones, you should thoroughly check-up the certification and reputation of the clinic before final approval.
Factors that Affect Package Price
You may find that the same provider is offering different treatment packages for Parkinson treatment in Los Algodones, Mexico. This happens due to relative factors like:
Age

Body Mass Index

Muscular structure of abdomen

Weight

Nutrition

Extraction and processing of the cells

Re-administering of cells

Follow up and after treatment procedures
The doctor at the clinic would ask to go for tests to ascertain the condition of your health. Based on that, the doctor may consult over the phone and explain about the treatment.
Benefits of Receiving Stem Cell Treatment for Parkinson Treatment in Los Algodones, Mexico
Highly successful treatment for Parkinson disease

80% improvement in motor skills

Psycho-emotional improvement

Maintenance of thinking skills, speech patterns, intellect and memory

Easiest option

Quick recovery
Complexity Level: Medium

Cost: Stem Cell treatment in Los Algodones, Mexico costs around $6,995 per session on an average.
Note: 3 sessions are recommended. The cost will be finalized based on the analysis of lab reports and physical check-up.
Length of Stay: 2-3 days
Note: The duration may vary depending upon the chosen procedure of stem cell treatment for Parkinson disease.
Inclusions
Pre and post-operative consultations

All medical fees including doctor fees, assistant, anesthesiologist and nursing staff

All hospital fees with night stay

Post-operation garment
Exclusions
Preoperative lab work

Hotel or recovery house

Airfare
List of Required Pre-Op Tests
PET scan

CT scan/ X-RAY

MRI exams

EEG

Echocardiogram

Blood test
Note: The laboratory tests are done at least 7-10 days prior to the procedure. The particular tests are prescribed after a complete physical evaluation of the patient.
Payment methods: Credit card, cash, wire transfer
Note: You may have to deposit some amount when you will agree to book for the treatment.
How to Get There
Los Algodones is one of the most popular destinations in the map of Mexico medical tourism. The city can be described as a hub of high-end clinics in Mexico and there are two major airports that connect the place with the rest of the world. Yuma International Airport is the nearest airport and it is well-connected with the major cities and you won't have any trouble to reach here. The city is also connected with highways and there are many tourists' attractions to visit as well.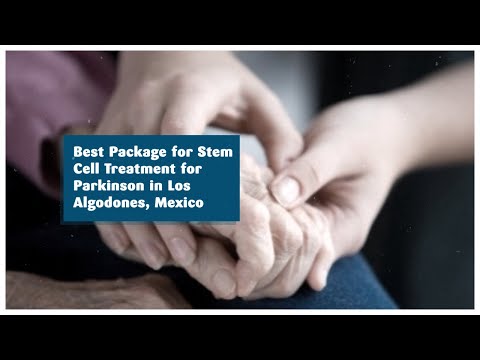 Click the button below for more information on Stem Cell Treatment for Parkinson in Los Algodones, Mexico!