Price Comparison for Stem Cell Therapy for COPD in Mexico
Package price starting from:
$12124
Treatment:
Stem Cell Therapy, Stem Cell Treatment for COPD
Focus Area:
Stem Cells for COPD Treatment in Mexico | Regenerative Medicine for Lungs Treatment
---
Lungs Stem Cell Treatment for COPD in Mexico

COPD stands for chronic obstructive pulmonary disease. It's a type of lung disease that makes it difficult to breathe, because optimal lung exchange of oxygen and carbon dioxide are interrupted. A variety of medical conditions may be categorized as COPD, including chronic bronchitis, emphysema, or aesthetic bronchitis, just to name a few. If you are looking for the best destination to get stem cell therapy for COPD abroad, then Mexico can be an ideal place for you.
Stem Cell Therapy for COPD Treatment
Stem cell therapy for COPD is being studied for efficacy in improving the complications in patients through the use of their own stem cells. Adult stem cell treatments for COPD may help patients who don't respond to typical drug treatment, are looking to try stem cell therapy before starting drug treatment or want to reduce their reliance on medication.
The stem cells have the potential to replace countless cells of the body, lung tissue included. These stem cells may heal the body by replacing the ones that are plagued with disease, regenerating new cells, and suppressing the immune system's macrophage response which engulf and digest the dying cells of the lungs.
Stem Cell Therapy for COPD can lead to an increase in oxygen levels and helping patients feel less fatigued. This treatment has the potential to change lives and make living with COPD more bearable.
Cost of stem cell therapy for copd in Mexico City
The average price of Stem Cell Therapy for COPD in Mexico is $12,124 approximately. The price ranges from $6,500 to $20,000 approximately depending upon the services and facilities provided by the medical center. In Mexico, city stem cell therpy for COPD cost starts from $6,500.
City
Price
Inclusions
Exclusions
Learn More

Mexico City, Mexico

$6,500

Hospital charges

Doctor, nurse, anesthetist fees

Stem cell therapy injections

Pre/post operative consultations

Post operative garments​

Accommodation

Food

Air-fare

Local transport​

Learn More
Benefits of Stem Cell Therapy for COPD in Mexico
Healthier lung cells

Prevents further damage

Development of healthier lung tissue

Improved breathing

High success rate

Minimum stay

Long lasting outcome

Quality treatment at affordable price

Enjoy the great hospitality of Mexico with the complete stem cell for COPD solution
List of Required Pre-op Tests
The laboratory tests should be done at least 7-10 days prior to the procedure. The particular tests are prescribed after a complete physical evaluation of the patient. The list of pre-op tests are:
Complete blood count

CT scan

Chest tube procedure

Bronchoscopy

Lung function test, etc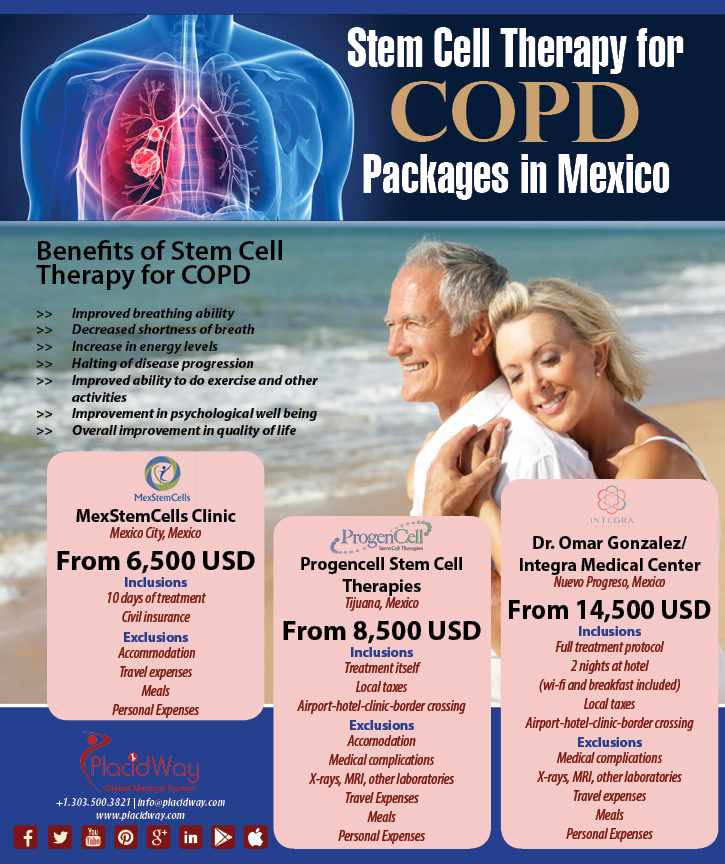 Did you find the package you like? Contact us for a free quote and one of our agents will contact you shortly. PlacidWay can help you with free quotes and schedule the appointment for you. If you have some of the mentioned pre-op tests they can be helpful for a doctor to provide you with more accurate quote. If you would simply love to consult with our agents, you can always give us a free phone call.


Related Experiences:
Stem Cell Therapy for COPD in Tijuana Mexico
Stem Cell Therapy for COPD in Mexico - Cope with Disease
Stem Cell Therapy for COPD in Germany
Stem Cell Treatment for COPD in Europe
Stem Cell Therapy for COPD in Colombia
Stem Cell Therapy for COPD in Dubai UAE
---
Stem-Cell-Therapy Related Packages
Stem-Cell-Therapy Related Experiences