Cheap FUE Hair Transplant Mexico City, Mexico
Treatment:
Hair Transplantation, Follicular Unit Extraction FUE
Focus Area:
FUE Hair Transplant in Mexico City | FUE Hair Transplant Package | Hair Transplant Cost | FUE in Mexico
---
FUE Hair Transplant in Mexico City, Mexico, FUE Hair Transplant Package, Hair Transplant Cost, FUE in Mexico, Fue Hair transplant Mexico, cheap FUE hair transplant Mexico, best FUE hair transplant Mexico, FUE hair transplant cost, FUE hair transplant before and after, FUE hair transplant near me, FUE hair transplant scars, how much is FUE hair transplant, what is FUE hair transplant, FUE hair transplant results, FUE hair transplant recovery timeline

Amazing Package for FUE Hair Transplant in Mexico City, Mexico
Men and women from all over the world use FUE hair restoration treatments to enhance their hair growth and appearance. Although most commonly used by men, women sometimes utilize these hair loss treatments as well, in order to attain a fuller, healthier head of hair.
Most of the time, hair loss is caused by weak hair follicles. A variety of

FUE Hair Transplant

procedures and treatments are available to individuals, but all of them are different and should be picked carefully, according to each individual's needs.
Get the procedure done at Mexico City, Mexico by the expert doctors performing FUE or Follicular Unit Extraction method are conducted by extracting the follicles one by one with the help of a micro-punch. After this, the extracted follicles are transplanted to the required area of the recipient.
How Much is the FUE Hair Transplant Cost in Mexico City, Mexico
The average cost of FUE Hair Transplant in Mexico City, Mexico is around $3,425. Final prices are determined after physical evaluation and laboratory reports analysis.
Cost of FUE Hair Transplant in the US, Mexico, and Other Cities
| | | |
| --- | --- | --- |
| Country | Procedure | Average-Cost |
| Mexico City, Mexico | FUE Hair Transplant | $3,425 |
| United States | FUE Hair Transplant | $15,000 |
| United Kingdom | FUE Hair Transplant | $8,000 |
| France | FUE Hair Transplant | $12,000 |
| Canada | FUE Hair Transplant | $17,500 |
How is FUE performed?
FUE  implies the individual removal of the follicular units and individual transplantation to the patient's thinning area. The surgeon removes the grafts using an automated extraction tool after the patient's hair has been cut short for better visibility of the scalp. Each follicular unit graft has 1, 2, 3, or 4 hairs, as they occur naturally in the scalp.  Usually, the grafts are extracted from the back and the sides of the scalp.
Each follicular unit graft is carefully placed into the tiny holes made by the surgeon in the thinning area of the scalp using various devices such as the Hans implanter or the Choi implanter pen.
Tools used for FUE
Manual extraction devices are also known as punch devices

Surgically Advanced Follicular Extraction or SAFE

Motorized FUE tools

Dr. Alan Feller's Advanced FUE Instruments or Feller FUE Device

The FUE Powered SAFE Scribe

The Proprietary Motorized FUE Tool

The NeoGraft Automated FUE Hair Transplant Machine

The ARTAS Hair Restoration System
FUE Hair Transplant Before and After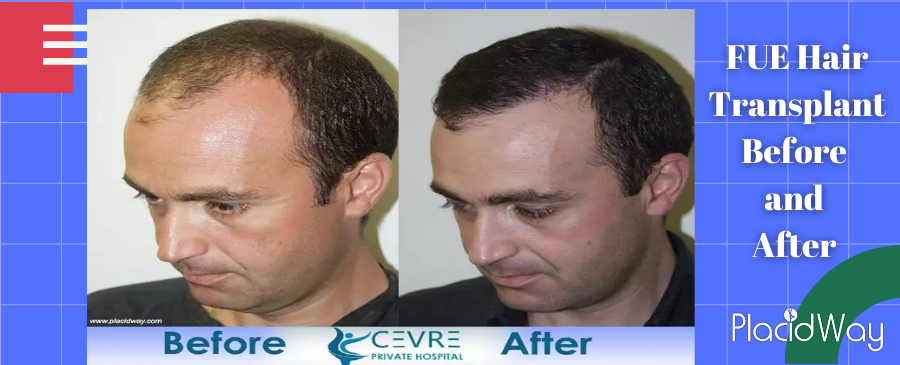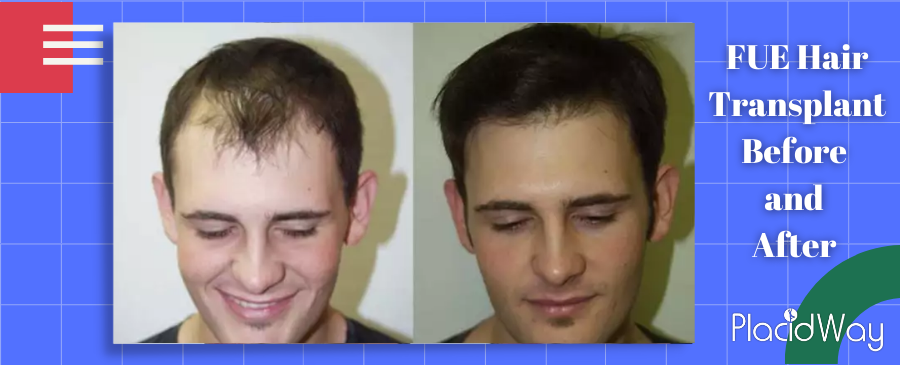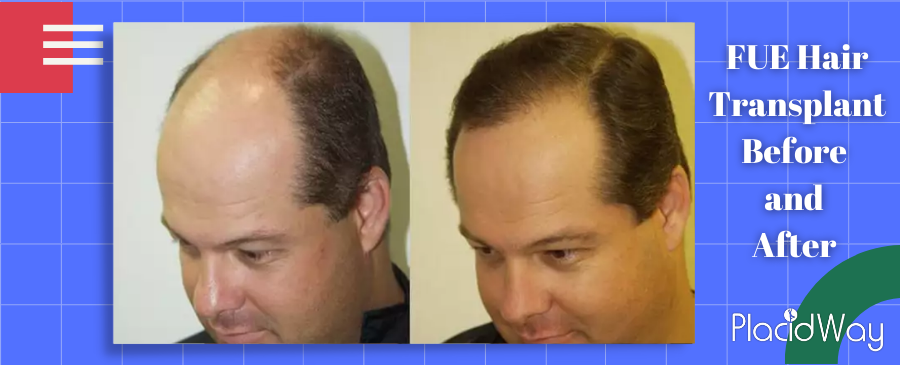 Benefits of FUE Hair Transplant in Mexico City, Mexico
Result is natural

Fast and easy recovery

Quick healing

No numbness or pain

Transplanted hair grows fast and does not fall for the entire life

The procedure does not last long

Top-quality hair transplant procedures

Affordable price

The patient was given utmost priority

Personalized treatment according to patient's needs

Highly skilled and qualified experts

Fascinating climate for quick healing

Safe and successful procedures

Affordable prices

Qualified medical staff

Modern equipment and procedures

Minimal recovery time thanks to the latest methods used
Top Clinic For Fue Hair Transplant in Mexico City, Mexico
Bojanini Hair & Skin Experts Polanco Clinic:  Bojanini Polanco Clinic is a branch of renowned Bojanini Hair and Skin Experts is part of the new age in hair transplant procedures, capillary treatments, beauty health care. Dr. Giovanni Bojanini is the founder of the clinic. As a pioneer of these topical treatments. Dr. Bojanini is a recognized authority in the field, reaching over 90% effectiveness in disciplined patients. Currently, many patients around the world have positioned Giovanni Bojanini´s centers as a Latin American leader in both female and male pattern baldness.
Our Procedures & Treatments 
Hair Transplant, Female or Male (F.U.E., Follicular unit extraction)
Hair transplant

Eyebrow transplant

Beard transplant
Another Best Clinic For FUE Hair Transplant in Mexico
Baja Surgery Center: is a facility in Los Algodones, Mexico that offers Surgical Procedures and an Aesthetic Medicine Specialty. Our non-surgical treatments can help you enhance your physical appearance by removing imperfections and prevent the effects of aging, including procedures such as Hyaluronic Acid Fillers, Botox, the famous Vampire Facials, and Hair Transplant.
Factors that Affect Package Price
You may find that the same provider is offering different package prices for FUE Hair Transplant in Mexico City, Mexico. This happens due to relative factors such as:
Age of the patient

Gender of the patient

Surgeon's experience and fees

The infrastructure of the operation theatre

Number of hair transplant session

Number of hair grafts

Qualification and experience of the doctor
The doctor at the clinic would ask to go for laboratory tests to ascertain the problem and plan your treatment course of action. Based on that, the doctor may consult over the phone and explain the plan for FUE Hair Transplant in Mexico City, Mexico.
Complexity Level: Low
Length to Stay: 2-3 days
Note: The duration may vary depending upon the condition of the patient and the chosen procedure of treatment
Inclusions
All hospital fees 

Pre and post-operative consultations

All medical fees (doctor fees, anesthesiologist, and nursing staff)

Surgery

Medicines

Shampoos

Lotions
Exclusions
Hotel or recovery house

Preoperative lab work

Airfare
List of Required Pre-Op Tests
CBC (complete blood count)

PTT and INR (bleeding parameters)

Hepatitis B, Hepatitis C, and HIV
Note: The laboratory tests are done at least 7-10 days prior to the procedure. The particular tests are prescribed after a complete physical evaluation of the patient.
Payment Options: Cash, credit card, wire transfer
Note: The center may require a money deposit once a patient decides to book the surgery.
FAQs About FUE Hair Transplant in Mexico City, Mexico
Who is a candidate for FUE?
FUE is the perfect procedure for any woman or man who wants to wear their hair short and does not want a linear scar. The procedure is also the best option for patients with limited scalp elasticity or donor supply.
What is the success rate of FUE Hair Transplant?
FUE hair transplant keeps up with a lot higher success rates no matter how you look at it than different methods, however. Most legitimate specialists report FUE hair rebuilding success rates of over 90%, making it quite possibly the best and promising alternatives for Las Vegas patients confronting diminishing hair or hair loss.
How long does FUE hair transplant last?
Even after they're implanted into the going bald spaces of the scalp, the transplanted hair follicles hold the attributes of their starting point and keep on developing forever. This implies that with the right specialist and legitimate aftercare, a FUT or FUE hair transplant can endure forever.
When can I touch my grafts after a hair transplant?
Starting 2-3 days after surgery you can delicately contact the grafts with the fingertips while washing in the shower. Try not to get the grafts with your fingernails. 2. Hairspray and mousse can be utilized multi-week after the transplant yet ought to be washed off day by day.
How many days rest after a hair transplant?
In the primary week to 10 days after hair restoration surgery, you experience critical incidental effects, and you can hang tight for them to die down prior to getting back to work.
What is the most successful hair transplant procedure?
The current highest quality level for hair transplants is called Follicular Unit Extraction, says Washenik. FUE is a high-level careful hair restoration method. It's less intrusive than conventional hair transplants. This careful arrangement departs no straight scar and requires no lines.
How to Get There
Mexico City International Airport connects Mexico City via flights from all major cities in the world. Frequent cheap flights are available to the city throughout the year.
For more information on FUE Hair Transplant in Mexico City, Mexico, click the button below!


Related Experiences:
FUE Hair Transplant in Turkey - Regain Natural-Looking Hair!
The Guide to Choosing Hair Transplant in Mexico
Hair Transplant in India
Hair Transplant in Spain
Reasons to Choose Hair Transplant in Istanbul - Turkey
Hair Transplant in Turkey
---
---
---