Top Package for Mini Gastric Bypass in Merida, Mexico - $6800
Package price starting from:
$6800
Treatment:
Obesity/Bariatric Surgery, Mini Gastric Bypass
Location:
Calle 26 # 199 Interior 404 x 15 y 7 Altabrisa Mérida Yucatán, Mexico
Focus Area:
Mini Gastric Bypass | Bariatric Surgery | Obesity Surgery | Weight Loss Surgery | Bypass Gastrico Merida | Merida | Mexico
---
Low Cost Package for Bariatric Surgery in Merida, Mexico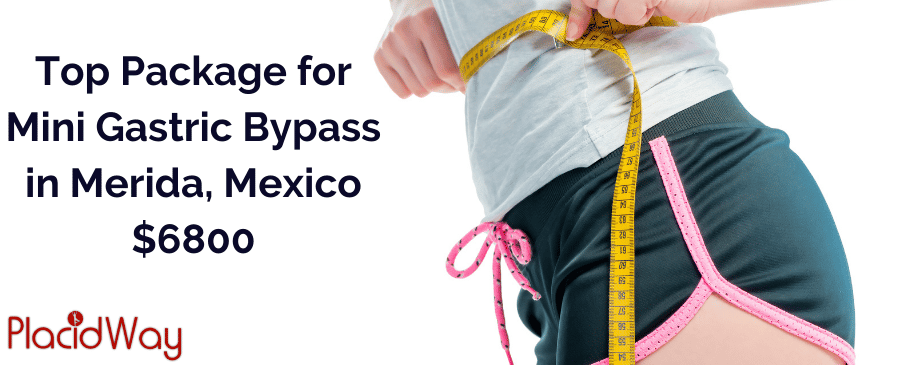 Mini Gastric Bypass Package in Merida, Mexico - $6,800
Bypass Gastrico Merida clinic provides a cheap package for Mini Gastric Bypass in Merida, Mexico. Get top treatment free quotes form top centers. Bypass Gastrico Merida is #1 top clinic that gives the best of Laparoscopy and Corpulence surgery in the Mexican City of Merida.
Definition of Mini Gastric Bypass Treatment in Merida, Mexico
The Mini-Gastric Bypass Surgery is a very simple procedure which will reduce the amount of food that the stomach can hold and the amount of fat and calories that are absorbed through the small intestines. As with any major surgery, there are risks involved, however, the benefits outweigh the risks. Besides weight loss, all added pathologies derived from obesity, such as Gastroesophageal Reflux, Sleep Apnea, Hypertension, Dyslipidemia, Fatty Liver, Hyperinsulinemia (An abnormally high level of insulin in the bloodstream). Diabetes and Osteoarticular Problems; are corrected. In the majority of such pathologies, it is possible to interrupt Pharmacologic Treatments for the control of these illnesses.
With a highly trained team of surgeons, nurses, nutritionists, Bypass Gastrico Merida is able to provide our patients with safe and effective weight-loss surgery, comprehensive pre- and post-operative education and ongoing aftercare. We are here to guide you to a happier, healthier life.
Get Mini Gastric Bypass Package in Merida, Mexico at Bypass Gastrico Merida clinic with the price starts from $6,800.
Note: Price can different or change depends on complexity of the procedure. Please follow Price Policy in Bypass Gastrico Merida Clinic or contact Customer Representative.

The numerous gastric detour surgery is generally basic and includes a modest number (typically under five) of short cuts (1 inch or less). The method includes laparoscopic medical procedure, which brings about less tissue harm and more limited mending time. The laparoscope is a little camera appended to the furthest limit of a long, slight cylinder that empowers the specialist to see the interior organs structure through a screen that looks similar as a PC screen.
Making tiny developments with careful apparatuses, the specialist will staple the stomach into a long and restricted cylinder. A greater part of the stomach will be divided off to make a more modest pocket which empowers people to feel full quicker and to diminish food utilization. The littlest piece of the stomach is then joined to small digestive system around 6 inches lower along the length of the digestive system than where the stomach is ordinarily appended.
Much of the time, this surgery can be acted in under 60 minutes. The more modest piece of stomach and the cylinder that presently prompts the small digestive tract makes the food digest all the more leisurely, as well as decreasing the quantity of calories and fat consumed by the small digestive tract than in any case. People going through a scaled down sleeve gastric detour methodology will be expected to keep a restricted and sufficient eating regimen for long haul achievement and adequacy.
Below are some advantages of selecting Weight Loss Surgery in Merida, Mexico by Bypass Gastrico Merida Clinic:
Safe and effective for patients with high BMI

Less tissue damage

Quick healing time

Improves stomach function

Long-term benefits

Affordable

High success rate

The recovery is fast

Better quality-of-life
Here you can find inclusions for Mini Gastric Bypass Package in Merida, Mexico:
Initial consultation

Hospital bill

Medical team fees (lead surgeon and assistant surgeon, anesthesiologist)
Check below information of exclusions for Mini Gastric Bypass Package in Merida, Mexico:
Airplane tickets

Personal expenses
Below are some pre op tests for bariatric surgery in Merida, Mexico by Bypass Gastrico Merida Clinic:
Pathology  test

Blood glucose

Lipid Profile Test

Electrocardiogram (EKG)

Thyroid hormone test

ECG

Body composition analyzer, etc
Note: The pre-op tests will be suggested after an essential physical check up. The tests are required to be done before 7-10 days of the treatment.
Payment Options: Cash, Credit Card, Wire Transfer
Note: The clinic may ask you for money deposit once you decide to receive the surgery.
Here you can find information about bariatric surgeon in Merida, Mexico:
Doctor Name: Md. Jesus Nunez Hernandez
Experiences and Certifications:
Specialist Diabetes Obesity Surgery and Laparoscopic
Merida, Mexico is most ideal decision for Medical Tourism objective, as it impacts the recuperating and improvement of the patients. Merida, Mexico is considered as a piece of the most grounded and the best clinical the improvement business regions that welcome you with its amazing climatic conditions and generally standard quality. Patients can get: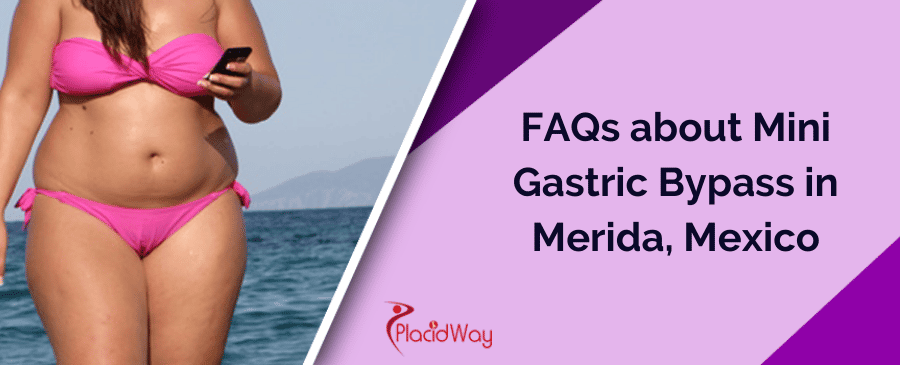 Here you will find information about FAQ (Frequently Asked Questions) for Mini Gastric Bypass in Merida, Mexico:
What measure of time does it expect to get in shape after Mini Gastric Bypass?
The normal week by week weight reduction of gastric bypass patients is around 5 to 15 lbs for the initial a few months. It begins to tighten to 1 to 2 lbs per week following a half year.
What measure of weight do you lose with Mini Gastric Bypass?
While individual results will change, most patients can expect to shed around half of their extra burden by the half-year point and as much as 65% of extra pounds by one year. Patients who stick close to their eating routine and exercise reliably shed as much as 70% of their excess weight.
What happens after a Mini Gastric Bypass?
Various patients return to standard life and work inside quite a while, yet plan for up to 2 to 3 weeks off to leave nothing to chance. Full exercise and genuinely troublesome work generally go on inside one to two months. In light of your more unobtrusive walnut estimated stomach, you will feel full a ton sooner than you did before an operation.
Could you have the option to place on weight after Mini Gastric Bypass?
You may have placed on weight after Gastric Bypass an operation considering changes in your stomach and intestinal system that grant you to eat more and hold more calories.
What might you have the option to eat after Mini Gastric Bypass?
At the point when you suffer liquids, you can become focused, beat up, and pureed food assortments.
Food assortments you can puree in this stage:
Eggs.
Fish.
Curds.
Beans.
Lean ground meat.
Fragile natural items.
Cooked vegetables.
Book now mini gastric Bypass package from #1 best clinic for Obesity Surgery in Merida, Mexico at Bypass Gastrico Merida Clinic. You will acquire top quality of Gastric Sleeve Surgery at pocket-friendly expenses. Make sure to tap contact us button below to get more information or if you want to book your reservation today:

Related Experiences:
Mini Gastric Bypass in Mexico
Mini Gastric Bypass in Latin America
Bariatric Surgery in Merida, Mexico
Gastric Bypass in Merida Mexico
Gastric Balloon in Merida Mexico
Gastric Sleeve Surgery in Merida, Mexico
---