Rhinoplasty Package in Bangkok, Thailand by Dr. Siripong Plastic Surgery
Package price starting from:
$5070
Treatment:
Cosmetic/Plastic Surgery, Nose Surgery Rhinoplasty
Location:
423 Sukhumvit 55 Vhadana , Thailand
Focus Area:
Dr Siripong Plastic Surgery | Bangkok | Thailand | Rhinoplasty | Nose Surgery
---
Achieve Your Dream Look with Nose Surgery in Bangkok, Thailand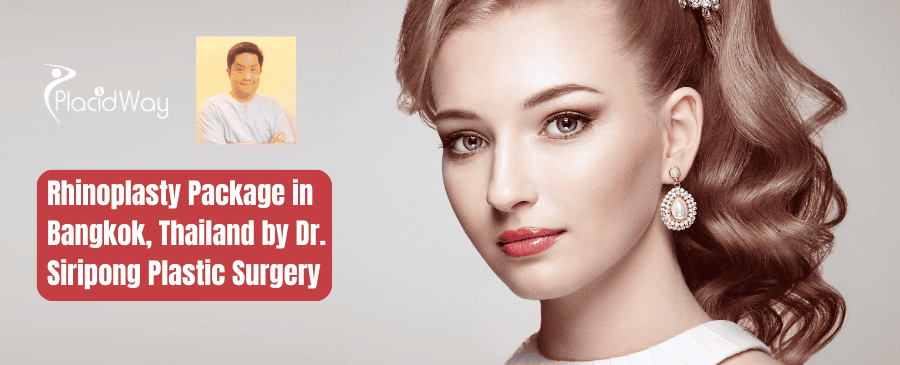 Embark on a journey to redefine your beauty with the Rhinoplasty Package in Bangkok, Thailand, offered by the distinguished Dr. Siripong Plastic Surgery. Bangkok, known for its rich cultural heritage and cutting-edge medical facilities, stands as an enticing destination for those seeking to enhance their nasal aesthetics. Under the expert care of Dr. Siripong's skilled surgeons, you'll discover a world of possibilities, where the art of Rhinoplasty is meticulously crafted to meet your unique desires. Join us as we delve into the details of this transformative experience, from procedure insights to package inclusions, and take that first step towards a more confident, beautiful you.
You can get rhinoplasty package in Bangkok, Thailand by Dr. Siripong Plastic Surgery with the price starts at $5,070. Please refer to our price list table below:
| | |
| --- | --- |
| Location | Cost in USD |
| Bangkok, Thailand | $5,070 |
| United States | $10,000 |
| United Kingdom | $7,558 |
Note: price may change and vary depends on complexity of procedures and patient conditions. Click free quote button below to learn more.

Cost-Effective: Bangkok offers world-class Rhinoplasty procedures at a fraction of the cost compared to Western countries, without compromising on quality or safety.
Experienced Surgeons: Dr. Siripong Plastic Surgery boasts a team of highly skilled and experienced surgeons who specialize in Rhinoplasty, ensuring exceptional results.
Cutting-Edge Facilities: Bangkok's medical facilities are equipped with state-of-the-art technology and adhere to international standards, providing a safe and comfortable environment for patients.
Quick Recovery: The warm climate and supportive post-op care in Bangkok contribute to a faster and smoother recovery process.
Tourist-Friendly: Bangkok is a vibrant city with a rich cultural heritage, making it an ideal destination for combining medical treatment with leisure and exploration.
Rhinoplasty is a surgical procedure designed to reshape and enhance the aesthetics of the nose. In the context of Dr. Siripong Plastic Surgery in Bangkok, Thailand, Rhinoplasty is not just a medical procedure; it's an art form. The surgical process involves carefully sculpting the nasal structure to achieve the patient's desired appearance while maintaining or improving functionality.
Whether it's correcting a deviated septum for better breathing or refining the nose's shape for cosmetic reasons, the surgeons at Dr. Siripong Plastic Surgery bring years of experience and expertise to every Rhinoplasty case. During the procedure, incisions are made either inside the nose (closed Rhinoplasty) or across the columella (the strip of tissue separating the nostrils) for open Rhinoplasty. The choice depends on the individual's needs and the surgeon's assessment.
Consultation: Comprehensive pre-operative consultations with the surgeon to discuss your goals and expectations.
Surgery: The Rhinoplasty procedure performed by skilled surgeons using the latest techniques.
Hospital Stay: Post-surgery recovery in a comfortable and well-equipped hospital environment.
Follow-Up Care: Regular follow-up appointments to monitor your progress and address any concerns.
Airport Transfers: Hassle-free transportation to and from the airport to ensure a smooth arrival and departure.
Travel Expenses: Costs related to travel, such as airfare and accommodation, are not included.
Additional Procedures: Any supplementary treatments or surgeries beyond the Rhinoplasty are not part of the package.
Medication: The cost of prescribed medications and post-operative supplies is not covered.
Insurance: Patients are responsible for arranging their own medical insurance.
Personal Expenses: Expenses for meals, entertainment, and other personal items are not included in the package.
Rhinoplasty Surgery Pre-Op Tests
Blood Tests: To assess overall health and screen for any underlying conditions.
Imaging: X-rays and CT scans to provide a detailed view of the nasal structure.
Medical History: Detailed medical history review to ensure the safety of the procedure.
Physical Examination: A thorough physical examination to assess the patient's current health status.
Allergy Testing: To identify any allergies that could affect the surgical process.
At Dr. Siripong Plastic Surgery in Bangkok, Thailand, the cornerstone of excellence lies in the skilled hands of our board-certified plastic surgeons, who are dedicated specialists in the art of Rhinoplasty. These surgeons are not merely practitioners; they are artists who understand that every nose is unique and deserving of a personalized approach. With a wealth of experience and a deep well of expertise, they have honed their craft to perfection. Their commitment to achieving optimal results for every patient is unwavering.
Whether it's addressing functional issues like breathing difficulties or fulfilling cosmetic aspirations, these surgeons utilize state-of-the-art techniques and technology to sculpt and refine the nose, enhancing not just appearance but also ensuring functional harmony. With Dr. Siripong's team of surgeons, you can trust that your Rhinoplasty procedure in Bangkok, Thailand, will be in the hands of consummate professionals who prioritize your safety, satisfaction, and well-being above all else.
Rhinoplasty Surgeon in Bangkok, Thailand

 

Doctor of Medicine Chulalongkorn University Bangkok, Thailand

Medical Practice License as a Practitioner in Medical Council Bangkok, Thailand

Certificate in Applied Basic Medical Science in Surgery Royal College of Surgeons of Thailand

Plastic Surgery Fellowship at The Division of Plastic Surgery University of Alabama, Birmingham, the United States of America

ATLS Certified by the American College of Surgeons

Certificate of Attendance KCCS Rhinoplasty Course Busan, South Korea
Is Rhinoplasty Right for You?
Rhinoplasty is suitable for individuals seeking aesthetic improvements or functional enhancements in their nose.

It is essential to have realistic expectations and be in good overall health.

Consultation with the surgeon will help determine candidacy and discuss specific goals.
What to Expect During the Rhinoplasty?
Consultation with the surgeon to discuss your goals.

Customized surgical plan.

Surgery performed under anesthesia.

Post-operative recovery and follow-up appointments.

Enjoy Bangkok's attractions during your stay.
FAQ: What is the cost of Rhinoplasty in Bangkok, Thailand?
Answer: The cost varies but is generally more affordable than in Western countries. It can range from $2,000 to $5,000, depending on the complexity of the procedure and the clinic you choose.
FAQ: How long is the recovery period for Rhinoplasty in Bangkok?
Answer: Recovery typically takes about 1-2 weeks for most patients. However, complete healing and final results may take several months.
FAQ: Are the Rhinoplasty surgeons in Bangkok board-certified and experienced?
Answer: Yes, many surgeons in Bangkok are board-certified and have extensive experience in performing Rhinoplasty procedures, often specializing in various techniques.
FAQ: Is it safe to travel back home after Rhinoplasty in Bangkok?
Answer: It's generally safe to travel after your surgeon gives you the green light. Most patients can fly back home within a week after surgery, but follow your surgeon's recommendations.
FAQ: Can I combine a vacation with Rhinoplasty in Bangkok, Thailand?
Answer: Absolutely! Many patients choose to combine their treatment with a vacation in Bangkok due to its vibrant culture and attractions. Just ensure you follow post-op care guidelines during your stay.
Ready to embark on your Rhinoplasty journey in Bangkok, Thailand, with Dr. Siripong Plastic Surgery? Contact PlacidWay Medical Tourism to schedule a consultation and take the first step toward achieving the nose you've always desired. Your transformation awaits in the vibrant and culturally rich city of Bangkok. Click contact us button below to get started!

Related Experiences:
Rhinoplasty in Bangkok, Thailand
Best Rhinoplasty in Thailand
Rhinoplasty in Antalya Turkey
Rhinoplasty in Croatia
Rhinoplasty in Guadalajara, Mexico
Rhinoplasty in India
---