Package Details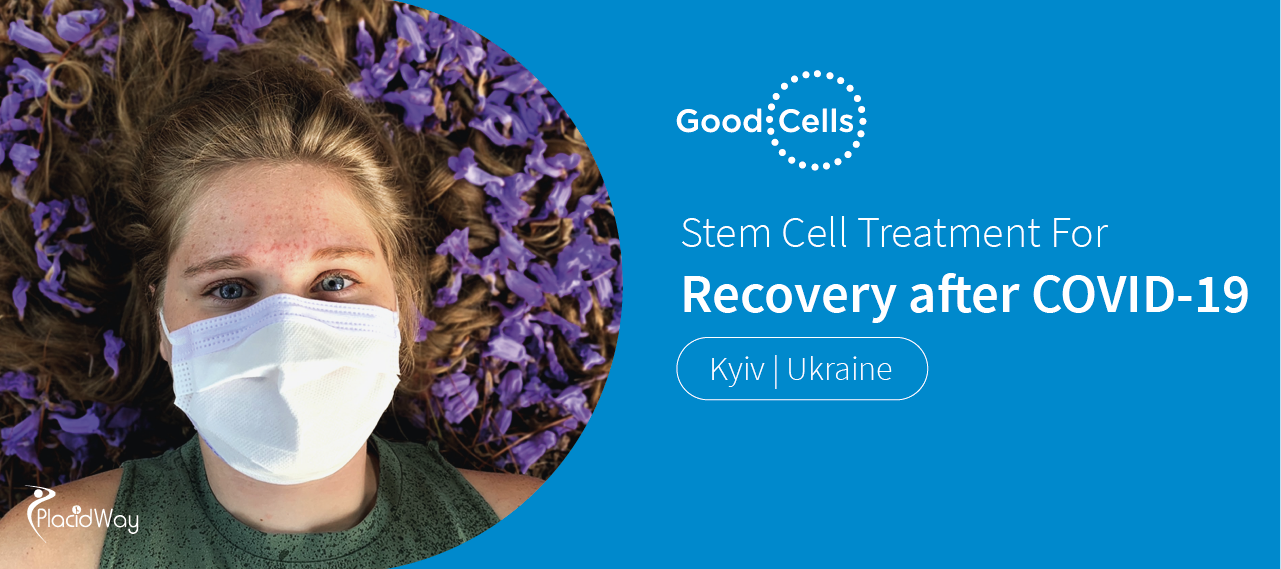 Stem Cell Therapy for recovery after COVID-19 in Kyiv, Ukraine by Good Cells
Coronavirus exhausts the body. As a result, the lungs and the immune system are affected. Stem cells will accelerate tissue regeneration and recovery of the body as a whole.
The coronavirus pandemic left no one indifferent. Temporary disability, general exhaustion, structural changes in lung tissue, damage to the nervous system - those are the possible complications of coronavirus. The body is forced to adapt to these complications, and in the absence of the body's potential for rapid rehabilitation, some consequences will remain for life.
The world's scientific community has come together for the vaccine and effective recovery methods after COVID-19. One of the proven methods is the use of stem cells.
Biotechnologists at GOOD CELLS confirm that the use of mesenchymal stem cells from adipose tissue (MSCs of adipose tissue) helps restore the immune system. The use of stem cells derived from the neural crest (NC-SC from the hair follicle) eliminates the damage to the nervous system.
Stem cell therapy using mesenchymal stem cells from adipose tissue (MSCs of adipose tissue) promotes tissue regeneration, better functioning of internal organs and systems, thereby restoring beauty, strength, and energy.
The use of stem cells to treat COVID-19
Learn more about the use of stem cells in the fight against coronavirus. The use of mesenchymal stem cells in coronavirus infection is potentially possible for four groups of patients:
1. Elderly patients or patients with chronic diseases (diabetes, asthma, cardiovascular diseases) with suspected SARS-CoV-2 infection.
Preventive use of MSCs when SARS-CoV-2 infection is suspected. In such patients, the body's regenerative potential is significantly reduced, and the immune system is weakened, so in case of infection, complications may occur in the form of acute respiratory distress syndrome, pulmonary fibrosis, and multiple damages to organs and tissues. Therefore, using MSCs as a preventive therapy will help activate the body's internal potential to fight infection.
2. Young patients in serious and critical condition.
3. Elderly patients in serious and critical condition.
4. Patients with the so-called long COVID-19.
Patients who have relapsed to a coronavirus infection but have complex post-infectious symptoms. A postpartum syndrome is characterized by persistent symptoms such as shortness of breath, fatigue, irregular heartbeat, gastrointestinal problems, muscle, and joint pain. Some patients develop irreversible cardiovascular and respiratory diseases. Between 60% and 80% of patients with COVID-19 experience symptoms of varying severity.
How does cell therapy affect the body?
The use of mesenchymal stem cells positively affects patients who had COVID-19 and helped them recover faster. The biological justification for the use of MSCs in therapy for the rehabilitation of patients after COVID-19 is based on the following properties of stem cells:
- immunomodulatory properties: MSCs can suppress an overly activated immune system. This is essential in severe and critical cases of coronavirus infection when acute respiratory distress syndrome develops due to the uncontrolled release of inflammatory cytokines;
- anti-apoptotic properties: MSCs can protect the epithelial cells of the lungs and other organs from death, as they secrete several growth factors. By the way, the anti-apoptotic effect of MSCs has been proven in cardiac ischemia and nervous and pulmonary disorders. Moreover, keratinocyte growth factor (KGF) and hepatocyte growth factor (HGF) secreted from MSCs protect alveolar epithelial cells from apoptosis. 
- regenerative potential of MSCs. Respiratory diseases require the elimination of the virus, the restoration of damaged tissues, and lung tissue recovery. MSCs secrete soluble factors, which can promote epithelial and endothelial regeneration. They increase alveolar fluid clearance, regulate the permeability of the epithelium and endothelium of the lungs, and reduce inflammation in patients with affected lungs.
Keratinocyte growth factor and hepatocyte growth factor secreted by MSCs have shown positive effects on emphysema and pulmonary fibrosis in a model of acute lung injury (ALI).
How much does Stem Cell Therapy cost for Body recovery after COVID-19?
The price of the program starts from $5,000, and it includes:
Stem cell products for the treatment

Consultation of a doctor-coordinator of stem cell program;

Consultation of profile specialists;

Ultrasound scanning;

Blood and urine medical tests;

Other medical tests recommended by the doctor (if necessary);

Follow up after the treatment.
Why Choose Good Cells for Stem Cell Treatment in Kyiv, Ukraine?
More than 10 years of Stem-Cell Therapy

Only scientifically proven methods

High success rate

Highly qualified team

Transparent relationship with the client

Exceptional quality of stem cells

High level personalized service
To learn more about the package, click the button below:
Related Experiences:
Dentures in Thailand
Dentures in Hungary
Dental Crowns in Hungary
Dentures in Dominican Republic
Dental Crowns in Dominican Republic
Dental Veneers in Cabo San Lucas