Affordable IVF with Egg Donation Package in Cyprus
Package price starting from:
$6500
Treatment:
Fertility Treatment,Infertility/IVF, Fertility Treatment, IVF with Egg Donation
Location:
Kurtulus Ave, Iskenderun Cd. Kyrenia Northern Cyprus, Cyprus
Focus Area:
IVF with Egg Donation in Cyprus Kyrenia IVF Center Fertility Treatment IVF Treatment In Vitro Fertilization
---
All-Inclusive In Vitro Fertilization with Donor Eggs Package in Cyprus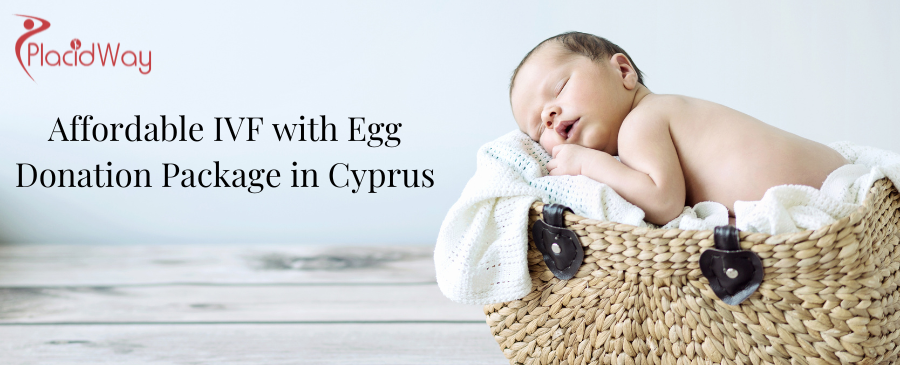 If a couple cannot get pregnant using the woman's eggs for in vitro fertilization, they can consider using donor eggs. Kyrenia IVF in Cyprus offers an excellent package for IVF treatment with Egg Donation that will increase your chances of staying pregnant.
Package Price: $6,500
Package Inclusions:
IVF with Egg

Donor Treatment

Doctor's Fee

Medicines

Egg Collection from donor 

Fertilization 

Embryp Transfer
Clinic: Kyrenia IVF Center
Location: Kyrenia, Cyprus
What is IVF with Egg Donation Procedure?
IVF treatment using donor eggs allows an infertile woman to stay pregnant. You might be a candidate for donor eggs if you have premature ovarian failure before age 40, your eggs are of low quality, genetically transmitted diseases that can be passed on to your child, or you have a previous history of failure with IVF.
The IVF with egg donation process involves several steps:
Consultation with a doctor

Filling out the application form

Scheduling a pelvic scan date with a gynecologist and taking other medical exams

Egg and sperm collection

Fertilization using the ICSI procedure

Embryo transfer
If the results are positive, your doctor will prescribe medications you must take for further process.
Cost of IVF with Egg Donation in Cyprus
At Kyrenia IVF Center the price for the IVF with Egg Donor package starts at $6,500. The price will depend on factors such as your overall health condition, the case's complexity, and additional costs.
Note: Contact the clinic directly for more information about the final price. 

Benefits of IVF with Egg Donation
Highly effective

Maximize the chance of older patients to conceive

It can help single women and same-sex couples to have a baby

Achieve a successful pregnancy and a healthy baby
In Vitro Fertilization with Donor Eggs Package  Inclusions
IVF with Egg

Donor Treatment

Doctor's Fee

Medicines

Egg Collection from donor 

Fertilization 

Embryo Transfer
In Vitro Fertilization with Donor Eggs Package Exclusions
Tests

Travel expenses

Accommodation
Highly Qualified Fertility Doctor in Cyprus
Let's meet a highly skilled and experienced doctor in Cyprus who will treat you and your partner and assist you in becoming parents:
Op. Dr. Verda Tuncbilek - Gynecologist and IVF Specialist
Experiences and Certifications:
Graduated from Guzelyurt Turkish Maarif College.

Got her specialization in ? Izmir Ataturk Training and Research Hospital, Department of Obstetrics and Gynecology.

IVF Specialty at Zeynep Kamil Gynecology and Obstetrics Hospital.

Worked at Private Marmaris Caria Hospital in Turkey from 2005 to 2008.

Returned to TRNC in 2008 and started to in the field of IVF.
FAQs about Egg Donor IVF treatment in Cyprus
Who can receive donor eggs?
Couples who cannot conceive with a partner who will carry the child usually choose donor eggs. Women may be unable to conceive using their eggs for various reasons, including age, early menopause, poor egg quality, or a history of cancer treatments that have damaged their ovaries.
Couples, single women, and single men can all be egg recipients (using a surrogate).
What steps are involved in the screening procedure?
You will have to complete a detailed questionnaire about your background, medical, family, and personal history. A physical exam and certain laboratory tests are administered as the final step in the screening process.
Can I get pregnant with Egg donor IVF treatment?
Of course you can!  That is why applying your doctor's advice and using hormone therapy during the treatment is critical. This will ensure that the cycle runs smoothly.
Are there any risks involved in the IVF egg donation procedure?
Bleeding, infection and bowel or blood vessel injury are all potential complications. Surgery may be required in rare cases to repair internal organ damage or control significant internal bleeding. The egg retrieval will require anesthesia.
Get Egg Donation Fertility Treatment Package in Cyprus Today!
Choose our top package deal for IVF with Egg Donor in Cyprus at Kyrenia clinic! Start planning your family and enjoy this wonderful experience with your partner. Contact us for more details!

Related Experiences:
IVF in UAE
IVF Fertility Treatment in Greece - Plan a Happy Family!
Become a Parent with IVF Fertility Treatment in Spain
---
Fertility-Treatment Related Packages
Fertility-Treatment Related Experiences