IVF with Gender Selection Package in Kyrenia, Cyprus by EuroIVF Fertility Clinic
Package price starting from:
$6500
Treatment:
Fertility Treatment, IVF with Gender Selection
Location:
Mete Adan?r Street No:8/B, Girne/Cyprus, Cyprus
Focus Area:
EuroIVF Fertility Clinic Cyprus | Kyrenia | Cyprus | IVF with Gender Selection
---
Gender Selection IVF in Kyrenia, Cyprus for Your Family Planning Journey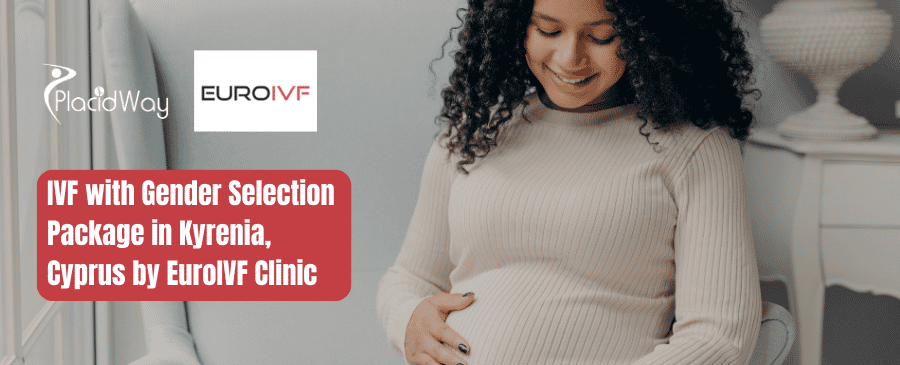 Experience the perfect blend of cutting-edge reproductive technology and the enchanting surroundings of Kyrenia, Cyprus, with EuroIVF Fertility Clinic's IVF with Gender Selection package. Our comprehensive treatment offers hope to couples aspiring to expand their families while allowing them to choose the gender of their child. With a dedicated team of experienced fertility specialists, state-of-the-art facilities, and a serene environment, we provide a unique and supportive setting for your journey towards parenthood. Explore the possibilities and embark on this life-changing experience with EuroIVF Fertility Clinic in Kyrenia, where dreams of a family become a reality.
You can get IVF with gender selection package in Kyrenia, Cyprus by EuroIVF Fertility Clinic with the price starts at $6,500. Please refer to our price list table below:
| | |
| --- | --- |
| Location | Cost in USD |
| Kyrenia, Cyprus | $6,500 |
| United States | $15,000 |
Note: price may change and vary depends on complexity of procedures and patient conditions. Click free quote button below to learn more:

Affordability: Kyrenia offers competitive pricing without compromising on quality, making IVF with Gender Selection accessible to a broader audience.
Advanced Technology: EuroIVF Fertility Clinic boasts state-of-the-art equipment and experienced professionals, ensuring top-tier medical care.
Scenic Serenity: The serene atmosphere of Kyrenia provides a stress-free environment, enhancing the overall treatment experience.
Privacy and Confidentiality: The city's discreet location safeguards your privacy throughout the process.
Diverse Cultural Experience: While undergoing treatment, explore the rich culture and history of Kyrenia, adding a unique dimension to your journey.
The IVF with Gender Selection package at EuroIVF Fertility Clinic comprises multiple steps, including hormonal stimulation, egg retrieval, embryo selection, and transfer. This comprehensive process is designed to maximize your chances of a successful pregnancy while allowing you to choose the gender of your child. The journey begins with a thorough consultation with our experienced IVF doctors, who will assess your medical history, fertility factors, and discuss your gender selection preferences.
Following this, hormonal stimulation is initiated to encourage the ovaries to produce multiple eggs. Monitoring and precise timing are crucial during this phase to ensure optimal egg development. Once the eggs are mature, a minimally invasive procedure is performed to retrieve them from the ovaries. These eggs are then subjected to state-of-the-art Pre-implantation Genetic Testing (PGT) techniques, allowing us to identify and select embryos of the desired gender while assessing their genetic health. This meticulous process enhances the chances of a successful pregnancy and ensures gender selection accuracy.
Initial Consultation: Detailed assessment by a fertility specialist.
Hormonal Stimulation: Medications to stimulate egg production.
Egg Retrieval and Embryo Selection: Skilled procedures for optimal embryo selection.
Embryo Transfer: Transferring selected embryos into the uterus.
Follow-up Consultations: Post-treatment care and guidance.
Travel Expenses: Airfare, accommodation, and transportation are not included.
Medications: Costs for prescribed medications are separate.
Additional Procedures: Any supplementary treatments or tests are extra.
Legal Procedures: Legal requirements for gender selection may vary.
Personal Expenses: Meals and leisure activities are not covered.
IVF with Gender Selection Pre-Op Tests:
Hormonal Profiling: Assessing hormone levels for treatment planning.
Genetic Screening: Identifying genetic disorders to prevent hereditary diseases.
Ultrasound Scans: Evaluating the reproductive organs' health.
Semen Analysis: Checking sperm quality and quantity.
Infectious Disease Screening: Ensuring a healthy environment for the procedure.
EuroIVF Fertility Clinic in Kyrenia, Cyprus, boasts a team of accomplished IVF doctors dedicated to your fertility journey. Our specialists are renowned for their expertise in reproductive medicine and have helped countless individuals and couples achieve their dream of parenthood. With a patient-centric approach, cutting-edge technology, and a commitment to excellence, our IVF doctors provide personalized care and guidance throughout every stage of your fertility treatment. Trust in the skill and compassion of our medical team as they work tirelessly to make your dream of starting or expanding your family a reality at EuroIVF Fertility Clinic in Kyrenia.
Is IVF with Gender Selection Right for You?
Ideal for couples seeking family expansion.

Those interested in choosing the gender of their child.

Individuals with fertility issues or genetic concerns.

Candidates willing to commit to the treatment process.

Couples seeking a serene and supportive environment.
What to Expect During IVF with Gender Selection?
A warm welcome and comprehensive evaluation upon arrival.

Expert guidance through each step of the treatment.

Opportunities to explore Kyrenia's beauty and culture.

A supportive team available to address your concerns.

The potential joy of realizing your dream of parenthood.
1. How does gender selection work in IVF in Kyrenia, Cyprus?
Gender selection in IVF involves separating embryos of the desired gender before implantation, using specialized techniques like Pre-implantation Genetic Testing (PGT).
2. Are there any legal restrictions for gender selection in Cyprus?
Cyprus allows gender selection for medical reasons, ensuring the child's health. Legal requirements may vary, and our clinic will guide you through the process.
3. What are the success rates for IVF with Gender Selection in Kyrenia?
Success rates depend on various factors, including age and medical history. Our experienced team will provide personalized insights during your consultation.
4. How long should I plan to stay in Kyrenia for the entire IVF process?
Typically, patients spend 10-14 days in Kyrenia for IVF with Gender Selection, but this can vary based on individual treatment plans.
5. Can I combine a vacation with my IVF treatment in Kyrenia?
Yes, many patients choose to explore Kyrenia's beauty and culture during their treatment journey, as the serene environment can reduce stress and enhance the overall experience.
Ready to embark on this life-changing journey? Book your consultation at PlacidWay Medical Tourism and take the first step towards creating your family with IVF and Gender Selection in Kyrenia, Cyprus. Click contact us button below to get started!

Related Experiences:
Surrogacy in Cyprus
IVF with Gender Selection in Cyprus
IVF Fertility Treatment in Cyprus - Affordable IVF Treatment
IVF Fertility Treatment in India - Hope for Family
IVF Fertility Treatment in Colombia - Successful IVF Treatment
Ovarian Rejuvenation in Mexico
---