Rhinoplasty Package in Punta Cana, Dominican Republic by Dr. Winston Santos Arismendy
Package price starting from:
$6155
Treatment:
Cosmetic/Plastic Surgery, Nose Surgery Rhinoplasty
Location:
Av España 1, Bavaro Punta Cana, Punta Cana La Altagracia, Dominican Republic
Focus Area:
Dr Winston Santos Arismendy | Punta Cana | Dominican Republic | Rhinoplasty | Nose Surgery
---
Get a New Look with Nose Surgery in Punta Cana, Dominican Republic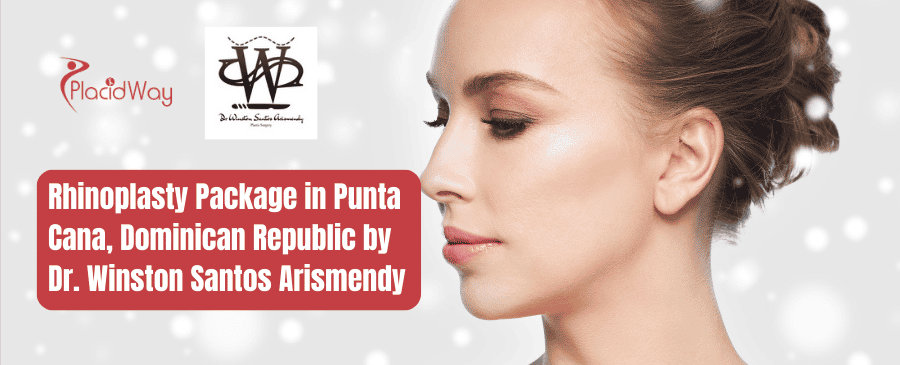 Experience a transformative and confidence-boosting change with the Rhinoplasty Package in Punta Cana, Dominican Republic, curated by the esteemed Dr. Winston Santos Arismendy. Renowned for his artful surgical techniques, Dr. Arismendy is a leading expert in rhinoplasty, dedicating his skills to crafting natural-looking results that enhance facial harmony.
The package offers an exceptional combination of high-quality care, state-of-the-art medical facilities, and a serene recovery destination amidst Punta Cana's breathtaking landscapes. With personalized post-operative care and a chance to enjoy the beauty of the Dominican Republic, this package promises a rejuvenating experience while achieving your desired nose transformation.
You can get rhinoplasty package in Punta Cana, Dominican Republic by Dr. Winston Santos Arismendy with the price starts at $6,155. Check our price list table below:
| | |
| --- | --- |
| Location | Cost in USD |
| Punta Cana, Dominican Republic | $6,155 |
| United States | $10,000 |
| Canada | $14,000 |
Note: price may change and vary depends on complexity of procedures and patient condition. Click FREE QUOTE button below to learn more:

Experienced Surgeon: Dr. Winston Santos Arismendy is a highly skilled and experienced rhinoplasty specialist, known for his precise surgical techniques and natural-looking results.

Cost-effectiveness: Compared to many other countries, Punta Cana offers competitive pricing for rhinoplasty packages, without compromising on quality.

Beautiful Recovery Destination: Enjoy a peaceful and serene recovery in Punta Cana's stunning landscapes and luxurious resorts, contributing to a stress-free healing process.

World-Class Medical Facilities: Punta Cana boasts state-of-the-art medical facilities, equipped with cutting-edge technology and adhering to international healthcare standards.

Travel Opportunity: Combine your transformation journey with a vacation in the beautiful Dominican Republic, making the experience both rejuvenating and memorable.
Rhinoplasty, as performed by Dr. Winston Santos Arismendy, involves a comprehensive assessment of the patient's facial features, followed by careful planning and execution of the surgical procedure. The surgery may address concerns such as a crooked nose, nasal hump, bulbous tip, or breathing difficulties. Dr. Arismendy employs both open and closed techniques to achieve the desired results, tailoring the approach to each individual's unique anatomy and needs. The procedure typically involves incisions inside the nose or across the columella, providing access to reshape the underlying structures.
Rhinoplasty in Punta Cana, Dominican Republic Before and After Images
Dr. Arismendy's rhinoplasty transformations are exceptional, as evident in the before and after photos of his satisfied patients. His skillful artistry and precise surgical techniques consistently achieve natural-looking results that complement each individual's unique features.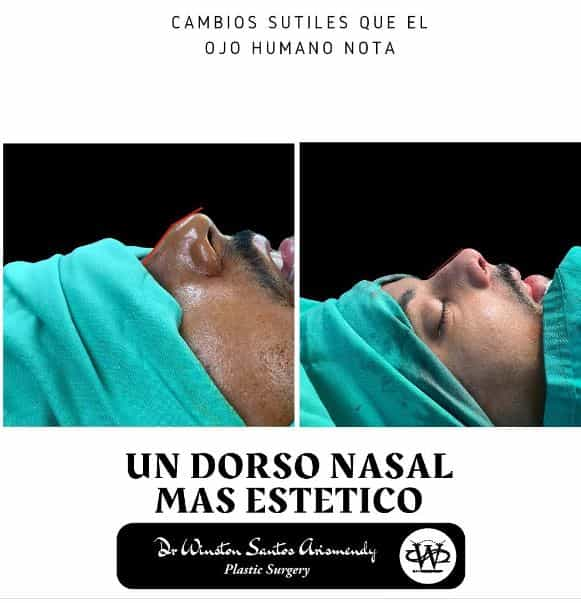 Surgical Procedure: The comprehensive rhinoplasty surgery, including anesthesia and operating room fees.

Post-Operative Care: Personalized recovery plan and follow-up consultations to ensure optimal healing and results.

Hospital Accommodation: Comfortable hospital stay with attentive nursing care during the initial recovery period.

Medication and Dressings: All necessary medications and dressings required during the recovery phase.

Airport Transfers: Seamless transportation to and from the airport, ensuring a hassle-free journey.
Travel Expenses: The package does not cover airfare or any travel-related costs to and from Punta Cana.

Accommodation Outside Hospital Stay: Additional accommodation costs beyond the hospital stay are not included.

Additional Medical Procedures: Costs for any additional treatments or surgeries not directly related to rhinoplasty are not covered.

Complications Management: In the rare event of complications, additional medical expenses may not be included.

Personal Expenses: Any personal expenses, such as meals, sightseeing, or shopping, are not part of the package.
Rhinoplasty Surgery Pre-Op Tests
Physical Examination: A thorough physical assessment, including medical history review and discussion of expectations.

Nasal Assessment: In-depth evaluation of nasal structure and function to determine the most suitable surgical approach.

Blood Tests: Routine blood tests to assess overall health and identify any potential risks.

Imaging Studies: X-rays or CT scans to provide detailed insights into the nasal anatomy and aid in surgical planning.

Allergy and Medication Check: Identification of potential allergies or medication interactions that may impact surgery or recovery.
Dr. Winston Santos Arismendy is a board-certified plastic surgeon, renowned for his artistic approach and commitment to patient satisfaction. With numerous successful rhinoplasty cases, he has earned a stellar reputation in Punta Cana and beyond. Dr. Arismendy's dedication to patient well-being, attention to detail, and passion for delivering natural-looking results make him the top choice for those seeking rhinoplasty in the Dominican Republic.
Rhinoplasty Surgeon in Punta Cana, Dominican Republic

Dr. Winston Santos Arismendy

• Medicine - Pontificia Universidad Católica Madre Y Maestra (PUCMM)

• Hospital Administration - Faculdade Souza Maques

• General Surgery - Hospital Nossa Sra da Gloria, BF /(UVA)

• Plastic Surgery Fellow - Instituto Pitanguy - Hospital Santa Casa de Misericordia

• Plastic Surgery Residency - Hospital Casa De Portugal (USU)

• Pediatric Plastic Surgery - Hospital Nossa Sra do Loretto

• Dallas Rhinoplasty - UT Southwestern Medical Center.
Is Rhinoplasty Right for You?
You desire a more balanced and harmonious facial appearance with a refined nose.

You have realistic expectations and are in good overall health.

You want to correct structural issues affecting breathing and nasal function.

You understand the risks involved and are committed to the recovery process.

You seek the expertise of a skilled surgeon like Dr. Winston Santos Arismendy.
What to Expect During the Treatment:
Initial Consultation: A detailed discussion of your concerns, expectations, and medical history.

Surgical Procedure: Under anesthesia, Dr. Arismendy performs the rhinoplasty, tailored to your needs.

Recovery: Follow post-operative guidelines for a smooth recovery and healing process.

Follow-Up: Regular follow-up visits to monitor progress and address any concerns.

Enjoy Your New Look: Experience enhanced facial harmony and newfound confidence.
1. Can I expect natural-looking results from Rhinoplasty in Punta Cana?
Yes, absolutely! Dr. Winston Santos Arismendy is known for his artful approach to rhinoplasty, ensuring natural and harmonious results tailored to your facial features.
2. What is the typical recovery time after Rhinoplasty in Punta Cana?
The initial recovery period is about 1 to 2 weeks, during which you should avoid strenuous activities and follow post-operative care instructions.
3. Are the medical facilities in Punta Cana equipped with modern technology?
Yes, Punta Cana boasts state-of-the-art medical facilities, adhering to international healthcare standards, and equipped with advanced technologies for your safety and comfort.
4. Can I combine my rhinoplasty procedure with a vacation in Punta Cana?
Absolutely! Many patients enjoy combining their transformation journey with a rejuvenating vacation in Punta Cana's beautiful surroundings.
5. Is Rhinoplasty in Punta Cana suitable for correcting breathing difficulties?
Yes, Dr. Winston Santos Arismendy can address structural issues affecting nasal function and improve breathing through rhinoplasty, in addition to enhancing aesthetics.
Begin your transformative journey with Dr. Winston Santos Arismendy's Rhinoplasty Package in Punta Cana, Dominican Republic. Take the first step towards a confident and beautiful you. Book your consultation through PlacidWay Medical Tourism today!

Related Experiences:
Rhinoplasty in Dominican Republic
Rhinoplasty in Antalya Turkey
Rhinoplasty in Croatia
Rhinoplasty in Guadalajara, Mexico
Rhinoplasty in India
Rhinoplasty in Bangkok, Thailand
---