Best Package for Hair Restoration with Stem Cells in Dubai, UAE
Package price starting from:
$5227
Treatment:
Hair Transplantation,Stem Cell Therapy, Stem Cell Treatment for Hair Loss, Scalp Reduction, Platelet Rich Plasma PRP for Hair, Non Surgical Hair Loss Medication, Moustache and Beard Transplant, Mesotherapy, Laser Hair Restoration, Follicular Unit Transplantation FUT, Follicular Unit Extraction FUE, Eyebrow Hair Transplant, Direct Hair Implantation (DHI), Alopecia, Body Hair Transplant
Location:
Dubai Healthcare City - Building 64 - Block B - Dubai UAE, UAE
Focus Area:
Hair Restoration with Regenerative Medicine in Dubai, UAE | Hair Transplantation | Hair Loss Treatment | Bioscience Clinic | Stem Cell Therapy
---
Exclusive Stem Cells Hair Growth Package in Dubai, UAE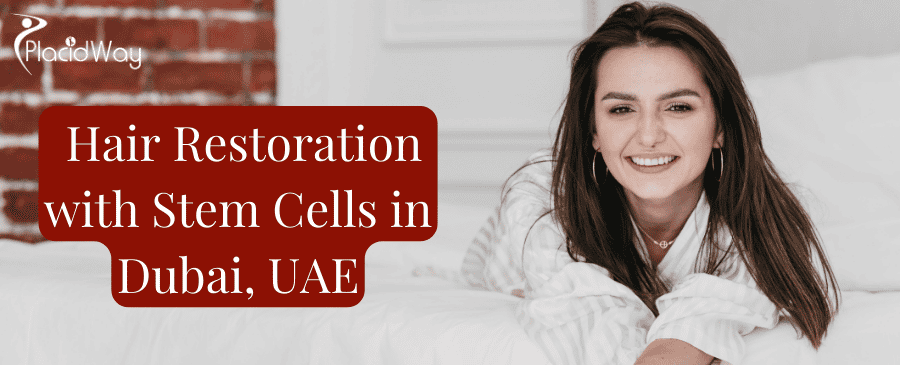 If you suffer from hair loss problem this package may be an excellent solution. Bioscience clinic offers affordable package deal for Hair Restoration with Stem Cell Therapy in Dubai, UAE. Patients can experience long-term hair growth benefits such as thicker and fuller hair and further hair loss prevention.
Procedure: Hair Loss Weakening and Androgenetic Alopecia
Package Price: $5,227
Inclusions:
All medical fees

Stem cell injections for hair loss treatment
Center: Bioscience Clinic
Location: Dubai UAE
What is Hair Skill Procedure?
Hair Skill is a very simple procedure that requires the collection of a small amount of adipose tissue that can be harvested in a simple outpatient session. After twelve days the ADSC, extracted from fat, are injected into the microenvironment surrounding the hair bulb. The injected cells release specific growth factors that prolong the duration of the anagen phase and improve the regeneration of the hair.
What to expect from Hair Skill Procedure?
With HAIRSKILLL it is now possible to treat the progressive weakening of the hair bulb, miniaturization of the hair and resulting hair loss. HAIRSKILL is an innovative, effective and safe method, based on the use of stem cells derived from adipose tissue harvested from the patients themselves.
Hair Restoration Results
Initial results are visible in 1 month and they gradually increase over time. The adipose-derived stem cells therapy makes Hair Transplants easier because it strengthens and prepares the scalp before the transplant, and stimulates engraftment in the bulb. It is a biological product and the results vary from patient to patient according to biological age of the patient.
Who can get Hair Transplantation?
The action of the ADSC is effective only if the bulb is not irreversibly compromised. This procedure is typically used for those patients who are not surgical candidates because they are too young, or are in the early phase of hair loss.
Cost of Regenerative Medicine for Hair Restoration in Dubai UAE
Stem Cell Therapy for Hair Restoration in Dubai cost $5,227 at reputable Bioscience center. The final price will be determend after examination and lab tests. Get the free quote by contacting our Customer Support below:

Hair Growth Regenerative Treatment Benefits
Regeneration of hair follicles

Thicker and fuller hair

Increases health of current hair follicles

Prevents the progression of hair loss

Virtually painless procedure
Hair Transplant with Regenerative Medicine Package Inclusions
All medical fees

Stem cell injections for hair loss treatment
Hair Transplant with Regenerative Medicine Package Exclusions
Accommodation

Travel and tourist expenses
Best Doctors in Dubai, UAE, for Hair Restoration
Check below for information about best Stem Cell doctors in Bioscience Clinic:
Doctor Names:
Francisco De Melo

Roberto Viel

Massimo Piracci

Maria Kattar

Mohamed Ahmed Elsaid
Certifications and Accreditations:
UAE MOH approval

GMP certificate

ISO certificate

Dubai Health Authority approval
FAQs about Hair loss with stem cell treatment
Does stem cell treatment work for hair loss?
Many patients have found stem cell hair regeneration techniques to be effective. Even patients who had not responded to conventional treatments could enjoy a fuller head of hair after stem cell therapy for hair loss.
What are the side effects of stem cell therapy for hair regrowth?
As with any medical procedure, there is always the risk of bleeding or infection at the sample site and the injection. Scarring is also possible. Though complications from a punch biopsy are uncommon, there is a slight risk of nerve or artery damage beneath the site.
How long does stem cell hair treatment last?
Stem cell hair treatment can last long if the procedure is done by professional doctors and with advanced techniques. You can consult your doctor prior the treatment to know what results to expect.
Does hair grow back after stem cell transplant?
Hair usually begins to regrow about three months after the transplant. Your hair may regrow in a different texture. Although it is uncommon, hair loss can occur months or years after a transplant.
Get Your Hair Growth Stem Cell Transplant Package in Dubai, UAE Today!
Restore your hair and experience all the benefits regenerative medicine provides with this top package deal for Hair Transplant with Stem Cells in Dubai UAE. Click the button below to get the package today!

Related Experiences:
FUE Hair Transplant in Turkey - Regain Natural-Looking Hair!
Hair Transplant in India
The Guide to Choosing Hair Transplant in Mexico
Reasons to Choose Hair Transplant in Istanbul - Turkey
Hair Transplant in Turkey
Hair Transplant in South Korea
---