Affordable Hip Replacement Package in Warsaw, Poland by Carolina Medical Center
Package price starting from:
$9678
Treatment:
Orthopedic/Knee Surgery, Hip Replacement Surgery Partial or Total
Focus Area:
Carolina Medical Center | Warsaw | Poland | Hip Replacement Surgery
---
Revitalize Mobility with Hip Replacement in Warsaw, Poland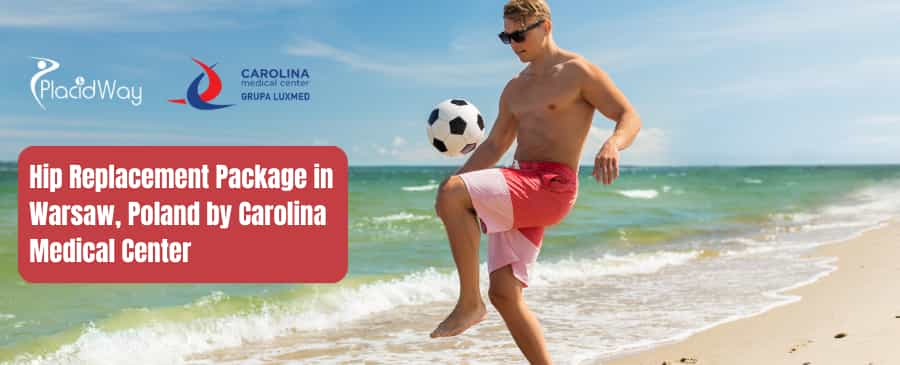 Hip pain can be debilitating, affecting your quality of life. Fortunately, Carolina Medical Center in Warsaw, Poland offers an affordable hip replacement package that can alleviate your discomfort and restore your mobility. With a commitment to excellence and cutting-edge medical care, the center provides a comprehensive solution for your hip concerns. Carolina Medical Center's hip replacement package in Warsaw combines affordability with top-tier medical expertise. Check our package details below to learn more.
We offer few options for hip replacement:
1. Standard THR-  Our largest suppliers (but not the only ones) are Smith & Nephew, Zimmer Biomet, Stryker, DePuy (Johnson & Johnson) and LINK. The price is about PLN 41 000 (GBP 7 600) for one hip, and about PLN 67 000 (GBP 12 100) for both hips at the same time.
2. Hip Resurfacing -The price for one hip is about PLN 49 000 (GBP 9 500) and about PLN 80 000 (GBP 15 000) for both hips.
3. SPS hip replacement -  The price would be about PLN 49 000 (GBP 9 500) for one and about PLN 79 000 (GBP 14 700) for both hips
4. CUSTOM MADE prosthesis - The price would be PLN 62 000 (GBP 11 300) for one and about PLN 98 000 (GBP 18 200) for both 
Check our price list table below to learn more:
| | | |
| --- | --- | --- |
| Procedures | Cost for 1 hip | Cost for both hip |
| Standard THR | PLN 41,000 ($9,678) | PLN 67,000 ($15,409) |
| Hip Resurfacing | PLN 49,000 ($12,155) | PLN 80,000 ($19,847) |
| SPS Hip Replacement | PLN 49,000 ($12,155) | PLN 79,000 ($19,599) |
| CUSTOM MADE Prosthesis | PLN 62,000 ($15,381) | PLN 98,000 ($24,313) |
Note: price may change and vary depends on complexity of procedures and patient conditions. Click free quote button below to learn more.

Affordability: The hip replacement package in Warsaw, Poland offers a cost-effective solution without compromising on the quality of care. This makes the treatment accessible to a wider range of individuals seeking relief from hip pain.
Experienced Medical Professionals: Carolina Medical Center boasts a team of highly skilled orthopedic surgeons and medical staff who specialize in hip replacement surgeries. Their expertise ensures a safe and successful procedure.
State-of-the-Art Facilities: The center is equipped with modern medical equipment and facilities, providing a conducive environment for effective diagnostics, surgery, and post-operative care.
Minimized Wait Times: Unlike many other countries, medical tourists in Warsaw often experience shorter wait times for procedures, ensuring timely relief from hip pain and a quicker recovery.
Explore Warsaw: Combining medical treatment with the opportunity to explore Warsaw's rich culture and history can make your recovery period more enjoyable and holistic.
To delve deeper into the intricacies of hip replacement surgery, this procedure involves the meticulous art of replacing a worn or damaged hip joint with an artificial implant, often composed of durable materials like metal, ceramic, or plastic. A comprehensive understanding of the surgery's nuances encompasses the assessment of preoperative health, the selection of appropriate prosthesis, the precise execution of the surgical technique, and the tailored postoperative rehabilitation plan. Through innovative medical advancements and the expertise of skilled orthopedic surgeons, hip replacement surgery aims not only to alleviate pain and enhance mobility but also to restore the lost joy of daily activities, enabling individuals to reclaim their active lifestyles and enjoy improved quality of life.
All above prices include:
Laboratory tests, anesthesiology and general evaluation

All costs connected with the procedure, including doctors' fees

Medical materials and prosthesis

Hospital stay - 4 days after the surgery - private room, en-suite, full board, access to internet and TV channels, 24/7 nursing care.

1 hour physiotherapy per day during hospital stay
Travel Costs: Expenses related to airfare and travel to and from Warsaw are not covered in the package.
Additional Medical Services: Any extra medical treatments or procedures beyond the hip replacement surgery are not included.
Personal Expenses: Costs incurred for personal needs and leisure activities are not part of the package.
Visa and Documentation: Obtaining necessary travel documents, such as visas, is the patient's responsibility.
Complications and Unforeseen Costs: While rare, any unexpected medical complications may incur additional expenses.
Hip Replacement Surgery Pre-Op Tests
X-Rays and Imaging: To assess the extent of hip joint damage and plan the surgery accordingly.
Blood Tests: Evaluating overall health and identifying potential risks before surgery.
Cardiac Assessment: Ensuring cardiovascular fitness for a safe surgical experience.
Bone Density Scan: Assessing bone health to determine prosthesis compatibility.
Medical History Review: Comprehensive evaluation of your medical history to tailor the treatment approach.
In the realm of orthopedic excellence in Warsaw, Poland, two distinguished names stand out as remarkable hip replacement surgeons: Lukasz Luboinski and Jacek Laskowski. With their extensive expertise and a trailblazing approach, they have garnered recognition for their exceptional skills in performing hip replacement surgeries. Patients can place their trust in these seasoned professionals, knowing that under their care, the journey towards improved mobility and enhanced quality of life is in the most capable hands.
Hip Replacement Surgeon in Warsaw, Poland
Is the Hip Replacement Right for You?
Determining if hip replacement is the right path for you involves a thoughtful assessment of several factors. If you're grappling with persistent hip pain that restricts daily activities and conventional treatments have yielded limited relief, hip replacement could be a transformative solution. Additionally, considering your overall health, age, and willingness to commit to the post-operative rehabilitation process is crucial. Consulting with an experienced orthopedic surgeon will provide tailored insights, helping you make an informed decision that aligns with your individual needs and aspirations for a pain-free and active life.
What to Expect During the Hip Replacement in Warsaw, Poland
Consultation: Detailed discussion of your medical history and thorough examination to determine your candidacy.
Surgery: The procedure itself, performed under anesthesia, typically lasting a few hours.
Recovery: Post-operative care, including physical therapy and pain management, to ensure optimal healing.
Mobility Improvement: Gradual regaining of mobility, allowing you to engage in activities you previously couldn't.
Follow-up: Regular check-ups to monitor your progress and address any concerns.
1. What is hip replacement surgery?
Hip replacement surgery involves removing a damaged hip joint and replacing it with an artificial joint (prosthesis) to relieve pain and improve mobility.
2. Why choose Warsaw, Poland for hip replacement?
Carolina Medical Center offers an affordable package with skilled surgeons and modern facilities, making Warsaw a cost-effective and quality choice.
3. How long is the recovery period after hip replacement?
Recovery varies, but most patients can resume light activities within a few weeks and full activities within a few months.
4. Are there age restrictions for hip replacement?
While age is a consideration, candidacy depends more on overall health and the severity of hip pain or impairment.
5. What aftercare is provided post-surgery?
Post-operative care includes physical therapy, pain management, and regular follow-ups to ensure successful healing and optimal results.
For a personalized consultation and to explore the benefits of Carolina Medical Center's affordable hip replacement package in Warsaw, Poland, book your appointment through PlacidWay Medical Tourism today. Your journey to improved mobility and a pain-free life starts here.

Related Experiences:
Hip Replacement in Tijuana - Improve Your Hip Health
Total Hip Replacement in Mexicali Mexico - Restore Your Hips Function
Total Hip Replacement in Johnstown USA - For Your New Hips
High Success Rate Hip Replacement Surgery in Cancun Mexico
Hip Replacement in India - Find Effective Hip Surgery Package
Hip Replacement in Mexico - Affordable Hip Surgery
---