Carolina Medical Center
Best Knee Hospital, Spine Surgery Center, Affordable Knee Replacement Clinic, Paediatric Knee Surgery Treatment, Spine Surgery Cost, Top Qualified Orthopedic Doctor, Benefits of Spine Surgery, Warsaw, Poland

ul. Pory 78, Warsaw, Poland

Specialty:

Orthopedic/Knee Surgery, Rehabilitation, Spine Care/Surgery, Sports Medicine, Urology

Focus Area:

Carolina Medical Center | 02-757 Warsaw | Poland | Vascular Surgery,Rehabilitation,Pediatric Treatment,Orthopedic/Knee Surgery, Executive Healthcheck,Spine Care/Surgery
Carolina Medical Center Profile Overview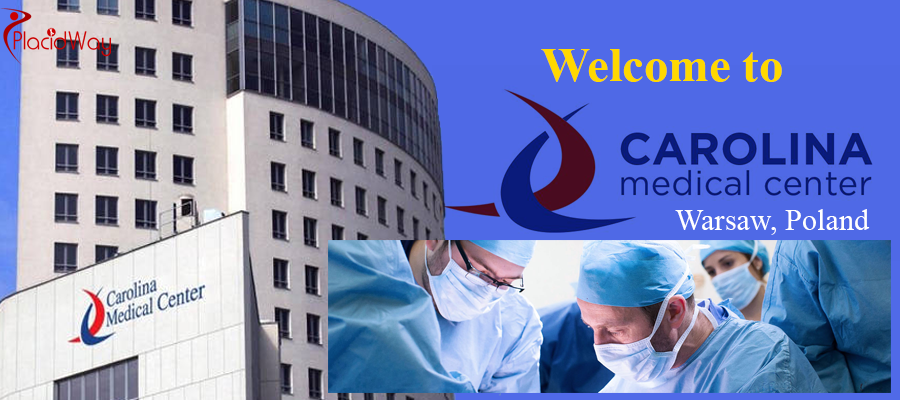 Welcome to the Carolina Medical Center!
The Carolina Medical Center is one of the biggest and most modern orthopaedic hospitals in Europe. The Carolina Medical Center provides the highest standard of medical services to its patients, not only by using the newest equipment and technology, but also by giving patients the utmost comfort and reassurance during their recovery.
We pay particular attention to the comprehensive treatment approach. Regular co-operation between specialists from various disciplines: orthopaedics, rheumatology, diagnostic imaging and rehabilitation is common practice at the Carolina Medical Center. Regular internal consulting among our team members ensures that we select the best treatment and enable our patients to recover quickly.


One of Carolina Medical Center's main assets is our highly qualified and experienced medical team. Our doctors and physiotherapists are required to constantly improve their qualifications and develop their scientific expertise, to keep up with current developments in medical sciences, to participate in congresses and symposia and to embark on international internships. Numerous lectures and publications point to the fact that our specialists meet the highest global standards.

Being the first private clinic in Poland, the Carolina Medical Center has been awarded the Ministry of Health accreditation and is authorised to offer specializations and internships in orthopaedics and locomotor system traumatology.

The ongoing medical care provided to the Polish National Teams is evidence of our professionalism in treating sports injuries.

We provide medical care to patients of all ages, but most of all to those who live actively. Employing the most modern diagnostic and treatment methods, we secure the full recovery of our patients. This is very important, especially for athletes, Olympic team members and those who practise different kinds of sports.
Owing to well-equipped Functional Diagnostics Centre it is possible to monitor the progress during the entire process of treatment and rehabilitation. Hospital personnel is available 24 hours a day, 7 days a week. Constant care which we provide to the national sports representatives, including leading Polish Olympians, confirms our professionalism in treating sports injuries.

This is reflected in the contract of cooperation with the Polish Olympic Committee concluded for a period of preparation and duration of the Olympic Games in London 2012 and Sochi 2014. Pursuant to this agreement Carolina Medical Center became a medical partner to the Polish Olympic Committee.

Professionalism of the services rendered by the hospital has been recognized by the Polish National Ballet working and performing at the Grand Theatre, sharing the stage with the Polish National Opera, by concluding the contract with the Carolina Medical Center. Under this agreement, the clinic became the provider of medical services for dozens of top ballet dancers and theatre and opera actors. We provide treatment for incurred injuries as well as conduct periodic tests to prevent injuries that could make dancing impossible.

ACHIEVEMENTS AND DEVELOPMENT

At The Carolina Medical Center we have the most technologically advanced equipment at our disposal. We have invested in these cutting edge apparatus because we always have our patients' well-being at heart. We know that combination of technology and experience results in quicker and more accurate diagnosis, more effective treatment and shorter recovery time.
We specialise in arthroscopy – or Keyhole Surgery – for all joints (knee, hip, ankle, shoulder, elbow, wrist).

At Carolina Medical Center we perform full spectrum of surgical procedures, i.e.:

reconstructive operation to restore the shape and function of a joint – we are reference centre for these procedures

alloplasty - the making of artificial joints – knee, hip, ankle, shoulder, elbow, wrist. Among other, we performed the first in Europe ankle joint alloplasty (InBone) and the first in Poland BHR

upper limb surgeries

traumatology - modern non-invasive treatment of fractures

Ligament reconstructions - anterior, posterior cruciate ligament, back-side complex, ligaments of the ankle amongst others

Allogeneic menisci transplant - again, the first to do so in Poland

Bred Cartilage transplants

collagen menisci instilling (Menaflex), one of the first in Poland

8-plate - minor invasive method of the correction of the axis of children's limbs

Revision surgeries

Bone and joint infections

Rheumatoid orthopaedics

Synovectomy

Minor Groinal injury treatment sustained by athletes

Correction of the axis - Taylor Spatial Frame, osteotomy

Extending limbs - Taylor Spatial Frame – as first in Poland

Administration of growth factors
And much, much more...
Unique to Poland is the examination of the synovial fluid under a microscope with polarized light to determine the presence of crystals. In The Carolina Medical Center, the synovial fluid can be collected through the use of Ultrasound both from the joint as well as the epitendineum. It enables our doctors to make a quicker diagnosis and commence treatment faster.

Carolina Medical Center's was visited and evaluated by the Department of Health who allowed us, because of our high standards and their seal of approval, to obtain a consent for internships and the organization of orthopaedics and traumatology for all of the motor organ specializations.

ISO CERTIFICATE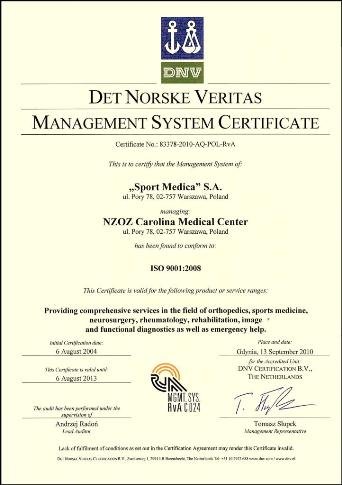 Apart from the tremendous number of satisfied patients we have treated, which we consider to be the best publicity of all, our specialists, who are leaders in their respective fields, have had several papers published, as well as appearing in hundreds of articles on Orthopaedics and Sports medicine. Many of them have given several public lectures on their subjects.
CMC is proud of the fact that part of its medical team are also members of a long list of international sports organizations and committees. It is as a result of all this, a totally comprehensive approach to medical care and the research that goes into providing it, that we have held the Total Quality Management Certificate (ISO9001:2015) in Complex Medical Care since August 2004.

OUR SERVICES
Our ambition is to create an orthopaedics and sports medicine centre to the highest of standards. Doctors and medical staff at the Clinic adhere to the principle that to cure patients, a doctor must first understand them and become their advisor and protector. Only then the desired results of treatment can be achieved.

Our success is embracing the patient with holistic care, from full diagnosis, through traditional and operative treatment to rehabilitation. The close collaboration between our department specialists (who are leaders in the fields of orthopaedics, traumatology, rheumatology, rehabilitation and diagnostic imaging,) guarantees the best route of treatment. Therefore, our patients return to fitness and physical activity in the fastest time possible.



The Carolina Medical Center gives physicians the possibility of learning and applying the latest achievements in medicine and medical technology for the benefit of the patient.

We make it a goal of ours to ensure that the methods of treatment adopted in the Carolina Medical Center only minimally restrict the mobility of the patient. This ultimately makes the treatment more successful and also allows the patient to remain physically active and have only a limited interruption to their daily professional routine.

In order to cure patients, a doctor must first understand them and become their advisor and protector. At the Carolina Medical Center we are guided by this very principle.

Our services:
Consultations

Diagnostic Imaging

Diagnostic Centre for Physical Movement

Surgeries

Physiotherapy

Emergency Room Services

POLICLINIC
The Policlinic at the Carolina Medical Center is located on the 2nd floor.

At the Policlinic you can make an appointment with specialists from various fields:
children and adult orthopaedics and traumatology

sports traumatology

children and youth sports certification
MEDICAL PERSONNEL
Orthopaedics

Lukasz Luboinski

Jacek Laskowski

Michal Drwiega

Urszula Zdanowicz

Lech Karwicki

Piotr Zaorski

Mateusz Janik

Krzesimir Sieczych

Adrian Rymarczyk

Robert Omilian

Karolina Stepien

Karol Kosterna

Tomasz Filipczak

Maciej Pasieczny

Grzegorz Fijewski

Paediatric Surgery

Tadeusz Bokwa

Spine

Artur Zaczynski

Jurij Kseniuk

Przemyslaw Rychtik
Medical Tourism
Polish Association of Medical Tourism granted the quality certificate for the coordination of foreign patient care. This certificate proves that the Carolina Medical Center is effectively prepared for patient treatment and meets world standards of quality concerning medical tourism.
Apart from the Medical Tourism Certificate we have held the Quality Management Certificate (ISO9001:2015) in Complex Medical Care since August 2004.
Please click below to request more information from Carolina Medical Center!

---
Carolina Medical Center, Warsaw, Poland Profile Details
Safety is our primary concern!
We have introduced a three-stage medical triage regarding the health of our patients. The first triage takes place during a telephone conversation, then upon arrival to the clinic and in the doctor's office. Additionally, at the entrance to the Carolina Medical Center, every patient has their body temperature measured.
On each floor we installed dispensers with disinfectant liquid and and instructions on how to properly sanitize your hands.
We verify current epidemiological status on a regular basis and implement appropriate procedures.
All employees, both medical and administrative staff, have their own protective equipment available (depending on the function they perform).
We have employed additional staff who regularly disinfect surfaces and equipment with which both patients and employees of the Carolina Medical Center have contact every day.
Special protective covers were installed at all receptions.
We insure regular ventilation.
Following needs of our patients, we have introduced online services:
---
---
Orthopedic/Knee-Surgery Related Packages
Orthopedic/Knee-Surgery Related Experiences