Life Institute
Best Regenerative Medicine Clinic in Warsaw, Poland
Ul Grzybowski 43A U8/U9 Warsaw, Poland , Warsaw, Poland

Specialty:

Orthopedic/Knee Surgery, Rehabilitation, Sports Medicine, Stem Cell Therapy

Focus Area:

Best Stem Cell Therapy Clinic | Affordable Stem Cell Therapy Hospitals | Stem Cell Therapy Center Poland | Cheap Stem Cell Therapy Center | Affordable Stem Cell Therapy Doctors | Best Stem Cell Therapy Surgeons | Stem Cell Therapy Cost | Stem Cell Therapy Review | Top Stem Cell Therapy Hospitals | Warsaw | Poland | Life Institute
Life Institute Profile Overview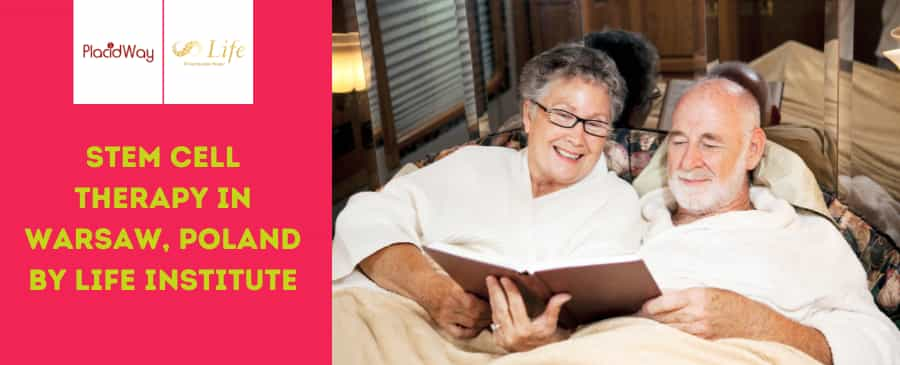 Life Institute provides best Stem Cell Therapy in Warsaw, Poland. Book online now Anti Aging Stem Cell Treatments, Adult Stem Cell Therapy, and Stem Cell Therapy for Fertility Treatment at Life Institute. We are a multi-disciplinary group of clinical and lifestyle experts that accept that clinical consideration can and ought to appear as something else. We work with patients consistently, regardless of whether requiring an intercession to a new physical issue or sickness, or needing to adopt a more proactive strategy to your medical care.
We adopt an all encompassing strategy to wellbeing and prosperity, perceiving that lifestyle infections, infirmities that are fundamentally founded on everyday propensities, characteristic to 70% of all passing's universally. Our underlying foundations are in Sports and Regenerative Medicine having worked with a-list competitors, assisting them with getting back Olympic gold decorations and World Championships. We get the stuff to get to, and support maximized operation. We bring this first class max execution comprehension to regular daily existence.
As a component of our profile regenerative treatments, at Life Institute we center on the utilization of Adult Stem Cells and not Embryonic Stem Cells. Embryonic stem cells come from incipient organisms that are three to five days old; they just exist at the most punctual phases of improvement. There are moral worries with embryonic stem cells as they are fundamentally reaped from annihilated human undeveloped organisms left over from in-vitro preparation.
Even though stem cells for adult are less amazing than embryonic cells, they are more straightforward to use as we as a whole have our own stock of cells all through our bodies. They are bountiful, found in many tissues and organs; (fat) tissue, bone marrow, veins, skeletal muscle, skin, teeth, heart, stomach, liver and many more.
Here are several advantages that you can obtain from Stem Cell Therapy in Warsaw, Poland by Life Institute:
Affordable cost

World-Class medical team

Complete options of regenerative therapy

Top facilities for stem cell treatments

Certified and experienced doctors
Here are list of treatments that you can get from Stem Cell Therapy in Warsaw, Poland by Life Institute:
Our group of muscular specialists has been effectively applying the utilization of Advanced Stem Cell Therapy starting around 2011. The cycle begins with a conference, to comprehend assuming that your condition meets all requirements for the utilization of Advanced Stem Cell Therapy, and assuming this is the case, regardless of whether autogenic (own) or allogenic (giver) stem cells.
Our group of doctors works with a specialist group of Geneticists to comprehend your DNA planning, to recognize changes in your chromosomes, qualities, or proteins. These outcomes are then incorporated into your all encompassing treatment plan.
Our top notch group of Orthopedics specialist's entrance judgments and treat wounds and infections identified with your body's outer muscle system, which incorporates your bones, joints, tendons, ligaments, muscles, and nerves.
Physio Therapy & Massage Therapy
Our group of experts is knowledgeable about the treatment of all muscle and joint agonies brought about by shortcoming, tears, hyper-extends, strains, disengagements, or joint unsteadiness.
Nutritional Supplements
Supplements expand your day by day admission of supplements, especially when you're eating regimen is missing, or certain medical issue trigger an inadequacy. We give a full scope of oral and intravenous enhancements.
Stem Cell Therapy in Warsaw, Poland by Life Institute provides you with quality treatments at affordable prices. Enjoy the various conveniences and extraordinary benefits that you can get here. For information about Stem Cell Pricings, please contact the Customer Representative by pressing the following button:

Here are list of doctors that can provide you with best Stem Cell Specialists in Warsaw, Poland by Life Institute:
Dr Robert Smigielski, PhD – Trauma and Orthopedic Surgeon, Member of ISAKOS, AAOS, ESSKA, member of Polish National Olympic Medical Team, chief medical officer at Polish National Football Association
Dr Daniel Kopko. – Trauma and Orthopedic surgeon, Member of the Polish National Football Association medical council
Dr Monika Rachuta – Internal medicine and diabetes specialist, Member of Polish Diabetes Association
Dr Piort Wierzbinski – Clinical and Sports Psychiatrist, Pharmacological Treatment Expert, Member of the Polish and European Associations of Sports Psychiatry, Member of the Polish National Football Association medical council
Dominika Kuczynska-Shulz, MSc – Clinical and Sports Nutrition expert, Member of PINES,
Stem Cell Centers in Warsaw, Poland by Life Institute is ready to offer you the best service. With decades of experience treating local and international patients who need regenerative therapy, you will experience tremendous benefits. For more information or to make a consultation appointment, please press the button below:

---
---