Best Hip Replacement in Poland | Orthopedics at KCM Clinic
Package price starting from:
$7200
Treatment:
Orthopedic/Knee Surgery, Hip Replacement Surgery Partial or Total
Focus Area:
Hip Replacement at KCM Clinic | Orthopedic Procedure in Europe | Robotic Orthopedic Surgery | Best Hip Replacement Clinic| Best Orthopedic Surgeons| Affordable Hip Replacement Surgery | Jelenia Gora, Poland
---
Orthopedic/Hip Replacement Surgery in Europe, Orthopedic/Hip Replacement Surgery in Poland, Joint Surgery at KCM, Orthopedics, Surgery, Minimally, Invasive, Cost, Price, Jelenia Gora, Poland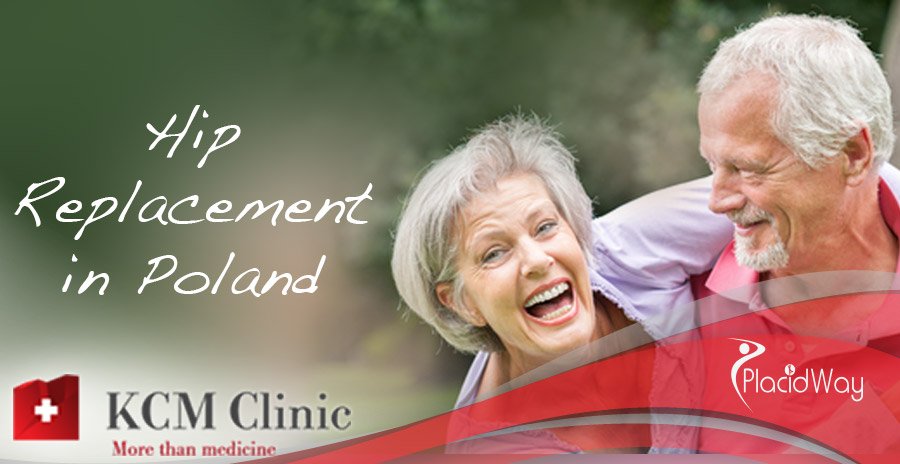 Best Hip Replacement in Jelenia Gora, Poland
KCM Clinic in Poland is a multi specialty treatment center offering almost everything a patient would need in medical services, starting with Specialist Clinics, through Diagnostics, Cosmetic Surgery, Orthopedics, Obesity, up to Rehabilitation.
The KCM Clinic is disabled-friendly and also regarded as patient-friendly hospital and child-friendly clinic. Collaborating with clinics in the USA, it gives access to the most innovative treatments and surgeries.
The hip replacement surgery becomes necessary when cartilage is severely damaged, smooth surface is lost and  the bone is left  exposed due to the inflammation of the joint. As cartilage wears off patient suffers from extremely intense pain and discomfort which limits the range of motion making it difficult to walk, take stairs and perform regular activities.
The most common disorders leading to the hip replacement:
Osteoarthritis

Rheumatoid arthritis

Traumatic arthritis

Avascular necrosis
Hip replacement is seen as highly effective orthopedic solution to fix physical joint damage when physical therapy or other non-surgical methods do not help.
How much Hip Replacement Package Cost?
KCM Clinic is offering the best Hip Replacement Package for only $7,200. Based on the patient experience and the clinic success rate, the package is a pocket saving option for international patients. 
Benefits of a Hip Replacement:
Reduced hip pain                                       

Increased mobility and movement                                  

Correction of deformity                                          

Possible Equalization of leg length                                   

Increased leg strength                                         

Improved quality of life

ability to return to

normalactivities

                                            

Enables you to sleep without pain
All-Inclusive package includes:
Ground transfer to/from Wroclaw Airport(WRO) and local transportation to/from the Hotel to KCM Hospital

7 nights at the 3* Accor Mercure Hotel or the 4* Palace on the Water Hotel with Breakfast

Pre-surgery Consultations
Meeting with our specialists in Plastic Surgery, Internal Medicine Cardiology and Anaesthesiology 
Being in your best state of health for your procedure is of the upmost importance to KCM Hospital, therefore we check everything from Internal Medicine (Lab, Ultrasound, X-Ray) to Cardiology Diagnostic (Echocardiography, EKG) and Complete blood lab tests
General Anaesthesia

Hospitalization for 1 night with 24/7 nurse care

Meals and Medications while in hospital

Personal host at KCM Clinic dedicated to your travel itinerary and medical travel program

1 Companion stay costs in the hospital and Hotel
To give patients the most exceptional experience, they also provide all guests with a complimentary full dental check-up in our award-winning KCM Dental Clinic.                                                                       
KCM Clinic offers professional equipment and an excellent medical team to offer its patients the desired results. For more information about the KCM Clinic and Hip Replacement surgery, click the button below.
Click the button below and we can help you make the best choice for you!
We will also provide answers to all your question about the hip replacement surgery and the KCM Clinic.

Related Experiences:
Hip Replacement Surgery in Istanbul, Turkey
Hip Replacement in Tijuana - Improve Your Hip Health
Total Hip Replacement in Puerto Vallarta - Your Solution to Hip Pain Relief
Total Hip Replacement in Mexicali Mexico - Restore Your Hips Function
Total Hip Replacement in Johnstown USA - For Your New Hips
High Success Rate Hip Replacement Surgery in Cancun Mexico
---
Orthopedic/Knee-Surgery Related Packages
Orthopedic/Knee-Surgery Related Experiences