ResoFus Alomar Center
Essential Tremor, Thermal Ablation, Parkinson's disease related tremor, Urology, Prostate Biopsy, HIFU Prostate, Prostate Robotic Surgery, DaVinci, ResoFus Alomar Center, Barcelona, Spain

ResoFUS Alomar C/ Berlín, 67 Barcelona 08029 España, Barcelona, Spain

Specialty:

Cancer Treatment, ENT, General Medicine, General Surgery, Gynecology Treatment, Neurology, Organ Transplant, Radiology/CT Scans, Robotic Surgery, Spine Care/Surgery, Urology

Focus Area:

Essential Tremor | Thermal Ablation | Parkinson's Disease Related tremor | Urology | Prostate Biopsy | HIFU Prostate | Prostate Robotic Surgery | DaVinci | Barcelona | Spain
ResoFus Alomar Center Profile Overview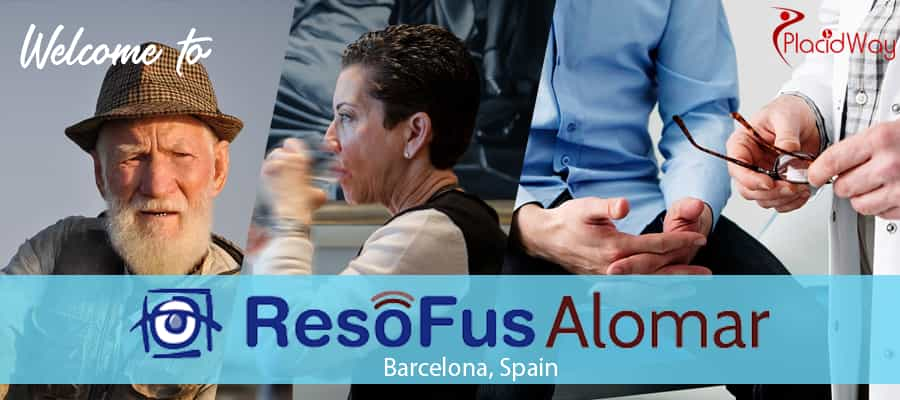 ResoFus Alomar Center, Best Parkinson Tremor Treatment in Barcelona, Spain
The ResoFus Alomar medical center is located in warm and sunny Barcelona, Spain. The medical center deals with a variety of procedures, most of which are related to annihilating body tremors, treating Parkinson's Disease, and eliminating prostate cancer. Some of the prominent healthcare features include Essential Tremor Treatment, Urology, Prostate Cancer and Robotic Surgery.
The medical center works with health-boosting and non-surgical procedures, which result in zero scar tissue and immediate recovery. As a result, cancer and Parkinson's disease patients need no hospital accommodation and additional monitoring and get to leave immediately after the procedure terminates. Using an ultrasound-based technology, the ResoFus Center provides millimeter-accurate procedures, able to penetrate the ill tissues quickly and precisely.
Treatments and Procedures
Ultrasonic energy procedures

Tremor control

Parkinson's Disease management

Magnetic resonance

Prostate cancer treatment

Urological procedures

Thermal ablation

Ultrasounds

Robotic Surgery

Prostate Biopsy with MRI/Eco Images Fusion
For more information about the treatments and procedures offered by ResoFus Alomar Center, please contact us!

---
ResoFus Alomar Center, Barcelona, Spain Profile Details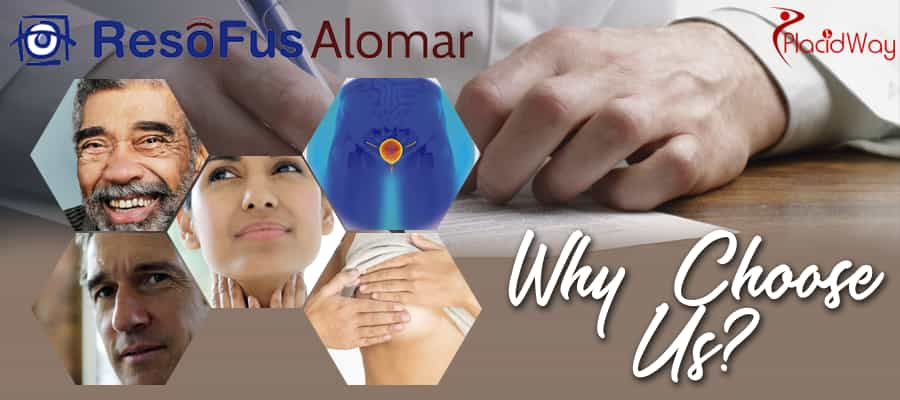 Why Should You Choose ResoFus?
ResoFus Alomar Center is a leader in non-invasive treatments with focused ultrasound for domestic and international patients. It offers tremor subsides on the same day of treatment. You can avail and consult best specialists in the sector of Neurosurgery and Urological surgery.
Center Medic Alomar has been providing extensive medical diagnosis by MRI executed by experienced medical staffs for years now. The clinic has introduced innovative treatments of brain disorders, women's health myomas and pain relief due to tumors with an innovative technology, noninvasive and painless surgery. All these procedures are done on an outpatient basis. Expert medical professionals at ResoFus Alomar Center combine MRgFUS and TULSA use ultrasounds combined with magnetic resonance to perform ablations on tissues. This gives best desired treatment results to the patients.
For more information about the treatments and procedures offered by ResoFus Alomar Center, please contact us!

---
ResoFus Alomar Center Certificates, Accreditations, Qualifications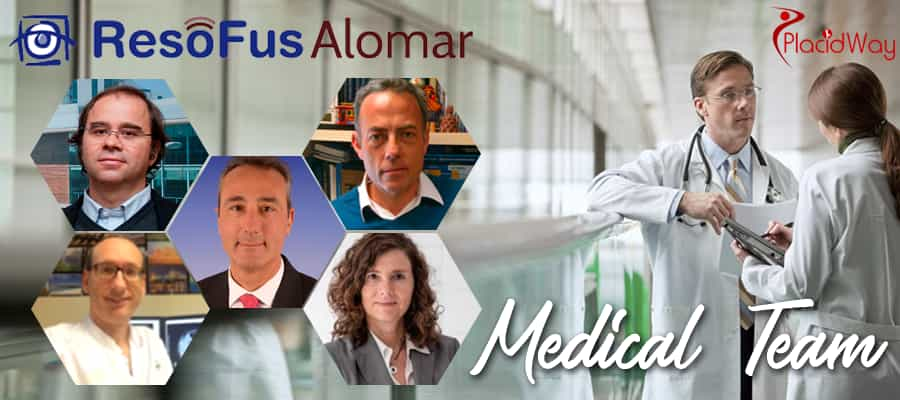 Medical Team at Resofus Alomar Center
The medical team of ResoFus Alomar Center is formed of a multidisciplinary team to provide the best diagnostic and surgical services
The esteemed Neuro ResoFUS equipment team is composed of a neurosurgeon, a neurologist and a neuroradiologist.
Dr Jordi Rumia
Neurosurgeon ResoFus Alomar
Dr Jordi Rumia is actively involved in neurosurgical executions. His services are dedicated to stereotactic and functional neurosurgery since 1995, with particular interest in neuropathic pain, epilepsy and movement disorders' surgery.
Dr Francesc Valldeoriola
Neurologist ResoFus Alomar
Dr Francesc Valldeoriola is a renowned medical consultant of the Movement Disorders Unit of the Neurology Service. He is popularly known as an International leader in the medical-surgical treatment of Parkinson's disease, tremors and dystonia.
Dr Nuria Bargallo
Neuroradiologa ResoFus Alomar
Dr Nuria Bargallo is Bachelor and Doctorate in Medicine and Surgery in Barcelona specialized in Neuroradiology.
The esteemed team of ResoFUS Uro is formed by an urologist and a prostate radiologist.
Dr Marc Serrallach
Urologist ResoFus Alomar
Dr Marc Serrallach is Bachelor of Medicine and Surgery in Barcelona, ??specialized in Urology and Andrology.
Dr Carles Nicolau
Radiologist ResoFus Alomar
Dr Carles Nicolau is Doctor in medicine and specialist in Radiology. He is the senior consultant and head of the Genitourinary Radiology section of the Hospital Clinic de Barcelona. Also he is an esteemed member of several international scientific societies and responsible for the Scientific Commission of the Spanish Society of Radiology. Dr Carles Nicolau is the proud author of more than 50 articles on abdominal radiology published in international journals.
---
Barcelona, Spain Destination Overview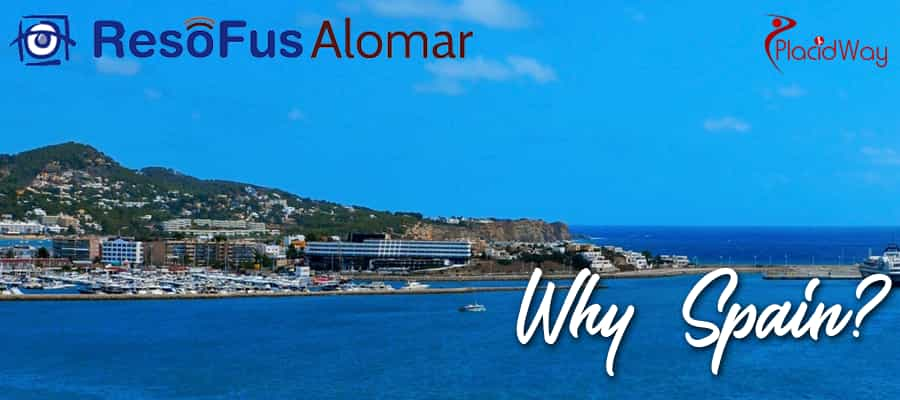 Why Should You Choose Barcelona, Spain For Your Medical Treatments?
The right selection of medical tourism destination is much important in regards to the recovery and healing of the person. Barcelona is one of the best and safest medical tourism destinations that greet you with its scenic beauty and charming climatic conditions.
There are several reasons that make Barcelona a popular and ideal medical treatment destination. Spain is ranked high as one of the best health indicators in the world. The average life expectancy here is 82 years which is almost 12 years more than the global average. The soothing climate of the country is best for medical recovery and, hence, people here live longer. It has lowest infant and maternal mortality rates in entire Europe.
The country has best skilled medical practitioners and well equipped hospitals. Every medical facility provider in the country has trained and multi disciplined medical teams. The operating accredited hospitals are all internationally recognized. They offer commitment to detailed research and innovative medical advancements for each patient.
The multilingual and multicultural working group of the cosmopolitan of Barcelona warmly welcomes international medical facility seekers and caters in the most professional way.
The cost of living in Spain is relatively lower than other European countries. One can save a lot on the healthcare costs and get quality treatment abroad at affordable packages.
---
---