Beijing Puhua International Hospital Oncology
Beijing Puhua International Hospital, Cancer Treatment, Oncology, Liver Cancer, Breast Cancer, Lung Cancer, China

#12 Tiantan Nanli, Dongcheng District, Beijing, China

Specialty:

Cancer Treatment, ENT

Focus Area:

Beijing Puhua International Hospital | Cancer Treatment | Oncology | Liver Cancer | Breast Cancer | Lung Cancer | China
Beijing Puhua International Hospital Oncology Profile Overview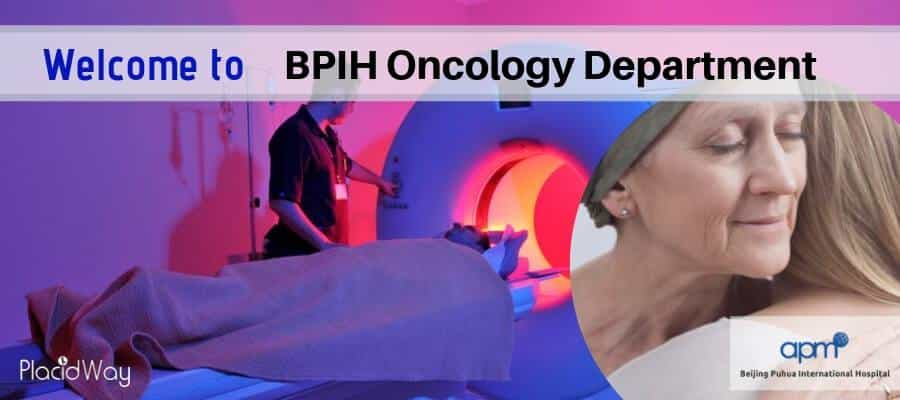 Beijing Puhua International Hospital Oncology Department- Best Cancer Care in China
The oncology department at Beijing's Puhua International Hospital offers a range of therapies for cancer patients. Their therapies include local, systematic and natural treatments and each of their treatments are non-toxic and almost side-effect free. They also provide HIFU (High Intensity Focused Ultrasound), a non-invasive procedure that makes use of sound waves, instead of radiation or surgery for imaging and destroying prostate cancers. HIFU is powered with real time software and imaging, which ensures focused and precise ultrasound energy targeted to the prostate deseased cells.
The team at BPIH's oncology department comprises multi-disciplinary experts who can provide personalized and comprehensive plans and solutions. Their reactive treatment methods are developed to address different stages of a tumor with minimum side effects. Their team of exporters aims to improve the quality of their patients' life.
Cancer Treatments:
Liver Cancer
Liver cancer can be curable if diagnosed early. The team of experts at BPIH's oncology department comes with a range of options like surgery, chemotherapy, radiofrequency ablation-RFA, cryosurgery, immunotherapy, targeted therapy and natural treatment to treat liver cancer.
Breast Cancer
Breast cancer has become one of the most prevalent diseases in the world, as millions of women are suffering from this deadly disease. The oncology department of BPIH offers several standard treatment options like surgery, hormone therapy, chemotherapy, radiation and targeted therapy to reduce the symptoms.
Pancreatic Cancer
In this type of cancer, cancerous cells develop in the tissue of the pancreas. The disease is almost incurable but early detection can save one's life. Beijing's BPIH can help patients with pancreatic cancer with a range of solutions including systematic and natural treatments to improve the condition and increases hope.
Osteosarcoma
Osteosarcoma is a type of bone cancer where the cancerous cells form in the bones and it is curable if diagnosed early. Chemotherapy and radiation therapy are the common treatments for this problem and BPIH can be the best place to receive it at affordable price.
Ovarian Cancer
Diagnosis of ovarian cancer remains one of the complex tasks in medical science until the cancerous cells spread across different areas. Surgery, chemotherapy and natural treatment are some of the available options to address different symptoms and BPIH is considered as one of the best places in Asia to heal ovarian cancer.
Lung Cancer
Lung cancer kills thousands of people every year and it is considered as incurable if not diagnosed early. BPIH has some solutions for this deadly disease. After diagnosis, experts at BPIH's oncology department apply methods like cryosurgery, immunotherapy, or traditional Chinese medicines to improve the condition and ensure a better life for the patients.
Intestinal Cancer
It is rare compared to other forms of cancer and it forms in the tissue of the small intestine. Like all forms of cancer, early detection can save the life of a patient and Beijing's BPIH can play a major role in it. The hospital has qualified and experienced cancer specialists who can provide the best solutions in the process.
Prostate Cancer
Prostate cancer is among the deadliest but early detection can save one's life. BPIH is one of the most trusted medical centers in Asia and here cancer specialists can treat prostate cancer using a combination of local, systematic and natural treatments and therapies with fewer side-effects.
Kidney Cancer
Kidney cancer develops when a lump forms in one or both kidneys. Numerous patients with kidney cancer visit BPIH to get a new lease of life and get satisfactory solutions. The hospital has a dedicated oncology department that welcomes patients with the deadly disease and provides a range of solutions like diagnosis, treatment and aftercare services.
Other Cancer
Cancer can form in any parts of our body and early detection can save one's life. Other types of cancer are carcinoma, sarcoma, leukemia, lymphoma, etc. One can get effective solutions from BPIH for these types of cancer too.
Cancer Treatment Procedures Practiced by Experts at BPIH
Cryotherapy
Cryotherapy is an effective method to treat cancer. Specialists use an argon-helium knife to reach the tumor cluster and target the tumor cells. The process can remove cancer cells greatly.
Vascular Intervention
In this process, doctors insert a catheter into specific arteries and supply embolic materials, chemotherapy substances or traditional Chinese medicines. The process causes ischemia necrosis of cancerous cells.
Radiofrequency Ablation
The process involves the insertion of heat-generating needles into the target area through ultrasound and CT technology. The therapy breaks down the proteins in the cancer cells and ensures progress.
Holistic Treatments
Immunotherapy
Immunotherapy is a common treatment prescribed for cancer patients. In this process, therapists try to crack tumor cells by releasing toxic particles. It prevents tumor recurrence and improves patients' condition.
Molecular Targeted Therapy
The treatment is available in the form of chemo drugs and it can attack and destroy cancerous cells keeping the healthy cells safe.
Natural Treatments Offered By BPIH
Traditional Chinese Medicine
Traditional medicines are used to enhance the effects and functionality of different treatments like surgery, radiation and chemotherapy. It improves the immune system and reduces the side effects of oncotherapy.
Rehabilitation
The rehabilitation center at BPIH has been designed to provide a suitable environment for patients so that they can heal quickly after surgery. Personalized therapy programs are also available for cancer patients.
Team of Cancer Specialists
The department of oncology at BPIH houses many qualified and experienced cancer specialists. Some of their specialists come with more than 40 years of experience in the field. Their area of specialization covers treatments for different types of cancer like liver, lung, breast, colon and more.
If you want to know more about the cancer treatments and procedures offered at Beijing Puhua International Hospital, click here!

---
---