Asian Medical Aesthetic Center
Asian Medical Aesthetic Center - Multi-specialty hospital in Istanbul Turkey
Küçükköy 537 Square Street Opposite the Central Mosque No. 5 Küçükköy / Eyup / Istanbul, Istanbul, Turkey

Specialty:

Alternative Medicine, Anti Aging, Cosmetic/Plastic Surgery, Dentistry, Eye/Lasik Care, Gynecology Treatment, Hair Transplantation, Heart Care/Surgery, Skin Care

Focus Area:

Asian Medical Aesthetic Center | General Surgery | Pediatric | Gynecology and Obstetrics | Plastic Surgery | Skin Care| Orthopedics | Neurology | Cardiology | Urology | Dental Diseases | Istanbul | Turkey
Asian Medical Aesthetic Center Profile Overview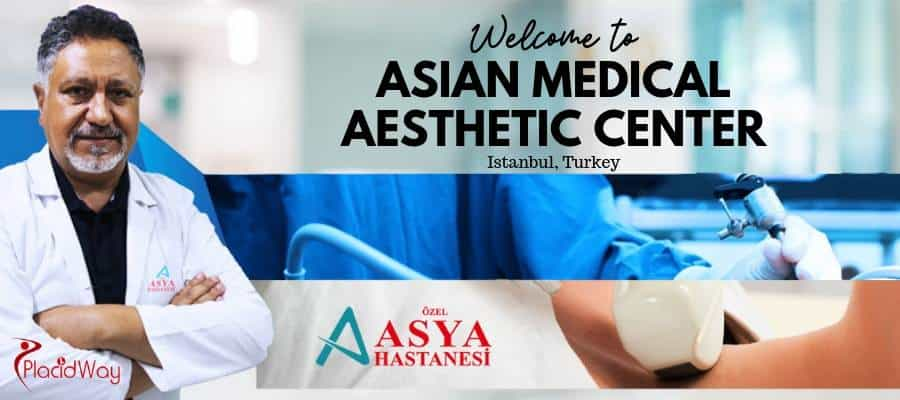 Asian Medical Aesthetic Center- One-Stop Platform for Medical and Aesthetic Solutions in Istanbul, Turkey
Asian Medical Aesthetic Center provides quality and qualified health services to the local as well as international patients. Their hospital in Istanbul, Turkey is advancing with confident steps towards becoming a leading health institution by renewing itself every day with the support and power received from the patients they serve. Their patient-oriented service ensures unconditional satisfaction. Apart from excellent treatment solutions the patients get assistance and support of the friendly and professional team along with internationally accredited laboratories, contemporary technology, modern operating room and intensive care units.
Finding solutions to all health problems is fast and safe at Asian Medical Aesthetic Center. They continue to be a pioneer in introducing the majority of the society to quality health service with advanced health technology and facilities by respecting the rights of patients without compromising medical ethics principles in all health services.
Treatments and Units:
Gynecology And Obstetrics

Nutrition And Diet

Child Health And Diseases

Medical Aesthetics And Beauty

General Surgery

Plastic Aesthetic And Reconstructive Surgery

Otolaryngology Head And Neck Surgery

Check-Up Unit

Internal Medicine

Clinical Laboratory

Neurology

Radiology / Imaging Unit

Orthopedics And Traumatology

Urology

Hand And Micro Surgery

Mouth And Dental Health

Cardiology

Eye Diseases

Brain Surgery

Dermatology, etc.
For more details about the treatments and procedures, click the button below:

---
---