Global Knee Center
Top-Rated Clinic for Knee Replacement in Hermosillo Mexico
Centro Medico del Rio Calle Reforma Int. 6 y 7 Colonia Proyecto Rio Sonora, Hermosillo,Sonora CP 83000 Mexico Hermosillo , Hermosillo, Mexico

Specialty:

Orthopedic/Knee Surgery, Robotic Surgery

Focus Area:

Orthopedic Surgery in Hermosillo Mexico | Global Knee Center | Knee Replacement | Knee Ligament Rupture | Knee Osteotomy | Knee Meniscal Repair | Knee Cartilage Repair
Global Knee Center Profile Overview

Orthopedic Knee Surgery in Hermosillo Mexico with Best Equipment and Advanced Technology
About Global Knee Center
Global Knee Center provides top Orthopedic Surgery in Hermosillo Mexico. Book online Knee Replacement, Meniscal Repair, and Cartilage Repair at PlacidWay. Millions of people around the world are suffering from knee related problems. Global Knee Center (GKC) in Hermosillo, Mexico is a renowned clinic that only provides a wide range of knee treatment procedures.
They use the best equipment and advanced technology to provide the best Orthopedic Surgery in Mexico for the patients. The treatment cares available at the clinic is affordable and top-notch, which attracts Mexican patients and also people from other countries.
Under the supreme guidance of respected Knee Specialist Dr.en Med. Rafael Inigo Pavlovich, the clinic provides best treatment plans for the patients. He is highly trained in orthopedics and sports medicine and pursues a Doctorate at the Complutense University of Madrid. With over 28 years of experience in Knee Replacement in Mexico, he brings some of the best care solutions for the patients.
Table of Content
• Cost • Procedures • Advantages
• Doctors • How to Book
Here are several advantages of selecting Knee Replacement in Mexico at Global Knee Center:
Here are list of procedures available at Orthopedic Surgery in Mexico by GKC:
Knee Replacement is also known as knee arthroplasty, is a surgical procedure to replace the weight-bearing surfaces of the knee joint to relieve pain and disability.
Knee ligament ruptures usually occur during high-impact activities, such as football or skiing. The force of the impact tears the ligament, resulting in severe pain and instability in the knee joint. Surgery is often required to repair the ligament and restore normal knee function.
A knee osteotomy is a surgical procedure in which the bones of the knee are cut and rearranged to correct deformities. This procedure can be used to treat a variety of conditions, including genu valgum (knock knees), genu varum (bow legs), and Osteoarthritis.
Knee Meniscal Repair is often performed when the inner or outer edges of the meniscus are torn. The most common symptoms of a meniscal tear are pain, swelling, and stiffness. If you have these symptoms, you should see a doctor for a diagnosis.
Knee cartilage repair is a medical procedure intended to fix damaged cartilage. It is typically performed by top and qualified orthopedic surgeon.
There are many questions to ask when considering Orthopedic Surgery in Mexico. How much will it cost? Is the surgeon experienced? What are the risks? Hermosillo, Mexico is a popular destination for medical tourism, and orthopedic surgery is no exception.
Costs can be much lower than in developed countries, but it's important to do your research before making a decision. The first step is to find a reputable surgeon, and Knee Surgery in Mexico by Global Knee Center is the best selection for you.
For more information about Cost of Orthopedic Surgery in Hermosillo Mexico at this clinic, contact our customer representative:

Testimonial from Real Patients about Knee Surgery in Hermosillo Mexico by Global Knee Center
Nancy Testimonial
"My name is Nancy Statin and I am from Georgia, and Dr. Inigo did knee replacement on my left knee in2002, and it has been a very successful surgery. And I am here to see him, just a visit and to let me check my name. I and he said everything is good and I think he is a very good doctor and I would recommend him to anyone that has to have. "
Terry Testimonial
"Good morning. My name is Terry Taylor. I'm from western Colorado. I'm down here in Hermito Mexico. I just had orthoscopic surgery on my left knee anito, and I just can't tell you what a wonderful job. I met the doctor I had my first interview last Tuesday, a week ago today, in fact. I met him through another doctor friend of mine, Ricardo Felice, who was here. And I had the total package done anesthesiology, rehab postop, just first class treatment."
"I couldn't say anything. And anyhow, the surgery just went well, and everything was done in just a little over 24 hours. That's the type of service that I got here in Mexico. And I would recommend this doctor to anybody because I have met some Americans that have seen him, and he is renowned. He knows what he's doing. But it's it's been a very good experience. It's been a pleasure. And I saved a few dollars by coming to Mexico. All right, very good. And hope this helps you all. Thank you. Bye!"
Daryl Testimonial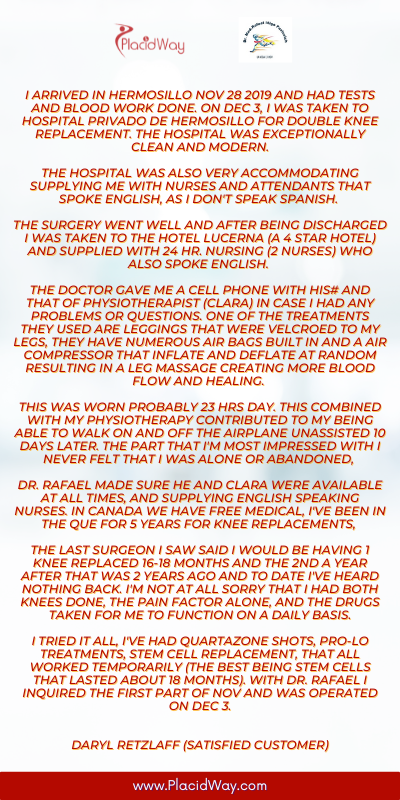 "I arrived in Hermosillo Nov 28 2019 and had tests and blood work done. On Dec 3, I was taken to Hospital Privado De Hermosillo for double knee replacement. The hospital was exceptionally clean and modern. The hospital was also very accommodating supplying me with nurses and attendants that spoke English, as I don't speak Spanish. The surgery went well and after being discharged I was taken to the Hotel Lucerna (a 4 Star hotel) and supplied with 24 Hr. nursing (2 nurses) who also spoke English."
"The doctor gave me a cell phone with his# and that of physiotherapist (Clara) in case I had any problems or questions. One of the treatments they used are leggings that were velcroed to my legs, they have numerous air bags built in and a air compressor that inflate and deflate at random resulting in a leg massage creating more blood flow and healing. This was worn probably 23 Hrs day. This combined with my physiotherapy contributed to my being able to walk on and off the airplane unassisted 10 Days later. The part that I'm most impressed with I never felt that I was alone or abandoned, Dr. Rafael made sure he and Clara were available at all times, and supplying English speaking nurses."
"In Canada we have free medical, I've been in the Que for 5 years for knee replacements, the last surgeon I saw said I would be having 1 knee replaced 16-18 Months and the 2nd a year after that was 2 years ago and to date I've heard nothing back. I'm not at all sorry that I had both knees done, the pain factor alone, and the drugs taken for me to function on a daily basis. I tried it all, I've had quartazone shots, Pro-lo treatments, Stem cell replacement, that all worked temporarily (the best being stem cells that lasted about 18 months). With Dr. Rafael I inquired the first part of Nov and was operated on Dec 3."
Daryl Retzlaff (Satisfied Customer)
Here you can find information about qualified and experienced Orthopedic Surgeon in Mexico by Global Knee Center:
Rafael Inigo Pavlovich –

Mexican Board of Orthopedic Surgery

Leonardo Valenzuela Felix –

Mexican Board of Orthopedic Surgery

Gustavo Azcona –

Mexican Board of Orthopedic Surgery

Arturo Olivas –

Mexican Board of Orthopedic Surgery

Martin Tejeda –

Mexican Board of Orthopedic Surgery
Are you facing problems with your knees? Don't wait any longer, book your consultation for Orthopedic Knee Surgery Packages at Global Knee Center today! This top orthopedic surgery clinic offer the latest and most effective treatments for all sorts of knee problems. Whether you're looking for a total joint replacement or just some help with arthritis, Global Knee Center promises to give you the best care possible. So don't delay, call Placidway today and book your consultation!

---
---
---