Package Details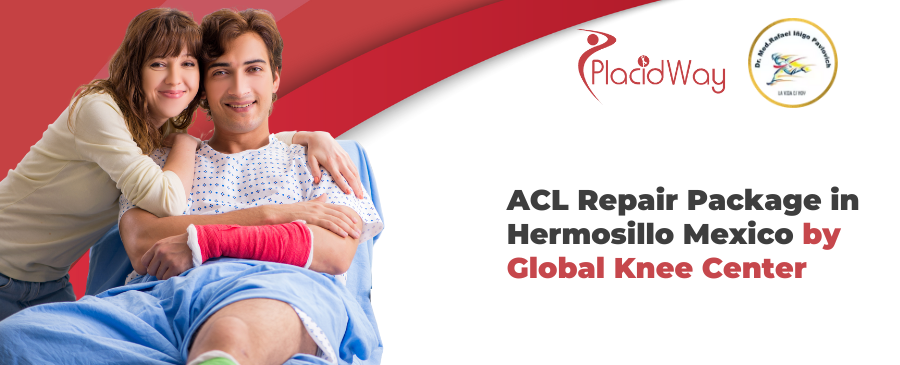 Affordable Package for ACL Repair Surgery in Hermosillo Mexico at Affordable Cost
Global Knee Center provides best package for ACL Repair in Hermosillo Mexico. Get affordable orthopedic surgery now at PlacidWay. Some of the best medical facilities in the world can be found in Mexico. You can get affordable package for ACL repair surgery in Hermosillo Mexico at affordable cost in Global Knee Center. This is a great place to have your surgery done because you will be able to save a lot of money.
Package Price: $8,000

Procedure: ACL Repair – Knee Surgery

Clinic: Global Knee Center
Location: Hermosillo, Mexico
Surgeon: Rafael Inigo Pavlovich, Leonardo Valenzuela Felix, Gustavo Azcona, Arturo Olivas, Martin Tejeda
What is ACL Repair Surgery
ACL surgery is a common procedure to repair damage to the anterior cruciate ligament. The ACL is a major stabilizing ligament in the knee, and surgery is often required to restore full function to the joint. This type of surgery typically involves making an incision in the knee and then grafted replacement tissue to recreate the ligament. Recovery from ACL surgery can take several months, but many patients are able to return to normal activities within a year.
You can get ACL Surgery in Mexico by Global Knee Center with the cost starts from $8,000.
| | | |
| --- | --- | --- |
| | | |
| Hermosillo, Mexico | ACL Repair Surgery | $8,000 |
| | ACL Repair Surgery | $14,800 |
| | ACL Repair Surgery | |
Note: Final price may change depends on patient condition and complexity of the procedure. Please follow price policy at Global Knee Center.
To define the procedure for ACL repair orthopedic surgery, one must first understand the anatomy of the ACL. The ACL is located in the knee joint and is responsible for providing stability to the joint. To repair a torn ACL, the surgeon will make an incision in the knee and then insert a graft to replace the damaged ligament. The graft can be made from either the patient's own tissue or from a donor.
Here you can find information about top surgeon for Orthopedic Surgery in Hermosillo Mexico:
Rafael Inigo Pavlovich – Mexican Board of Orthopedic Surgery

Leonardo Valenzuela Felix – Mexican Board of Orthopedic Surgery

Gustavo Azcona – Mexican Board of Orthopedic Surgery

Arturo Olivas – Mexican Board of Orthopedic Surgery

Martin Tejeda – Mexican Board of Orthopedic Surgery
Hermosillo, Mexico is a world-renowned destination for knee surgery. With its state-of-the-art facilities and highly skilled surgeons, you are guaranteed to receive the best possible care. And, with its convenient location and typical Mediterranean weather, Hermosillo is the perfect place to recover from your surgery. So why not give yourself the best chance for a successful surgery and choose Hermosillo, Mexico?
Check below for more information about Frequently Asked Questions for ACL Repair in Hermosillo Mexico:
As with any surgery, there are risks and potential complications associated with ACL reconstruction surgery. These include infection, bleeding, blood clots, and nerve injury.
The ACL (anterior cruciate ligament) is a major stabilizing ligament in the knee joint. A complete tear of the ACL occurs when the ligament is completely torn or avulsed from its attachment to the bone. An incomplete tear means that the ligament is still partially attached. A complete tear of the ACL is a very serious knee injury that can cause significant pain and instability.
The primary treatment options for an ACL tear are nonsurgical (conservative) or surgical. Nonsurgical treatment typically involves the use of knee braces and physical therapy to help stabilize the knee joint and allow the patient to return to activities of daily living. However, patients who continue to participate in high-demand activities such as sports are at risk for further injury to the knee.
Surgical treatment of an ACL tear involves reconstruction of the ligament using a tendon graft. The most common graft options are the patellar tendon, hamstring tendon, or allograft (donor tissue). The graft is used to replace the torn ACL and is typically secured in place with screws and/or staples.
Physical therapy is started immediately after surgery and continued for several months. The goal of physical therapy is to help the patient regain range of motion and strength in the leg. Most patients are able to return to their pre-injury activity level within 6-12 months after surgery.
The diagnosis of an ACL tear is typically made based on a combination of clinical examination and imaging studies. X-rays may be ordered to rule out other potential causes of knee pain, such as a fracture. MRI (magnetic resonance imaging) is the best imaging modality for diagnosing ACL tears, as it can clearly visualize the ligament and assess for associated injuries.
The most common symptom of an ACL tear is sudden and severe pain in the knee joint. Other symptoms may include swelling, instability, and a feeling of the knee "giving out."
The vast majority of ACL tears occur during sporting activities, most commonly involving a sudden change in direction or landing from a jump. Non-contact ACL tears often occur when the foot is planted firmly on the ground and the knee twists or rotates abnormally. Contact ACL tears usually occur when a direct blow to the knee joint knocks it out of alignment, causing the ACL to tear.
Video about ACL Repair Surgery in Mexico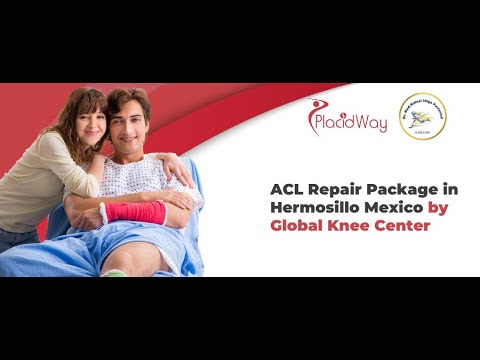 At Global Knee Center, we provide exemplary care for those seeking ACL surgery. Dr. Rafael is best surgeon for Orthopedic Surgery and he is a world renowned expert in his field. He has performed over many orthopedic surgeries, with a 97% success rate. Patients often choose to have their surgery in Mexico because of the high quality care they receive at a fraction of the price they would pay in the United States. To book your consultation, feel free to contact us!
Related Experiences:
Feel Better & Move Better with Knee Replacement in Mexicali
High Success Rate Hip Replacement Surgery in Cancun Mexico
Hip Replacement in Tijuana - Improve Your Hip Health
Meniscus Surgery in Cancun Mexico
Meniscus Tear Repair in Puerto Vallarta - Restore Knee Mobility
Knee Replacement in Tijuana - Restore Your Knee Health