Op. Dr. Ozan Balik
Cosmetic Surgery Center in Istanbul Turkey at Dr Ozan Balik, MD Clinic
Levent Mh. Cilekli Cad. No:10, Istanbul, Turkey, Turkey

Specialty:

Anti Aging, Cosmetic/Plastic Surgery, Hair Transplantation

Focus Area:

Ozan Balik, MD | Plastic Surgery | Reconstructive Surgery | Cosmetic Surgeon | Aesthetic Surgery | Liposuction | Rhinoplasty| Tummy Tuck | Genital Aesthetics | Fillers | FUE Hair Transplant | Cosmetic Treatments in Istanbul Turkey
Op. Dr. Ozan Balik Profile Overview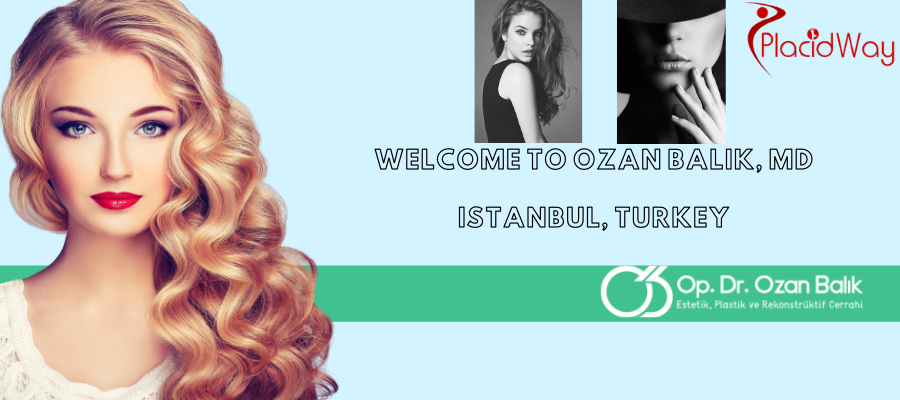 Ozan Balik, MD- Top-Notch Aesthetics and Plastic Surgery in Istanbul, Turkey
Dr. Ozan Balik is one of the leading aesthetic plastic surgeons. His clinic is located in Istanbul, Turkey and provides a wide range of aesthetic, plastic and reconstructive treatment options. Dr. Ozan Balık was born in Adana in 1975 and studied primary and secondary schooling there. He graduated from Adana Karşıyaka High School in 1992 and he entered Istanbul University Electronics Engineering in the same year. He left electronics engineering behind a series of orthopedic surgeries. In 1993, he started his medical education in Çukurova University Faculty of Medicine and in 1999 he received the title of Medical Doctor. He performed his compulsory service as his first place of duty in the Emergency Service of Viranşehir State Hospital between 1999-2000. 2001-2002 he worked as an assistant doctor in Göztepe SSK Hospital Anesthesia and Reanimation Department. In 2002, Dokuz Eylül University Faculty of Medicine, Plastic Reconstructive and Aesthetic SurgeryHe entered the department. In 2008, the "National Board Certification" certificate was given by the Turkish Plastic Reconstructive and Aesthetic Surgery Association. İ2008-2009 Edirne State Hospital, Plastic Surgery Clinic Chief. Dr. Ozan Balık has been working in his Private Clinic in Istanbul since 2010.
During his specialization, he worked intensively on reconstructive microsurgery, which is his special interest. He proposed a working model that allows microsurgical studies on the omentum. [1] Experimental study on the effect of carbon dioxide gas on adipose tissue [2] then proved that "Inverted End Side Nerve Repair" can be used in peripheral nerve injuries. He published this thesis study in Annals of Plastic Surgery (A Successful Neurotization of Two Different Muscles Using a Single Intact Motor Nerve). [3] Dr. Ozan Balık also introduced a new technique to blepharoplasty by using the upper eyelid muscle in lower eyelid repair and this study was published in Plastic and Reconstructive Surgery.[4]
Dr. Ozan Balık is a member of the Turkish Medical Association, the Turkish Plastic Reconstructive and Aesthetic Surgery Association, and the American Society of Plastic Surgeons (ASPS) (int).
He has made computer-based 3D models suitable for facial aesthetic surgery and continues to work on bilaminar facelift and structural nasal aesthetics.
Why Choose Plastic Surgery in Istanbul, Turkey?
Plastic surgery is a booming industry all over the world. And it's no surprise why. With advanced medical technology and an ever-growing understanding of human anatomy, plastic surgeons are now able to achieve results that were once impossible. It's no wonder that people are flocking to cities like Istanbul, Turkey to take advantage of these groundbreaking procedures.
Istanbul is home to some of the world's most talented and experienced plastic surgeons just like Dr, Ozan Balik MD. In addition, the city's hospitals are equipped with the latest in medical technology. As a result, patients can rest assured that they will receive the best possible care. And because Istanbul is such a popular destination for plastic surgery, there are a number of clinics and hospitals to choose from. This means that patients can find a facility that suits their budget and needs.
Whether you're looking for a simple procedure like Botox or something more complex like a facelift, you'll be able to find what you're looking for in Istanbul. So if you're considering plastic surgery, Istanbul should be at the top of your list.
Treatments Offered in Ozan Balik MD Clinic in Istanbul, Turkey
Nose Aesthetics
Breast Aesthetics
Breast augmentation

Breast reduction

Breast lift

Gynecomastia

Asymmetrical breast
Body Shaping
Vaser liposuction

Brazilian butt lift

Arm and leg lift

Tummy tuck

Lipedema surgery
Facial Aesthetics
Face lift

Mid face lift

Neck and chin stretching

Eyelid aesthetic

Face oil injection

Hollywood cheek

Temple lift aesthetics

Prominent ear surgery
Genital Aesthetics
Female genital aesthetics

Male genital aesthetics
FUE Hair Transplant
Non-Surgical Aesthetics
Book Appointment for Cosmetic Surgery in Istanbul, Turkey
At our clinic in Istanbul, Turkey, we offer a wide range of cosmetic surgery procedures. Whether you are looking for a new look or trying to improve your appearance after an injury, we can help. We specialize in facial surgery, body contouring, and breast surgery, and our experienced surgeons will work with you to achieve the results you want. We also offer a variety of non-surgical treatments, such as Botox and fillers, that can help you achieve a more youthful appearance. Contact us today to schedule a consultation or book an appointment.
---
---
Reviews
lourns b

I decided to have a maternity aesthetic after meeting with Mr. Ozan for the deformations in my body after giving birth. The result is much better than it should be. Thank you Dr. Ozan.

Google

Feb 23 2022

Adsilla

I gave birth two years ago. After giving birth, my skin sags. I came to Turkey for this procedure and had a maternity aesthetic. Ozan Balık is a doctor who does his job extremely well. I am happy with the result. I recommend it to you too.

Google

Feb 28 2022

Aryana

The whole team was awesome and very helpful. They made me feel like at home. Dr. Ozan Balık has always listened to me. The result was better than when I added b. Right now my form is exactly as I want it. I would recommend.

Google

Mar 07 2022
---
Anti-Aging Related Packages