Zirve Dental
World-Class Dental Clinic in Didim, Turkey
Altinkum mah. Karakol Cad. No:3/A Didim / Ayd?n. Aydin Didim, Aydin 09270, Turkey

Focus Area:

Dental Implants in Aydin, Turkey | Zirve Dental | Dental Crowns | Dental Bridges | Teeth Whitening | Dental Veneers | Cosmetic Dentistry | Dental Implants
Zirve Dental Profile Overview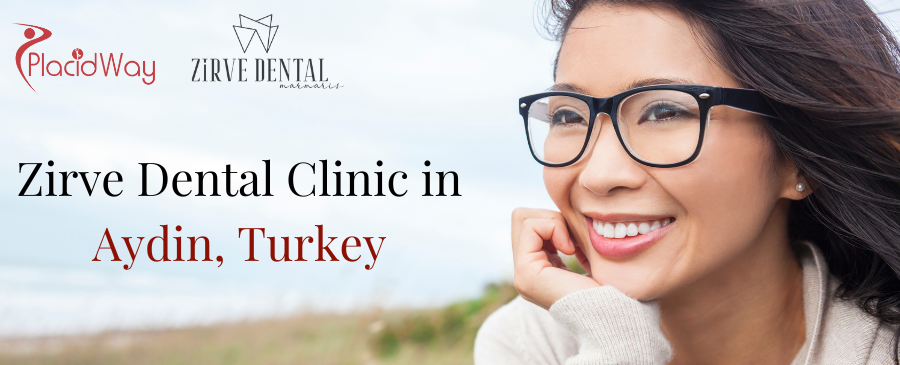 Zirve Dental, an established dental clinic in Aydin, Turkey, operates since 2008 and serves both local and international patients. The highly experienced dentists at Zirve Dental provide safe, affordable, and effective dental implants, veneers, crowns, smile makeovers, and other popular dental procedures. You can also find other cosmetic dentistry, such as teeth whitening, bonding and lumineers, alongside facial and dental Botox treatments.
At Zirve Dental, you will have quality treatment in the shortest time to enjoy the rest of your holiday on the Aegean coastline. The qualified medical team aims to restore your smile in a cozy, modern environment, using quality materials from famous brands and safe, painless procedures. You will have an available translator in the clinic to help you understand each step of your treatment and feel more comfortable in the dentist's chair.
Zirve Dental is located in the Altinkum resort, Didim, on Turkey's Aegean coastline, just a short walk from the main beach and within reach of the historical sites of Apollo and Ephesus.
The clinic is certified by the Turkish Dental Association. Zirve's director and head dentist, Dt. Fatma Aktepe is an expert in implantology, helping patients regain their smiles through implant-retained crowns and bridges, as well as removable overdentures. She works with four other dentists when needed, mainly during summer when demand is highest.
Clinic Name: Zirve Dental
Procedure: Dental Implants, Hollywood Smile, Veneers, Lumineers, etc.
Location: Aydin, Didim, Turkey
Dentist: Dr. Fatma Aktepe
Table of Content
• Cost • Procedures • Advantages
• Doctors • How to Book
Benefits of Choosing

Zirve Dental

for

Dental Implants in Didim, Turkey
Here are the benefits you can get by selecting Zirve Dental for your dental procedure in Aydin:
No waiting time for dental treatment

Highly skilled dentist

Comfortable setting in a well-equipped clinic

Affordable prices for dental work

Nice vacation in Didim during your dental care treatment

Advanced technology in dental procedures
You can find the following dental treatments available at Zirve Dental in Didim:
Dental Veneers
Facial Botox
Dental implants, veneers, crowns, and other dental procedures at Zirve Dental in Aydin are more affordable than in your home country. You can receive high-quality treatment at Zirve Dental and get a new smile with low-cost dental care. If you want to know the latest dental treatment prices at Zirve Dental clinic in Didim, contact our Customer Care Team.

Best Dentists in Aydin, Turkey at Zirve Dental
Dr. Fatma Aktepe is one of the founding members of Zirve Dental clinic and practices in general dentistry, implantology, and general dentistry. She has graduated from Bolu Abant Izzet Baysal University - Faculty of Dentistry. After a year of working for another clinic to gain experience, Dr. Aktepe opened Zeynep Dental clinic. She mainly treats foreign patients but has a broad base of local patients who have been loyal ever since.
Doctor Name: Fatma Aktepe
Job Title: Chief Executive
Specializations: Cosmetic Dentistry, General Dentistry, Oral Surgery, Implantology, Restorative Dentistry, Preventive Dentistry, Dental Hygienist
Languages: Turkish
Associations: The Turkish Dental Association
You can achieve your desired smile and dental health goals with dental implants, root canals, teeth whitening, and other dental procedures at Zirve Dental clinic in Aydin, Turkey. Contact us today for more information about dental treatment in Aydin, Turkey!

---
---
Reviews
Yaren H

As a person who has a fear of dentists, I went to every treatment with great pleasure. Wonders are very interested, very kind. I was never nervous, I was not afraid even for a moment. Both Büşra Hanım and Fatma Hanım are wonderful people in their work. Although my treatment took a very long time, they dealt with it with great patience. Thank you very much to everyone who contributed. I definitely recommend

Booking.dentist.com

Nov 03 2022

Barbara B

" A brilliant clinic. Made me feel very welcome. English speaking so you understand everything. Clean and hygienic. Very relaxing. Will definitely be coming back again. "

Whatclinic.com

Sep 19 2022

Funda O

Thank you very much, it's a great place, all the staff are friendly their hands are light

booking.dentist.com

Nov 03 2022
---
Dentistry Related Packages
Dentistry Related Experiences