Prusa Medica by Turan Turan Health Group
Prusa Medica – Health Tourism Platform in Bursa, Turkey
Gulbahce Mh. Dr. Sadik Ahmet Cd. Evke Trade Tower No:17/19, Bursa, Turkey, Istanbul,Antalya,Izmir,Ankara,Bursa, Turkey

Specialty:

Anti Aging, Cancer Treatment, Chronic Diseases, Cosmetic/Plastic Surgery, Dentistry, ENT, Executive Healthcheck, Eye/Lasik Care, Fertility Treatment, General Medicine, General Surgery, Gynecology Treatment, Hair Transplantation, Heart Care/Surgery, Infertility/IVF, Laparoscopic Surgery, Neurology, Obesity/Bariatric Surgery, Organ Transplant, Pediatric Treatment, Radiology/CT Scans, Rehabilitation, Robotic Surgery, Sexual Medicine and Treatment, Sports Medicine, Urology, Vascular Surgery

Focus Area:

Prusa Medica | Bursa | Turkey | Turan Turan Health Group | Orthopedic Surgery | Cosmetic Surgery | IVF Treatment | Neurosurgery | Cardiology | Oncology
Prusa Medica by Turan Turan Health Group Profile Overview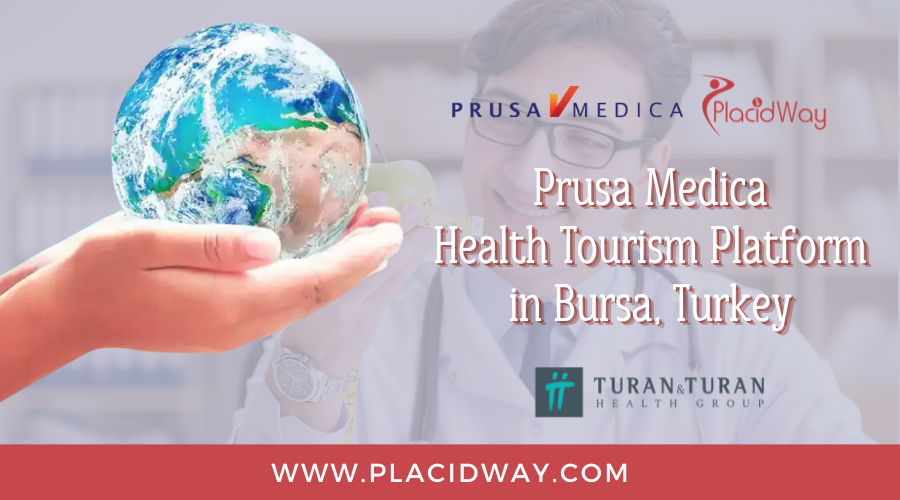 Prusa Medica is a top health tourism provider in Bursa, Turkey under Turan Turan Health Group. They provide high-quality services for Orthopedic Surgery, Cosmetic Surgery, IVF Treatment, Neurosurgery, Cardiology, and more! At Prusa Medica, we provide a comprehensive package of services to our esteemed medical travelers.
Our services include finding the best hospital or clinic in Bursa, Turkey for your specific medical needs, providing professional advice and assistance regarding the procedure of choice and arranging for a multilingual guide to accompany you during your stay. We are committed to making sure you receive the highest quality care and satisfaction.
We offer a unique selection of services that cater to patient needs and ensure that the entire medical journey in Turkey is all-inclusive. Our services include access to top-notch medical facilities, quality hotel accommodation, visa coordination and airport transfers. Furthermore, we provide valuable pre-operative consultation for our patients to ensure that they understand the procedure thoroughly before proceeding with it.
Prusa Medica in Bursa, Turkey provides support throughout your journey to help ensure a safe, comfortable and successful experience!
Table of Content
• Cost • Procedures • Advantages
• Doctors • How to Book
Get more information about price for your medical trip to Bursa, Turkey. Prusa Medica offers a wide range of orthopedic, IVF, eye LASIK, rehabilitation, oncology, neurosurgery, dental and cosmetic surgeries at an affordable price. Health tourism in Bursa, Turkey is available with the price that suits a variety of needs and budgets. Get FREE QUOTE by clicking button below to learn more:

Check below for more information about professional team at Prusa Medica in Bursa, Turkey:
Get FREE CONSULTATION for dental, IVF, cosmetic and orthopedic surgery in Bursa, Turkey from PlacidWay. Our caring customer representative is here to provide you with the best options for travel, treatments and medical care. Click contact us button below to get started for your healthcare journey!

---
---
Reviews
Saraduh

I contacted Prusa Medica for robotic knee replacement surgery and everything went well and everyone was very nice to me especially Dr Kayhan Turan. I was able to have the surgery without waiting too long, everything happened very fast and it was very effective.

Prusa Medica

Jun 24 2022

Firdevs A G

I reached out Prusa Medica and I had an operasyon.Their team was so polise and perfect.I highly recommend Prusa Medica.Thanks for everything.

Prusa Medica

Feb 02 2022

Abba I

My Dad came in for Knee Cap replacement arrived Monday early morning and surgery was done on Wednesday. Process was seemless and they had everything sorted out.. Thank you Prusa Medica.

Prusa Medica

Sep 16 2022
---
Anti-Aging Related Packages