Stem cell therapy at EmCell clinic in Ukraine Dr. Jeff Bradstreet story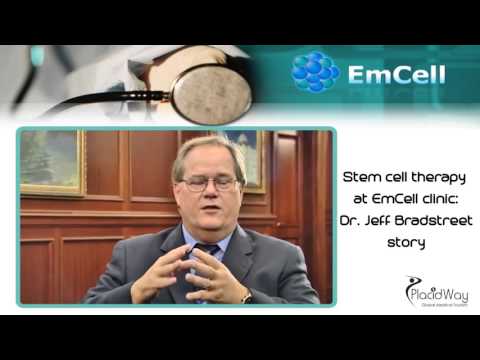 Stem cell therapy, EmCell clinic in Ukraine, Dr. Jeff Bradstreet story, EmCell clinic, Stem Cell Transplantation, Stem Cell Treatment, fetal stem cells, Medical Tourism in Ukraine, Best Stem Cell Treatment Clinic Kiev, Affordable Adult Stem Cell Therapy Hospitals Kiev, Bone Marrow Stem Cell Center Ukriane, Cheap Diabetes Stem Cell Treatment Center, Best Multiple Sclerosis Stem Cell Treatment Clinic
Category:
Stem Cell Therapy
Procedure:
Stem Cell Therapy
Source: Youtube
EmCell's method is very effective, minimally invasive and has no known side effects. The unique properties of stem cells that we use allow for their application in a wide range of diseases, including cases where other methods have proved ineffective. EmCell's in-house procedure for preparing fetal stem cell suspensions, testing and applying them allows us to ensure high quality of transplants and effective treatment. Suspensions containing fetal stem cells are used solely for our patients and are not intended for sale.
Ukraine is not very different from other great European countries as far as medical standards are concerned, so you need not worry about putting your health at risk by undergoing medical treatment in Ukraine. Watch the story of Dr. Jeff Bradstreet for Stem Cell Therapy at EmCell Clinic.
For more information about EmCell Clinic in Ukraine and it's treatment offered, you may contact us!


Or simply click the button below!

Stem cell therapy at EmCell clinic in Ukraine Dr. Jeff Bradstreet story
Keywords: Stem cell therapy, EmCell clinic in Ukraine, Dr. Jeff Bradstreet story, EmCell clinic, Stem Cell Transplantation, Stem Cell Treatment, fetal stem cells, Medical Tourism in Ukraine, Best Stem Cell Treatment Clinic Kiev, Affordable Adult Stem Cell Therapy Hospitals Kiev, Bone Marrow Stem Cell Center Ukriane, Cheap Diabetes Stem Cell Treatment Center, Best Multiple Sclerosis Stem Cell Treatment Clinic